Hi guys!
Thanks for celebrating IWD with me, and for your responses to Tasha's great post. One reader mentioned that she actually hadn't considered herself a feminist before reading the post, but that she was reconsidering that position. This made me so, so happy: in my experience, many women hew to feminist ideals, but fear the word feminism because its detractors have managed to tarnish it with inaccurate stereotypes. It's time for women of this generation to change all that, and to reclaim the word for their own set of purposes.
I've promised you a week of posts that pertain to womens' issues. Today's post isn't exactly what you might expect from that promise, but if you bear with me I think you'll see why I thought it was kinda relevant. A few weeks ago, I posted some zucchini wraps I'd made and enjoyed as a part of my lunch. Aletheia had this to say about the post:
While I think your zucchini wraps looks absolutely delicious – as do most of your other foods – I have noticed recently that a larger proportion of the recipes you post necessitate the use of a dehydrator.
Which kinda makes me sad!
I'm just thinking that if I had come across your blog today, and it was my first time discovering the world of raw, I might be a wee bit intimidated!
I thought about this, and then I wrote back:
Fair point, Aletheia…keep in mind that my work…ha[s] kept me away from my kitchen for the last month. I'm not complaining, but coming home at 9, sometimes 10 PM, and leaving my apartment at 8 AM knowing I won't be back till late quashes my cooking routine. Which means 99% of my meals right now are things I take to work in tupperware or eat on the go — nothing worthy of recipe sharing. The stuff I make on weekends to last for the week tends to be either soups, cooked foods, or dehydrated raw foods. The rest is stuff I throw together raw, and don't usually have time (or inclination) to document for you.
Later, as we were exchanging emails, Aletheia reminded me:
…one thing I really appreciate about your blog is that, in addition to being a great raw food-related resource, it's also a glimpse into the life of a beautiful person…After all, it's not just about "doing the food".  It's about how you do the food when you're busy living, too.
This was a great point! I love sharing with you recipes that I consider presentable and "blogworthy," and I try to insist on making my posts as polished and thoughtful as possible. I'll never write about a nutrition topic, for instance, without calling upon my past studies, or doing some new research. But blogging is a personal act, too; even bloggers like me, who consider their blogs public forums, rather than personal diaries, must remember that many people read blogs because they find it inspiring to peer into a person's life. This needn't mean, as so many critics claim, that all blogs are purely narcissistic. Readers have always been fascinated by letters, diaries, and memoirs, because we like to feel empathy and kinship with other people. Reading memoir is moving because it reminds us that so much of human experience is shared.
So even though it's not my own "blogging style" to post all of my eats, or to say too much about what's going on in my private life, I do realize that you, my readers, like to be reminded that I'm a real person living a real life, as well as a nutrition writer. Which means that I needn't post only the most inspired or creative dishes and recipes; I can also show you some of my more slapdash TV dinners, my work lunches, my recipe failures. In fact, it might be practically useful for you all to see what I eat and how I handle my food prep during weeks when time is short.
On that note, I wanted to share a bunch of my recent desk lunches. I've written about my desk lunches before, mentioning that I, unlike many people, don't hate eating at the office, but I don't typically take note of my midday meals, or share them with you. For the last week or so, I decided to snap photos of my lunches, so that you could all see what a busy working lady eats when she's got about thirty minutes between meetings, or a manuscript that's waiting for her attention. What follows is a roundup of my meals–and proof, Aletheia, that eating vegan and semi-raw is entirely possible in a pinch!
Leftover Bowl of Lindsay's African Kale and Yam Soup, to which I added chickpeas, with a salad:
Large salad with pumpkin seeds, raisins, and my tomato curry dressing:
Salad with my Asian dressing and two slices of my carrot raisin bread:
Salad + Ezekiel wrap with avocado and mixed veggies:
Salad with beet dressing and a pumpkin seed pate (stay tuned for that recipe!!)
Salad with two slices of Love Force raw bread (the raisin flavor–I liked this very much!)
Simple spinach salad with butternut squash dressing (I was craving spinach like crazy that day!)
Salad with butternut squash dressing and leftover digestive-friendly hummus:
And, finally, one of my weekend lunch faves: my Saturday leftover quesadilla (recipe follows).
Get the idea? I keep it simple, keep it easy to pack, and, though the varieties change, greens of some sort are a constant. Now, for that recipe…
Gena's Saturday Leftovers Quesadilla
This is one of my fave weekend lunches. I do grocery shopping on Saturday AMs, so I'm always eager to round up all of the old produce and leftovers I've got and put them to use in my Saturday lunch. You can use any combo of ingredients, but I find that a green+cooked veggies+creamy avocado/guac is great; hummus or mashed beans are also terrific additions!
Step one
Warm up one Ezekiel tortilla in a dehydrator or low temperature oven. Top it with some leftover greens–in this case, I used leftover massaged kale salad: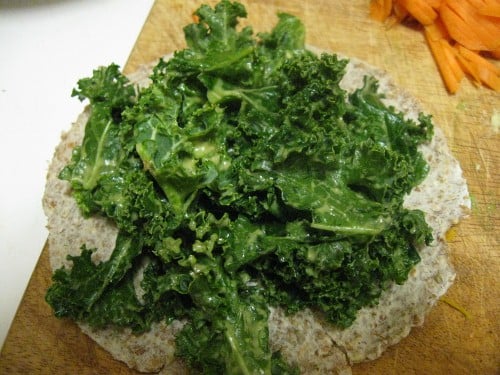 Step Two
Top it with some avocado slices. This is a GREAT way to use up any stray halves or quarters of avocados that you have leftover from making guac or other dishes:
Step Three
Add a layer of leftover roasted root veggies. I love yams, turnips, mashed butternut squash, or carrots. In this wrap, I used Kabocha squash that I'd taken home in a doggie bag from dinner at Peacefood Cafe:
Step Four
Pour some leftover dressing on top — I used my zucchini dressing here:
Step Five
Top with another tortilla, and serve with a salad. YUM!
These dishes won't win any vegan or raw culinary awards. But they are nourishing, healthy, and tasty, and they've all given me pleasure on days when I'm caught in the hustle and bustle of work life. Today, let's all vow to treat our bodies to nutritious and quality foods even when we're pulled hither and yon by our obligations. We women balance work, life, and (often) motherhood, not to mention the responsibilities of being caretakers of friends and family. We deserve nothing less than power food to make us run. And nothing can give us more nutritional bang for our buck than veggie-centric meals. Happy lunching!
xo