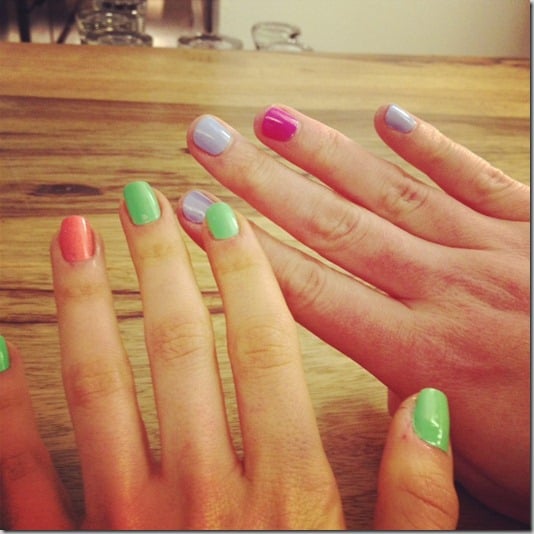 Before I start: This is going to be an incredibly "light" post (I had actually scribbled it yesterday morning), but before I say anything else, I want to send my love and good wishes out to everyone affected by the events in Boston yesterday.
Lately, at the urging of Sayward, I've been using Instagram more often (you should totally follow me). This means more photos of me clutching things like coffee, smoothies, midday snacks, and lunchboxes. A few of you have commented on my often brightly colored nails, and asked what polish varieties I use, so I figured it would be a good time to talk about vegan nail polish!
When I purchase nail polish, my primary goal is to avoid supporting nail polish makers who participate in animal cruelty or use animal products in their nail polish. This can be hard at conventional salons, since neither Essie nor Opi is cruelty free (note: when I originally wrote this post, I stated that Opi polishes are cruelty free, but I've since learned that, while there are no animal products in Opi polishes and Opi itself does not participate in animal testing, Coty, the brand's parent company, does test on animals).
Beyond the ethical concerns, I also aim to find nail polishes that are as healthy and safe as possible. Many consumers are getting more savvy about toxins in various beauty products, and nail colors are no exception. Three ingredients to be wary of are toluene, DBP (dibutyl phthalate), and formaldehyde (a string of names that brings memories of orgo lab flooding back). DBP has been associated with birth defects (in animal tests, anyway—and sadly), and may disrupt male hormones. Toluene is a mild skin irritant and can exacerbate asthma (it's also in some glues and in gasoline). Formaldehyde, once a common preservative, has been described by The National Toxicology Program as a known carcinogen; at the least, it is a potent and volatile toxin.
Until recently, I'd believed it was very hard to find "3 free" (no DBP, no toluene, no formaldehyde) nail colors, and I'd thrown up my proverbial hands and reasoned that, so long as I could find vegan shades, I was doing my best. It's actually much, much easier to find 3 free nail polishes than I thought, as I learned when Rebecca asked me about non-toxic brands on Instagram. Most of the brands that are vegan-friendly are also free of the major toxins, which makes shopping easy. Here's a roundup of brands that I've either seen or purchased myself, and loved.
This relatively new company (founded in 2013) makes fun, playful shades and is "5-Free": Free of Formaldehyde, Dibutyl phthalate (DBP), Toluene, Camphor, and Formaldehyde Resin. The company has also pledged not to use animal products or test on animals.
Priti
Possibly my favorite nail color brand, Priti has a huge variety of shades. My personal favorite is an electric blue called "blue sage," but the lighter shades are beautiful as well. At $13.50, these are not cheap, but they do tend to last a while.
Zoya is the best—and I say that without having tried any of their colors yet. Vegan, non-toxic, priced at $8.00, and easy to order with easily accessible customer service. Readers recently made me aware of this brand, and I promptly checked out the website—and was mighty impressed!
Lots of original colors and cool packaging. These retail for about $12.00, and can be a little tough to find, but the company has a good philosophy.
I've used ELF products before and really liked them—plus, it's hard to beat the incredibly low price!
Acquarella
These polishes are totally non-toxic and water based, which means no powerful odors. I love the idea, but they're priced at $16.00, which means they're a tough purchase if you're on a budget.
This company has been making vegan nail polish for a long time, and it boasts cheeky names for its shades! You can find it at Ricky's, at Urban Outfitters, and through the company website.
OCC (Obsessive Compulsive Cosmetics)
Both a makeup and a nail brand, I love the company's offering of colors, all available online. But I also love the no-nonsense vegan mission statement:
What's with the 'Vegan' thing?

In a time when many cosmetic companies make the claim that their products are "Cruelty Free" simply because Animal Testing has become unfashionable and less cost-effective, OCC felt it was necessary to raise the bar on this issue. We pledge never to use animal-derived ingredients (including Lanolin, Beeswax, Carmine and more) in our products and accessories. Beyond any personal convictions, we simply believe that it's unnecessary, especially when there are alternatives that are just as readily available, and equally effective in the formulation of our products. Further, you need not necessarily be aligned with animal rights issues to reap the benefits of a vegan cosmetic line: animal ingredients can be amongst the most allergenic and skin reactive, and prevent makeup from being considered Kosher, Halal or otherwise compliant with various dietary (and sanitary!) regulations.
I discovered Scotch nail colors at Expo East this year and was blown away by the cool, sophisticated, and creative range of colors. They can be purchased from the website in a "cocktail trio" of shades, customized by you — the three above were my hypothetical selection!
What about you guys—any recommendations? Favorite brands or colors? My guess is that many of my readers are far more savvy about cruelty-free beauty than I am! Speaking of, I cannot recommend the following resources enough for information about makeup, skin, nail and hair care that is animal-friendly:
Cruelty Free Face (Melisser is the best!)
Enjoy!
xo