Earlier this week, when I wrote in to take requests for raw rehab, I got at least three emails asking me the same thing: "how do you make your green smoothies?"
The question made me smile. Why? Because it's an automatic assumption that all people who love raw food must be green smoothie drinkers. Well, dear readers, you will be shocked to learn that I am not a green smoothie fan: never was, and probably won't be anytime soon.
What's this, you say? No green smoothies? How could it be? Listen, I don't mind green smoothies. I really don't. But since a) I'm not much of a fruit eater, and b) I tend to eat copious amounts of green things without blending them into my drinks, I've never found that green smoothies are an integral part of my lifestyle. If you love them, that's great! But they can be optional if you happen to get your greens on in other ways. After all, the main premise behind the beloved green smoothie is simply that we all need to eat more greens. Since it's hard for most people to munch on greens all day, blending them into tasty drinks can be an excellent way of filling up. If you're already someone who eats and juices a lot of green food, though, the idea of greening your smoothies becomes slightly irrelevant. And since at least half of my lunches and dinners usually consist of dark, leafy greens, I don't fret too much about how much green stuff I'm getting.
Not gonna lie: there's also a slight aversion going on. Ask me to eat a bucket of raw kale, and I'll gladly oblige. Give me a bowl of steamed spinach in the morning next to a smoothie, and I'll gobble it up with out hesitation. In fact, I've been known to devour kale salad for breakfast with glee. But throw greens in my smoothie, and I suddenly find myself getting a case of the heebie jeebies. I don't know why this is: I certainly have no problems whatsoever with green juice (and some hardcore green juice varieties at that), but there's something about mixing greens with fruit that makes me cringe.
Fortunately, I own a juicer. So when I do want to have a healthy dose of green power in the morning, I can juice up a storm. And when I crave a smoothie — as I sometimes do in the summertime — I can focus more on the fruit than on the greens. The smoothies I most enjoy are banana based (bananas are the type of fruit I like most), thick (more akin to shakes than smoothies, per se), and rich (meaning that I like to enrich my smoothies with at least one source of healthy fat, be it nut butter, flax oil, or avocado). Simple fruit smoothies are lovely as a snack, but if I'm going to enjoy a smoothie as a meal, it has to pack more punch than fruit and coconut water alone!
So what kind of smoothies do I enjoy the most? I shared one of them last week, in my weekend rundown. It's one of my favorites, and never fails to fuel me up before or after a workout. It's my chocolate almond butter smoothie, and the approximate recipe (because I rarely measure it all out), is as follows:
Gena's Chocolate Almond Smoothie (serves 1)

1 large or 2 small frozen bananas
2 tbsp raw cacao or carob
1 tbsp almond butter
1 tbsp chia seeds
Water
Lots of ice
Blend all ingredients on high till thick and smooth.
Believe me when I say that this baby will dwarf your conventional milkshake! It's extraordinarily delicious.
My other favorite smoothie is also infused with hints of chocolate (in this case, carob), but hits a fruitier note. Like all smoothies made with berries, it boasts a lot of antioxidants. But what I like best about it is the unique flavor: it's both refreshing and rich all at one, due to the combination of carob and berries.
Gena's Choco-Berry Smoothie (serves 1)
1 large or 2 small bananas
1/2 cup blue or blackberries
2 tbsp carob powder
1 tbsp nut butter (cashew, almond, hemp, and coconut all work beautifully)
1 tsp chia seeds (optional, but creates a nice thickness)
1/2 cup homemade nut milk (substitute organice and store bought if necessary)
Lots of ice
Blend all ingredients on high till super thick and creamy.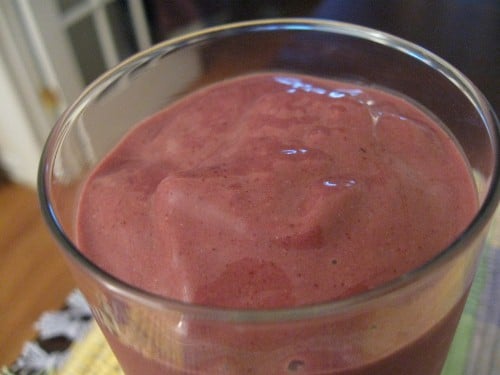 Check out that lovely color! Note to folks who are sensitive to food combining: sub the flesh of one young coconut for the nut butter if you'd like a well combined option!
A few more of you have written if smoothies are usually enough to serve as a meal. My answer? Typically, no. Oddly enough, I can sip vegetable juice throughout the morning and feel sated right until lunchtime (although I usually opt for a raw or semi-raw breakfast instead). If I have a smoothie, though, it tends to activate my appetite, and smoothies are rarely enough to satisfy men once I get hangry! So if I do have a smoothie for breakfast, it's gotta be action-packed, like the smoothies above: sometimes I'll even opt for 2 tbsp of nut butter, or a combination of nut butter and coconut butter. That's just me: many of you may find that a simple smoothie is perfectly satisfying for your body's needs.
Remember, readers: we're all different. Blended meals work nicely for many: I just find that they need to be had in combination with bulkier, solid food in order to serve as a whole meal. When I do get a hankering for a smoothie, though, the combos above (and combos like them) are my top choices for delicious, frosty nutrition.
That's it for now, guys. Stay tuned, though: tomorrow night, as I paint Chicago red, the first of a few special guest posts I've got planned for the week ahead will pop up on CR. And on Monday, I'll be checking in with a travel update. Have a great weekend!
xo