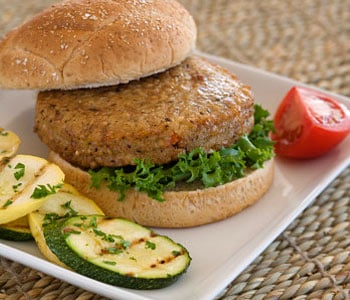 A few days ago, in response to my post on soy protein versus hemp/rice protein, I received the following question from reader Jocelyn. Echoing a few other curious readers, she asked,
"Your food blog sparked my interest when you guest posted on The Fitnessista's blog a while back. I find your blog to be EXTREMELY informative but I'm still having some problems with my eating habits. I have cut out all meat for about two months now but unfortunately have not yet been able to stop eating fish. However, I've been reading on your blog and many others that soy protein is highly processed. I eat A LOT of soy protein, Amy's veggie burgers and other soy products almost everyday in my salads for lunch. I'm wondering if you could recommend some substitutes. I enjoy huge salads/Ezekiel veggie wraps for lunch but feel that without a soy product I might not satisfy my hunger since I'm still relatively new to meatless meals and I exercise a lot.
Thanks for all of the helpful blogging!"
Great question, Jocelyn! It's very important that you get adequate protein and satiety, especially to support your active lifestyle! That said, you have a lot of options.Ah, soy substitutes. I have such a love/hate relationship with them. On the one hand, I'm
not a fan of processed soy
, for reasons that I've discussed a few times on this site. But I can't bash them, either, for three major reasons:
From a dietetic perspective, I believe that most soy substitutes are at least slightly superior to the animal products they're aiming to replace
From an ethical perspective, I believe they're most definitely superior
Soy substitutes are very important tools in the transition to veganism! Boca burgers and soymilk and soy yogurt — no matter how ambivalent I feel about them now — were truly helpful to me as I was going vegan. I didn't intend to rely on them forever, and I didn't need them for long (since I'd never really liked most animal proteins, it seemed sort of silly to be eating simulacra of them). But they were very comforting to me, and they gave me a boost of confidence as I began to transition into a cleaner, plant-based diet. So while they may not be nutritionally ideal, they're a valuable tool for people who are trying to kick start healthier diets overall.
That said, it's not at all hard to replace them, guys! Or at least to focus on different foods instead. Here are five soy substitute
substitutes
you may want to try:1)
Hemp
or
brown rice protein
for soy protein
100% plant based, all natural, and high quality protein powder. 'Nuff said.
2)Sunshine burgers for Boca Burgers or Morningstar Farms patties.
Sunshine burgers feature this short little list of ingredients: Ground raw sun-flower seeds, brown rice, carrots, herbs, and sea salt. Pretty impressive, no? Compared to the soy protein concentrate, wheat gluten, methylcellulose, salt, caramel color, yeast extract, hydrolyzed wheat protein, natural and artificial flavor, disodium guanylate, and disodium inosinate in a Boca burger, this is good news! And the best news of all is that Sunshine Burgers are exceptionally delicious–I frequently recommend them to my clients with taste-tested approval.
3) Almond milk or hemp milk for soy milk

Most conventional soymilk undergoes heavy processing before it hits the grocery aisle. So give your tummy a break, and try organic almond or hemp milk. The latter is very high in protein, and both are fantastic, tasty, and easy-to-digest alternatives with your morning meal. If you're feeling super creative, give my recipe for almond milk a try. It's delicious!
4) Bean Burgers for Morningstar Farms Breakfast Patties
Scrumptious beans and rice vs. textured soy protein and oils? Is this really even a toss up?
5) So Delicious Coconut Milk Yogurt for Soy Yogurt
Nothing could have made me happier than seeing this product trickle into health food stores and Whole Foods a year or two ago! For one thing, I've always thought that most soy yogurt tasted pretty darn awful. For another, coconut milk is infinitely more digestible than soy milk — and it has the added bonus of being non-estrogenic (different people feel differently about the estrogenic properties of soy, but I'm generally not in the positive camp). These yogurts are still slightly more processed than I'd like, but they're still purer than their soy counterparts. Enjoy!
And of course, Jocelyn, the best thing you can do is to start adjusting to sources of protein and satiety that don't mimic traditional animal proteins at all. Whole grains–especially quinoa–are terrific protein sources. So are beans! Beans and legumes are a crucial component of vegan nutrition. You can eat these sprouted or cooked; I prefer my beans cooked, but either method is fine. Turn them into burgers, croquettes, hummus or spreads, or throw them into vegan soups for a protein boost. They'll not only help your satiety, but they'll also add calcium, iron, and countless other vitamins and minerals to your diet as well.
Finally, don't forget your healthy fats. Avocados, coconuts, and nuts are all important sources of satiety; nut butters can, in particular, help give a protein and calorie boost to vegan meals, minus the artificial additives.
I hope this helps you all to understand that, while soy protein and soy substitutes have a really important place in the vegan transition, they aren't your only options. Explore the wonderful world of high-quality, whole grains and legumes. Over time, I'd wager you'll begin to feel sated and fueled without the soy — and prouder of your dietary choices, too!
Before, I go, I'd like to encourage you all, please, to donate what you can to Haiti.
Night all.