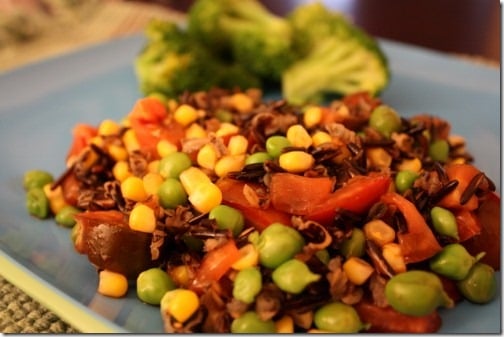 Express post!
I'm just home from work and about to head out again, but I wanted to check in a) because I love you all, and b) to share a recipe from the other evening.
As you can imagine, I tend to get a lot of emails along the lines of, "Can I eat __________ raw?" or "Is ________ a raw food?" My personal favorite was an email wherein someone asked me if stovetop oats were raw. "You mean the ones you boil for several minutes?" I wanted to reply.
But I understand these questions, at least in theory, because some of the foods you wouldn't expect to be able to eat raw do in fact make for lovely raw meals. Take wild rice, for instance. This delicious "grain" isn't a grain at all, but rather an aqueous grass that's often food to ducks and pond creatures. We can cook it, naturally, and I'm sure we all have: who among us hasn't made a wild rice pilaf at some point? But it's also very easy to soak wild rice, and the even better news is that you needn't bother to cover and sprout it before eating: you can soak it for three days, changing water at least twice daily, and then dig in right away. Easy peasy.
This week, with little time on my hands, I didn't feel like cooking up a batch of brown rice. As usual, raw foods came to the rescue. I threw together a summery wild rice salad that hit the spot and demanded no steamy stovetop vigil, and would have – if I'd had the foresight to make a double batch – yielded great leftovers, too. I'm about to give you a recipe for one portion, but do go ahead and double it. You won't be sorry!
Wild Rice Salad Salad with Summer Vegetables (serves 1)
1/3 cup wild rice, raw
1 large plum tomato, chopped
1/3 cup corn, raw
1/3 cup green peas, blanched if you like (I like)
2 tbsp chopped basil
2 tbsp Tomato Basil Vinaigrette, courtesy of Epicurious
Salt and pepper to taste
1) Place wild rice in a bowl and submerge it with at least 1-2 cups filtered water. Soak for 2-3 days, changing the water twice daily. You'll know it's ready when it's still quite chewy, but no more chewy than cooked wheatberries or spelt. Give yourself 3 days to be safe, but 2 was all I needed here.
2) Rinse wild rice in fresh water, let it dry a little (or pat it with a paper towel) and mix it with all remaining ingredients. Season with salt and pepper, and serve!
You'll notice that I didn't make up a vinaigrette for this recipe, and you'll be right. Usually I love making up my own dressing recipes, but I also love to be inspired by cookbooks and the web. This was one of those times. I daresay I could do as well as the Epicurious recipe (and maybe I'll try), but it's a solid one to make at home!
See? A fresh, summery raw meal that only requires a little advance planning: aside from soak time, this one is a cinch: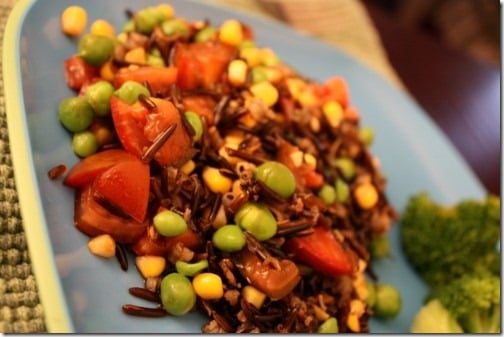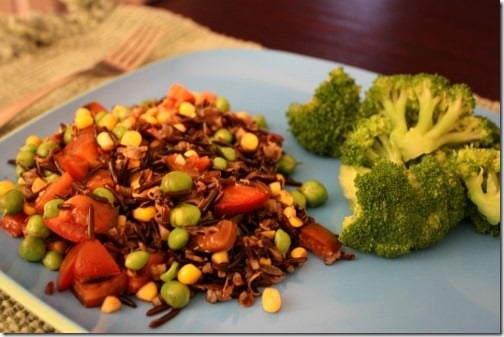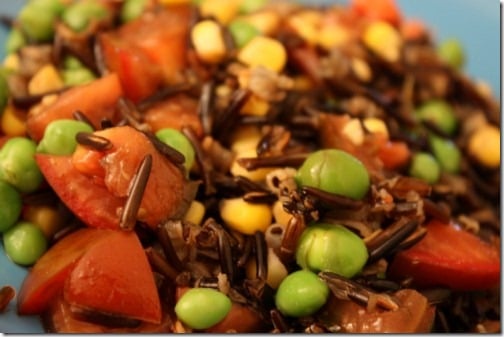 And did you know that wild rice has five grams of protein per 1/6 cup serving? For those of you counting, that's ten grams for 1/3 cup.
Soaked wild rice isn't quite as soft as we're used to from pilafs, but I actually love the texture and chew. And it goes without saying that it works really nicely with fall and winter flavors. I just may have a recipe in store for the holiday issue of VegNews! Hope you guys try this one out and like it. I'm sure there is plenty of variety to add to the dish, and don't hesitate to mix it up.
On that note, I hate to blog and dash, but I'm outtie. See you later this weekend!
xo