Thanks for giving Casey such a wonderful reception, guys. I'm so glad that you enjoyed her Green Recovery story. I'm excited for our next voice!
Yesterday morning, I had some very special guests over for breakfast:
Do you recognize my guests? They're Lori and Michelle, the incredible Pure2Raw twins. I've been friends with Lori and Michelle from afar for a long time. We've traded recipes, raw food love, and they've even done me the honor of sharing their health stories with me, and asking me for some advice. They're two of the warmest, sweetest, and most talented bloggers I know, and I'm so happy I got to meet them in person!
Normally, having someone over for breakfast means tofu scramble, pancakes, or some other sort of cooking endeavor. The nice thing about welcoming the twins into my home was that I could prepare something exactly like what I eat in the morning. We have very similar food tastes: we favor sweet+savory combinations, we have an intense love affair with avocados, winter squash and beets, our food tends to be very green, and we'll use any excuse to eat chia seeds.
I knew, then, that a spread of chia puddings and berries would suit us all fine. But since the twins do run their own gluten free and vegan bakery, and since I'm improving my baking skills lately, I thought I'd bake them some gluten free muffins, too. I was nervous, but I reminded myself that if it tasted good to me, it was likely to taste good to them, too. The muffins I came up with combined a bunch of my favorite things: chocolate, millet, and chia. I hoped the twins would share my tastes, and fortunately, they did.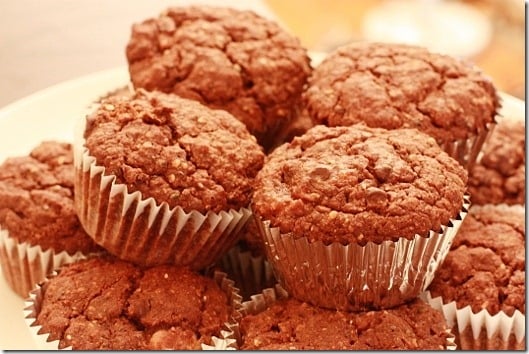 Gluten Free, Vegan Double Chocolate Chia Chip Muffins (vegan, gluten free, soy free)
Yields 12
1 cup millet flour (you can also use GF all purpose flour)
2/3 cup almond flour
1/2 tsp sea salt
1 tsp baking powder
2 tbsp flax meal
2 tbsp ground chia seed (whole will work, too, but I like the binding properties of grinding the chia)
1 banana
1/3 cup coconut oil
1/2 cup unsweetened applesauce
1/4 cup almond milk
1 tsp vanilla extract
1/2 cup maple syrup or agave
1 cup vegan dark chocolate chips
1) Preheat oven to 350 degrees.
2) Mix the millet and almond flours, salt, baking powder, flax, and chia in a large bowl.
3) In a food processor, process the banana with the applesauce, almond milk, vanilla, and maple syrup.
4) Pour dry ingredients into wet, and stir to combine. Add vegan dark chocolate chips and stir again.
5) Pour into muffin liners and bake for 25 minutes, or until a toothpick comes out clean.
These are sweet, dense, chewy, and full of delightful little chocolate chips. Don't take it from me, though: take it from the twins, who gave them two (four?) thumbs up! What a relief.
The rest of breakfast was less daunting. Rather than brew coffee at home, I resolved to treat Lori and Michelle to NYC's best cup of Joe, which is coffee from Joe:
And my two chia puddings were also a breeze. Chia pudding is one of my absolute favorite breakfasts, and now that it's warming up, I prefer it to hot cereal. My chia puddings are usually served up with some fresh or frozen fruit and a sprinkle of cacao nibs. To access some of my favorite recipes from the archives, check out the ch-ch-ch-chia tab in my recipe collection!
The twins tend to be mindful of their sugar, so I opted for two chia puddings that weren't overly sweet. The first was a cacao chia pudding that was inspired by mole sauce, which blends cocoa with a bit of heat. I love this combination!
Cacao Spice Chia Pudding (raw, vegan, gluten free, soy free)
Serves 2-4
1/4 cup cacao nibs
6 pitted dates (or 2 packets stevia)
1 1/2 cps almond milk
2 tsps cinnamon
1/2 tsp ground ginger (or 1/2 inch fresh)
Dash cayenne pepper (*dash*! Cayenne is piping hot, so be careful)
5 tbsp chia seeds
1) Blend almond milk, cacao, dates, cinnamon, ginger, and cayenne in a VitaMix till smooth.*
2) Pour mixture over chia seeds and mix. Stir again in about five minutes, and again five minutes after that, until chia seeds have plumped up. Place pudding in the fridge till ready to use.
In addition to being bakers, raw chefs, bloggers, and photographers, the twins are also very athletic, and blog about fitness often on their blog. They enjoy various types of protein powder, but they're primarily champions of Vega, just the way I am. We all admire Brendan and his work, and so I thought it would be nice for us to pay tribute to what he stands for with a Vega-infused protein pudding.
Cashew Protein Chia Pudding (raw, vegan, gluten free, soy free)
Serves 2-4
2 tbsp cashew butter
1 heaping scoop Vega or Vega Sport Whole Foods Optimizer (sub any raw, vegan protein powder of choice)
1 1/2 cups almond milk
1 tsp vanilla
Dash salt
6 tbsp chia seeds
1) Blend almond milk, Vega (or other protein), cashew butter, and salt together in a VitaMix till creamy. Pour over chia seeds. As above, stir in five minute intervals till plump and set; store in fridge till ready to use.
I served the puddings and muffins with some fresh berries:
And muffins completed the spread: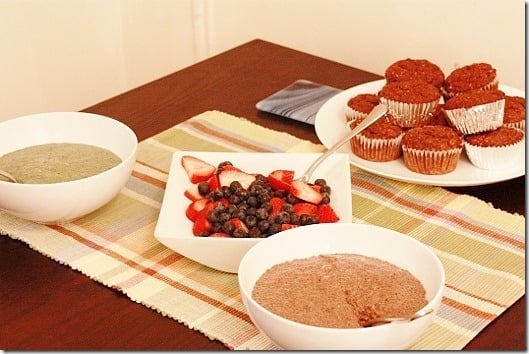 I helped myself to both puddings, chopped banana, and some berries, and saved myself a muffin for an afternoon snack. I enjoyed it all, and felt glad that the twins seemed to feel right at home as they gobbled up the pudding with me.
We had plenty to gab about, but one topic we kept returning to was how easy it is to get pigeonholed within the blog world. They twins noted that, when they attend meetups, they'll often hear, "oh, you're the raw, vegan girls." While the twins do eat mostly raw and mostly vegan, they don't feel that either term defines them wholesale. I can relate: while I feel 100% comfortable with the vegan label, and basically comfortable with the "raw" one ("semi-raw" is obviously more accurate), these terms don't totally sum up my blog and everything I want it to be: a source of inspiration to eat healthy, a place to celebrate animal life, a place to talk about body image and EDs, and a chronicle of my journey into medicine. We bloggers have to find pithy ways to sum up our missions, but in the end, our blogs are as varied as our lives are.
But if people want to think of me as "that raw, vegan girl?" Great. I'm proud of both my veganism and my passion for raw food, and I'm grateful to anyone who does me the honor of associating me with those lifestyles.
Even if their eating style isn't neatly summed up by either raw foodism or veganism, I think that Lori and Michelle stand for the values of vegan and raw foods: they're compassionate and passionate, culinarily adventurous, excited by the promise of good health, and eager to share their knowledge with others.
Thanks for breakfast, ladies!
Blogging friends: do you ever feel as if your blog mission gets pigeonholed? How so?
xo