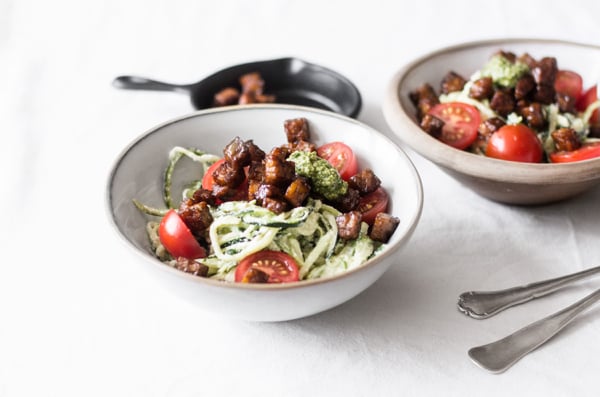 It's easy to get stuck in certain ruts in the way we think about food. Because my first introduction to zucchini noodles was to use them in raw food dishes, I've gotten in the habit of only thinking about them that way. Of course, zucchini noodles are wonderful cooked, and the raw ones can also be paired easily with roasted or seared or steamed or sautéed ingredients, too. This recipe for zucchini alfredo with cherry tomatoes, basil, and seared tempeh combines cool zucchini noodles with hot, savory seared tempeh for a nutritious and balanced meal.
As is often the case, this dish emerged from seeing what I had in my fridge and getting creative with it. I got back to DC after a week out of town recently, and my fridge was a little bare. That said, I did some still-crisp zucchini and a box of plump cherry tomatoes. I had (as usual) tons of cashews, and so some sort of zucchini noodle + cashew cream situation seemed like a good idea.
As I was peering into the back of my fridge to find a lemon, I noticed that I had a package of flax tempeh that I'd forgotten about. It was a perfect opportunity to add a protein to the dish. I promptly got to chopping my tempeh into cubes and searing it in a tiny bit of coconut oil. I whipped up some cashew alfredo sauce and spiralized my zucchini into lovely, long ribbons. And I took a moment to appreciate the wonderful recipes that can happen when you get creative with what you have.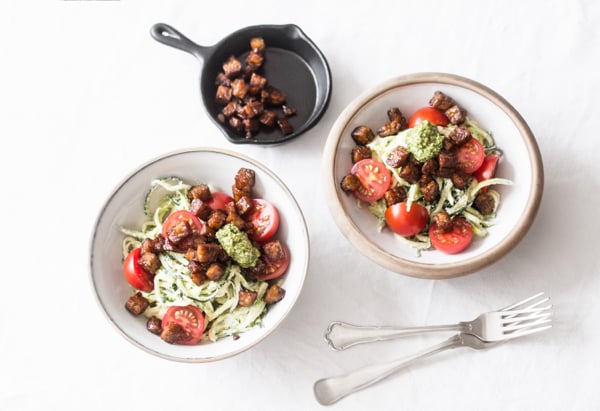 Zucchini Alfredo with Cherry Tomatoes, Basil, and Seared Tempeh
Cuisine:
vegan, gluten free
Author:
Prep time:
Cook time:
Total time:
4 small zucchini or summer squash, spiralized or cut into ribbons with a julienne peeler
1 1/2 cups cherry tomatoes, halved
A small handful of chopped basil or basil pesto
For the sauce:
½ cup cashews, soaked for at least 2 hours and drained of soak water
⅓ cup water
1 large or 2 small cloves garlic
2 tablespoons lemon juice
½ teaspoon sea salt
2 tablespoons nutritional yeast
1/8 teaspoon black pepper
For the tempeh:
8 ounces tempeh, cut into small cubes
1 tablespoon grapeseed, safflower, or canola oil
Bragg's liquid aminos or tamari
Heat a large skillet over medium high heat. Add the vegetable oil. When it's shimmering, add your tempeh. Sear the tempeh for about 2 minutes on each side (8 minutes total for the cubes), adding splashes of tamari or Bragg's as you go. Set the tempeh aside.
Blend all sauce ingredients together in a high speed blender till smooth.
Transfer your zucchini noodles, tomato, and basil to a large mixing bowl and add all of the sauce. Mix to combine, divide into four serving bowls, and then divide the tempeh evenly onto each bowl. Serve with a fresh green salad or another vegetable accompaniment.
Tempeh and raw zucchini pasta may not immediately seem like bedfellows, but they're terrific together. I love how the earthy, chewy tempeh contrasts with the tender noodles and sweet cherry tomatoes. Altogether delicious–and a quick meal option, even if you take time to serve it with a salad, too.
Thanks to everyone who commented yesterday on Katie's Green Recovery story. Have a great evening!
xo
Images courtesy of Lighter