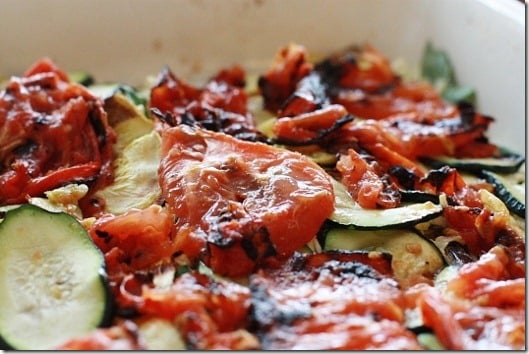 Hey guys! Hope the weekend treated you well. I spent a great four days with the boy, and now I'm gearing up for some power packing. I loved your responses to my spinach burgers; they're well worth making, and I'd love to hear about it if you try them! In the meantime, I'm excited to share my first truly summery recipe of the summer: a summery vegan tomato and zucchini gratin.
This dish is a perfect tribute to summer's bounty. There are the tomatoes and the zucchini, but there's also some eggplant in here, as well as plenty of creamy Daiya cheese. Of course, you can use another non-dairy cheese of choice (there are SO many options nowadays!), or you can use cashew cheese instead. It won't be quite as melty, but it'll be delicious.
The key to the gratin turning out well is that you salt and pat dry your vegetables before you bake them: they're all very watery, and it's important to both season and dry them out with salt before you assemble the gratin, lest it end up a watery mess. Sounds annoying, but it really makes a difference.
The other key is that you pre-cook each ingredient before cooking them together. Again, this is a bit of a pain, but it ensures that the finished gratin isn't at all mushy or watery. Instead, each ingredient is perfectly seasoned and cooked, and they all come together in the most delicious of ways.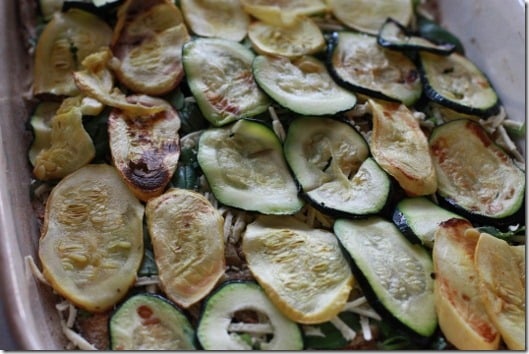 Zucchini and Tomato Gratin
Recipe Type
:
entree, side dish
Cuisine:
vegan, gluten free, soy free, nut free
Author:
Prep time:
Cook time:
Total time:
2 average sized summer squashes, sliced lengthwise into 1/4 inch thick slices (a mandolin makes this easy)
1 large eggplant, sliced lengthwise into 1/4 inch thin slices
1 cup unsweetened soy or almond milk
1 cup vegan breadcrumbs (gluten free if desired)
2 teaspoons dried oregano
2 beefsteak tomatoes
1 1/2 cups Daiya cheese (or another melty vegan cheese of choice)
3 cups finely chopped, fresh basil
Salt and Pepper
Sprinkle the eggplant and the tomatoes generously with salt and let them sit in a colander for about 30 minutes.
Set your oven to broil. Place the squash slices onto a baking sheet and sprinkle with salt and pepper. Broil till they're nearly crispy, but still a little moist (5-7 minutes). When they're done, set them aside. Reduce oven heat to 400 degrees. Line two baking sheets with foil or parchment.
Pat eggplant and tomatoes dry with paper towels, removing all excess moisture. Mix the oregano and the bread crumbs in a wide bowl or on a plate. Dip your eggplant slices in the almond or rice milk, then dredge them in the bread crumbs. Transfer them to one lined baking sheet, then transfer the tomato slices to the other baking sheet.
Place the tomatoes and eggplant in the oven. You're baking the eggplant slices for 30-35 minutes, or until crispy, flipping them at the 15-minute mark. The tomatoes will probably be soft and browning after 15 or 20 minutes, so be sure to check on them and remove them before the eggplant. When the vegetables are done, reduce oven heat to 350F. Lightly oil a 7 x 11 baking dish.
Mix the Daiya and basil together in a bowl. Layer 3-4 slices of the eggplant into the bottom of your baking dish. Top with about 1/3 of the Daiya mixture. Top this layer with the summer squash, then a layer of tomatoes. Top the tomatoes with another third of the Daiya mixture. Finally, layer 3-4 slices of the eggplant on top, and then cover that layer with the remaining third of Daiya/basil mixture.
Bake the gratin for 15-20 minutes, or until the Daiya is totally melted. The vegetables will be slightly crispy from the baking, the Daiya will be creamy, and your tastebuds will be over the moon!
Leftover gratin will keep for up to 3 days in an airtight container in the fridge, and it should be reheated in the oven before serving.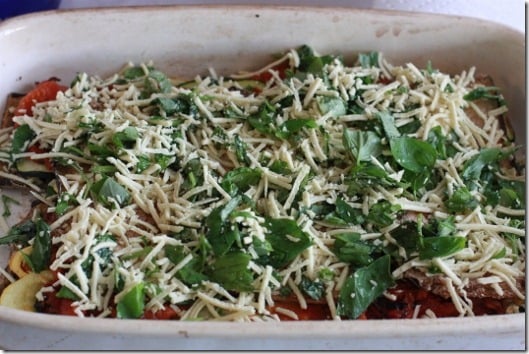 What a nice way to celebrate early summer. And now that my finals are over, summer really is here—in spite of the slight upheaval that's ahead of me.
What are you most excited to cook this summer? And what's the first thing you tend to make when you're in the mood to go above and beyond the usual?
xo