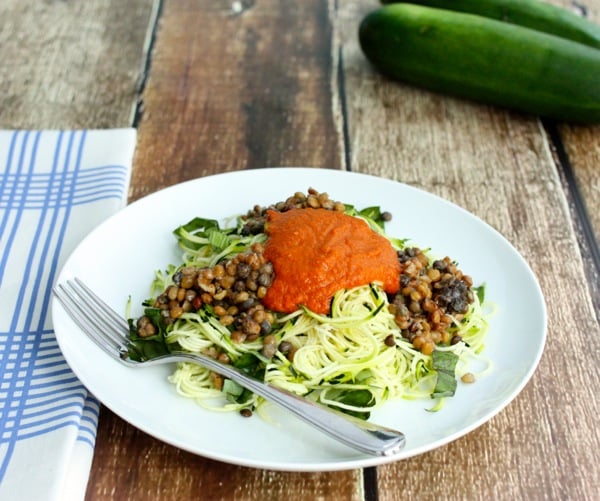 Zucchini marinara was one of the first recipes I ever blogged about. It has remained popular ever since, and I was reminded of why I love it so much when I taught the recipe at a raw foods cooking class last week at the gorgeous Annapolis Whole Foods. The class, sponsored by the fabulous folks at 22 Days Nutrition, was focused on teaching folks simple, stress-free raw recipes. I couldn't think of anything more sensible to share than zucchini pasta, which is so easy, accessible, and familiar. I forgot to bring my spiralizer, which actually turned out to be a boon, since I was able to show the class how to create noodles with nothing more than a vegetable peeler (if you're curious, this post sums it up). And when I whipped up the marinara using no more than five ingredients (tomato, sundried tomato, red bell pepper, and basil), I could see eyes widening in surprise. That's the joy of raw recipes, sauces and dressings in particular: with just a few ingredients, you can create something that's satisfying and vibrant and which allows every single flavor to shine through.
One of the points I emphasized continually in the class was that using raw food techniques (like creating vegetable "pasta") and making raw dishes doesn't mean that you have to embark upon a raw food conversion experience. A lot of the folks in the class were on a raw challenge, but I pointed out that it's not necessary to "go raw" for a week or even a day to get inspired by raw food recipes; you can eat raw and cooked recipes side by side. What really counts is seeking out nutritious, wholesome, and tasty food most of the time–raw or cooked!
I also mentioned to the class that a lot of raw recipes, as written, are delicious but not particularly filling. For that reason, I very often add cooked foods (legumes and grains in particular) to raw recipes (my own, and ones from cookbooks or blogs). It's in the spirit of that remark that I share this recipe, which is just a simple spin on my classic zucchini marinara. I add cooked lentils and extra chopped basil to the plate, which adds a lot of nutrition, as well as more satiety. The lentils can be replaced with any legume of your choosing (chickpeas, navy beans, cannellini beans), and they can also be replaced with a whole grain of your choosing. I have a feeling that farro would be great here.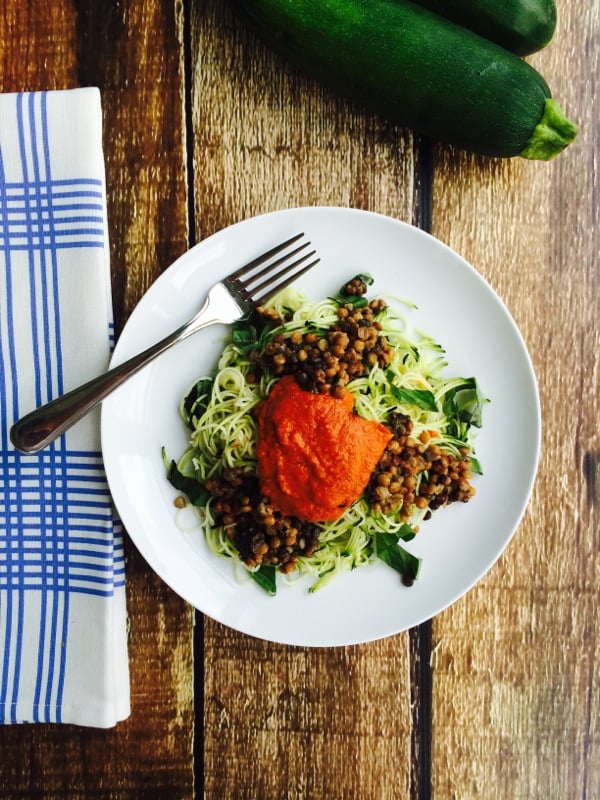 Zucchini Noodle Marinara with Lentils
Author -
1/2

cup

green

brown, or French lentils

2

medium sized zucchini

1

cup

marinara sauce of choice

homemade or store-bought

1/4

cup

basil

chopped

Hempesan or vegan parmesan for topping

optional
Place the lentils in a sauce pot with enough water to cover them by several inches. Bring to a boil, then reduce the heat to low. Cover and simmer for 20-30 minutes, or until the lentils are tender but not mushy (begin checking them at 20 minutes and add cooking time as needed). Drain the lentils, give them a rinse under cold, running water, then set them aside.

Trim and spiralize your zucchini (I like to use

the Inspiralizer

or a

julienne peeler

. Gently warm the marinara sauce in a small sauce pot.

Divide the spiralized zucchini into two bowls. Top each with about a half cup of marinara sauce, a half cup of lentils, and two tablespoons of chopped basil and

hempesan

, if you like. Serve.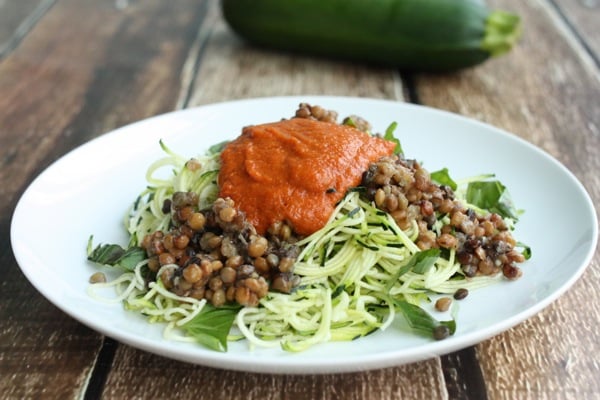 The recipe can very easily be doubled. And to save time, feel free to use canned or boxed legumes. The chickpeas above are from Trader Joe's, and they're really convenient when you're in a pinch.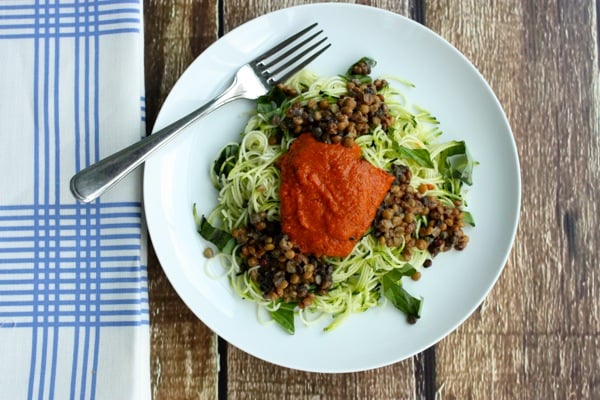 And now, the important stuff: comments on Saturday's post. I don't really know how to thank you all for such a remarkable outpouring of love, support, insight, and understanding. Maybe instead of trying to verbalize my gratitude, I should quote my mother, who read each and every comment: "I've never read anything so life-affirming and wonderful. It's amazing what these self-possessed women have written." 
Yes, that's about right. Truth be told, I was terrified to write that post; I put it off for more than a few months. Part of the hesitation was knowing that, once I wrote the story out, it would be time to start finding closure from this experience, and I wasn't quite ready to do that. But I also feared that readers would be disappointed in me because I'd chosen not to reapply. One of the most meaningful parts of your collective response was the fact that you assured me that it's OK to recognize when an endeavor has gone far enough. We can call it knowing when to give up, or knowing when to move on, but no matter what we call it, it's a very powerful experience. It wasn't easy for me not to dig in my heels and grit my teeth and keep going with this, but I know it was right. Thank you for getting it.
In the last few days, I've gotten a lot of emails from folks who've gone back to school. All of them express empathy for the kind of struggle I described in that post. It's hard to go back to school, especially if it's been five, or eight, or ten, or fifteen years since you so much as glanced at an exam paper. It takes tremendous humility and adaptability. But it can also be a really incredible and brave thing to do. If you're contemplating returning to school after some time away from it, know that you're not alone in finding it frightening and hard. But also know that, no matter where your studies take you, you'll learn a great deal about yourself in the process.
Final thought: in the last year or so, I think I've put a lot less of myself–my inner life, that is–onto this blog. I was recently reading through some very old posts, and it's amazing how open they seemed to me, how candid. Between last spring and last Saturday, I think I withheld a lot of myself from Choosing Raw. I was feeling so vulnerable with school and applications that the notion of "putting myself out there" day to day on the blog frightened me. But enough of that. This blog has never been just a recipe collection, nor a place to talk about cooking. It's been a love letter to veganism, to recovery, and an ongoing chronicle of my life. It's sometimes difficult to read posts from five years ago, because so much has changed, but I like the fact that my blog is a testament to where I've been, and how I've changed. I hope to emerge again on Choosing Raw, to come out of hiding a bit, and to remain just as dedicated to the topics that resonate with us all. I'm really so lucky that all of you are reading.
xo