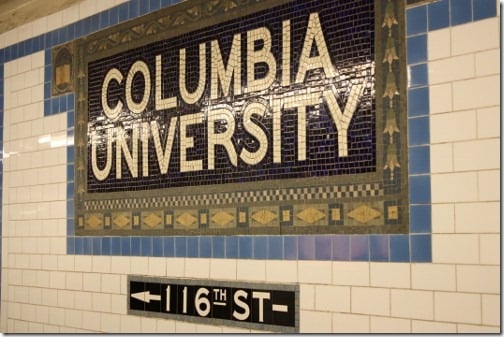 Thanks, guys, for the wonderful comments on yesterday's guest post from Kailey. I was especially interested in the discussion between Elizabeth, Danielle, Karen, and Kate—check out that train if you have a second.
Right now, I'm blogging from the main student lounge in Alfred Lerner Hall, the student center on Columbia University's campus. I'm wrapped in a sweater and curled up around my laptop, and I'm sipping a big cup of tea. I look exactly the way I looked during any given free hour six years ago, when I was an undergrad here at Columbia (disregarding a grey hair or two).
It's never been hard for me to hurl myself into any new project—new job, new school, new friendship—with abandon. This is generally a strength; it allows me to immerse myself in new endeavors without looking back at what I was doing before. It would probably be an overstatement to say that I'm skilled at self-reinvention, but it's not unfair to say that I'm generally quite focused on the present task at hand, and not preoccupied with my past. For this reason, I'm sometimes prone to forget how much past experiences—be they personal, professional, or academic—actually meant to me.
Prone to forgetting, that is, but also quick to remember. When I walked onto the Columbia campus yesterday morning—and keep in mind that I hadn't set foot on campus in years, even though it's a mere forty blocks from me—I was flooded with a mix of nostalgia, excitement, and adoration.
In fact, I'm pretty sure that my face erupted into a giant, goofy smile, and that I half-skipped across campus. My undergrad years were as bumpy as anyone's, but I loved Columbia with all of my heart, and I love it still.
With scenery like this—tucked away in the chaos of NYC—how could I not love it?
That, by the way, is my freshman year dorm. Good times.
I was pretty jittery as the day began, but I calmed down right away when orientation began. The whole thing was organized down to the last detail, and the post-bacc students who led the orientation were ridiculously friendly. It's a very diverse group of students I'll be studying with. Among the careers my peers have had before pursuing medicine are video game programmer, guitarist, eating disorder hospital volunteer, carpenter, baseball player (that's not a joke), literary agent, banker, consultant, paralegal, and assistant to a Hollywood studio exec. And that's only a handful of what I heard. It's pretty cool to be embarking on this journey with students who have had some legitimate life experience, just as I have. My advisor is not only head of the post-bacc program, but also an English lit PhD and a member of the Columbia English department faculty, so she and I share a lot of interests. In short, so far, so good.
I'm definitely one of the older students in the post-bacc, and I can already tell that this is something I'll struggle to accept—especially since my coursework won't begin in earnest until next fall, and the road after that will be very, very long (depending on how I structure things, I may not begin med school until the fall of 2014). I've always been relatively young for the things I was doing professionally, and in some ways that's given me a smugness about my own precocity. But I'm not seventeen anymore, and it's time for me to stop attaching my sense of self worth to my youth. If I'm going to pursue a career in medicine, I'll need to accept right now that I'm doing it a little later than most people who do it, and I won't be less of a doctor for that reason (all of you who've written to me with stories of family or friends who went back to school later in life, feel free to reiterate those stories to me).
The day was full of seminars on time management (not exactly a revelation, but welcome nonetheless), stress management (always welcome), and financial aid planning (grim, but useful). In between, we were served breakfast and lunch. I'm sorry to say that neither meal was vegan friendly! The breakfast buffet was a spread of pastries and muffins, and lunch did have a vegetarian option, but it was roast veggies on a wrap that I wasn't sure was actually vegan, along with chips and a brownie. Perhaps this is all evidence of why the medical world needs a lady like me? 😉 Anyway, for this reason, I was glad that I'd eaten breakfast at home, and packed some Gena-friendly fare for lunch (a giant salad and dressing).
Today, knowing I'd be back on campus for placement tests and advising, I decided I'd once again to pack something fresh, raw, and healthy for lunch. I was craving a raw burger, but worried about not having the time to dehydrate anything. It then occurred to me that, if I'm going to be a student again, I'll need to get used to packing lunch quickly, and I decided to try my hand at a dehydrator free raw burger. This quick, tasty concoction was the result!
Quick n' Easy Dehydrator Free Raw Burgers (yields 3-4)
1 1/2 cup walnuts
1 Portobello mushroom, loosely chopped (sub cremini or white if you need to)
1 large carrot, chopped
1 tbsp dijon mustard
1/2 clove garlic, minced (optional)
1 tbsp tamari (I used low sodium)
2 pitted dates
Salt and pepper to taste
1) Begin by putting all the walnuts in a food processor and grinding finely.
2) Next, add the mushroom, carrots, mustard, garlic, tamari, salt and pepper, and dates in the processor, and pulse.
You want a texture that's uniform but still a little chunky.
3) Shape the mixture into 3 or 4 burgers. If it's very sticky, just relax: it'll toughen up a bit in the fridge.
I cut up a burger and stuffed it into a chard leaf. This is an idea that struck me last week in D.C., when—inspired by my raw banana breakfast sushi—I used a chard leaf to wrap up one of Dreena's leftover mushroom pecan burgers for lunch, like so: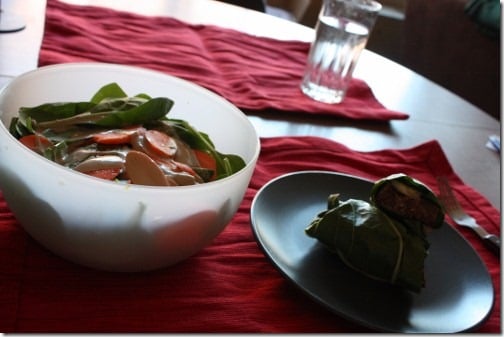 Turns out chard leaves are very versatile! My new burgers, while softer than Dreena's, also worked nicely in a cocoon of chard:
When it came time for me to enjoy my lunch, I had a tasty raw burger wrap at the ready, along with a fresh salad and some of my zucchini dressing.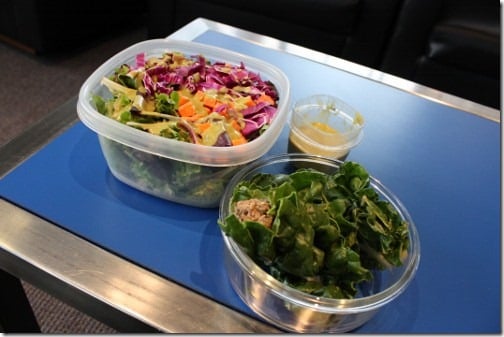 If all of my student lunches turn out this nicely, I'll be impressed with myself.
With that, a long two days of orientation come to a close. Even if school begins full time for me in the autumn, it was wonderful to get a sense of what my academic experience as a post-bacc student will be. In the meantime, I'm excited to tell you all about the clinical jobs I'm exploring to keep me busy in the semester ahead.
How was the start of your weeks? And student readers, spill it: what are your favorite, easy-to-pack lunches?
xo