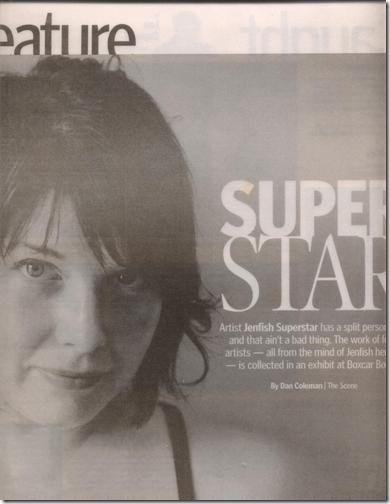 So much enthusiasm for a sweet bean dip! Excellent: we're onto something. Expect more recipes like it very soon.
Today, I've got a new Green Recovery post from you. This one is from my friend Jennifer Molica, who is the sassy, straight-talking, and wry voice behind the blog That PITA Vegan. Know what that stands for? "That Pain in the A__ Vegan." In spite of what the title of her blog suggests, there is nothing painful about Jennifer or her message, which is deep, humane, and empowering.
This is not Jennifer's first ED related post. In the fall, she wrote a searing post for Stop Chasing Skinny about her intense struggle with bulimia, and how she managed to pull herself out of the fray. That post was not only a strong piece of personal memoir, but also a very useful, prescriptive guide for seeking out therapy and help. This post, you'll see, is less practical, and more meditative. It does precisely what I want Green Recovery posts to do, which is to make connections between ED recovery and the meaning of a vegan lifestyle. What is it specifically about veganism that makes it so powerfully healing for so many people with ED stories? How does it help us to escape the isolation, the obsession, the dark moods?
As I think you'll see, Jennifer does a wonderful job of addressing that very question—all with her characteristic blend of tough-mindedness and empathy. Please welcome her to CR with me!
I have been racking my brain with ideas as to how I should approach this article. In the essay "If You Want To Quit Barfing" submitted to Stop Chasing Skinny, I was pretty clear: stop puking if you want to live, and you'll die if you don't. I shared my story of how I saved my life by asking for help. There were many contributing factors to my success, and one of them was going vegan.
Some one asked me "How did going vegan save your life?" There are multiple answers to this question: I learned about the process of food to my plate, taught myself to cook, and elevated myself spiritually by learning about the process of compassionate eating and living. It didn't happen overnight. I was frustrated, felt inferior to other vegans, wanted to belong, and had a strong desire to do things perfectly. Flawlessness isn't a realistic expectation and offers more difficulty to transitioning to this way of life.
When one is in the grasp of addiction, whether it be alcohol, drugs, food, gambling, and sex– that individual is only thinking about themselves and feeding their insatiable desire that can never be filled by any of those actions. In the clutches of bulimia, I was so far down the scale, I didn't have the capacity for loving anything, not even myself. When I chose veganism, I made this decision to direct my thoughts and energies towards something much bigger than myself—The World!
The first time I went vegan in 1999, I did it for the wrong reason—a relationship. When we broke up, I broke up with veganism. There was a small militant contingent among the vegan community in Btown and I was made fun of, called a sell-out, and alienated for making a return to Omniland. This kind of treatment is a huge reason people are discouraged from trying to go vegan or staying vegan. The truth is, there are assholes everywhere, regardless of eating patterns. The vegan community is not immune to this, and I was using the behavior of as an excuse to not stay true nature as a whole. I was drifting back to the Island of Self.
Veganism is a life saving journey, not a destination to perfect oneself. By choosing to eat in a way where no animals or animal byproducts are consumed, I'm choosing to think about food, clothing, and personal care on a whole new level. I'm learning to think beyond myself and my insecurities and focus my energy elsewhere. Meat, milk, and eggs are not some magical products that come from a vending machine. These are products of suffering both animal and human. When I eat or wear the flesh of an animal, drink her milk, eat her eggs, or use her bones in my cooking I am supporting The Man in the biggest sense, and feeding the demon that keeps me sick. I am allowing a culture of consumption to dominate me, other animals, and to exploit other humans for sub-par wages, dangerous conditions, and dehuminizing behavior. I'm a zombie.
I found change was very real and I could be part of a global solution by making a few small changes that only seemed to be impossible.
Thanks so much, Jennifer.
The thing that stood out to me the most here is Jennifer's emphasis on veganism's power to draw an individual out of the isolation of an eating disorder. One of the more unfortunate consequences of these illnesses is that they do cause one to turn inward, and often to become very self-involved. During my ED, my entire day consisted of the worries about my body: was my stomach more "distended" than usual? Was it just me, or were my jeans a little tighter? Did other people notice? Was I bloated? If so, precisely what morsel of food was responsible? Had I eaten "perfectly"? Had I violated any precious "rules"? If so, what would I have to omit or limit in order to punish myself tomorrow? Why wasn't I more hungry? I must have eaten too much, and I'd have to fix that.
When I recovered, I realized for the first time in a long time that I had effectively withdrawn from the world around me. In so doing, I had deprived myself of the pleasures and fun of life experience, but I had also deprived the world of my energy, my passion, and my empathy. I vowed thenceforth to direct a big portion of my energy and focus outward (I say "a big portion" because I'm an introspective and often solitary creature, and I thrive that way; nevertheless, there is a big difference between my quiet independence and the total withdrawal and loneliness into which I had plummeted). I vowed to direct some of the thought and effort I had put into monitoring my every bite, and use them instead to do good work, to help others, to savor life, and to experience love.
When I became vegan, it felt like a very natural extension of this vow. Except it went above and beyond my original intentions, because it compelled me to realize—for the first time, really—animal lives were as real and vivid as my own, and as worthy of my compassion and concern. Veganism is a constant reminder that my life is not the only life that matters; that my food choices are not mine alone, because they touch countless other lives; that my own best interest must be balanced with an awareness of the creatures with whom I share this planet. I take tremendous joy in being vegan—both the good health it affords, and the fantastic food it gives me—but my enjoyment of the lifestyle is paired with my conviction that veganism does not only benefit me. What a stark contrast from my eating disorder, which made me want to shut everything and everyone out, and be alone with my obsessions.
I'd love to hear how veganism and plant-based diet has helped some of you to escape the isolation of disordered eating. And more broadly, what else has helped you to escape it? Hobbies? Intellectual pursuits? Work? Love, sex? Friendship? A yoga practice? Do tell. I'm sure this whole community would love to hear.
xo