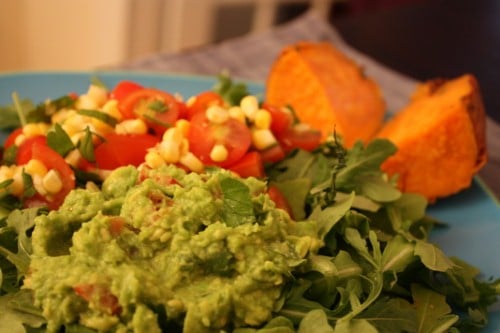 So happy you all liked my new cauliflower rice recipe, and the idea of weekend lunches in general. I'm excited to share them from now on. I doubt I'll always manage to remember to photograph them, but the tradition will be good motivation to cook up tasty meals.
A few days ago, I got the following email:
Hi Gena
I'm a loyal reader of your blog, but this is the first time I've ever contacted you. Your guacamole recipe changed my life last summer, and you even made me less afraid of fats. Until I started reading your blog, it was fat free everything! LOL.
I've managed to lose over twenty pounds by eating better, but I still have more to go. I was wondering if you might show your readers a lower-fat guacamole option? I've seen one at Whole Foods made with peas, but I don't know how to get the portions right. I know you're going to say that fats are good for us, and I agree, I promise! But for those of us who are seriously overweight, fats do still add up to lots of calories. I would love to enjoy your guacamole without worrying that I have to limit my portion.
Thanks for your amazing blog, and I hope this is something you will consider!
–Sarah in WI
Thanks for your note, Sarah! It got me thinking: I do spend plenty of time assuring my readers that fats can be friends, not foe, for good reason–not only do I believe that certain fats are wrongly vilified, but I also like to think I'm helping some readers who fear fats unnecessarily (such as women with body dysmorphia).
But my blog readers have varying needs. And I don't ever want to exclude or forget some of you in an effort to be sensitive to others. I realize that many people who read my blog are struggling to lose weight–sometimes a lot of it. And it's my duty to provide options for weight loss or maintenance, just as it's my duty to encourage those who are gaining.
So, Sarah, today's Sunday lunch was directly inspired by you. Readers, meet my shiny new guac recipe:

Green pea guacamole. Yes, it's a direct spinoff of the Whole Foods stuff, and no, I don't love it quite as much as my favorite guac, or even my green guac (which might also be seen as a lower-fat option). It does, though, offer a leaner nutritional profile than the regular recipe, and it also has a refreshingly different texture! Guac can be a bit too creamy: starch, not creaminess, is the defining characteristic of this version. The flavors, though, are vintage CR: sweet, savory, tart, and tasty. Here's how it happens:
Lower-Fat Guacamole (serves 3-4)
1 cup green peas
1 large avocado
1/3 cup finely diced red bell pepper
1/3 cup chopped cherry tomatoes (mine were small, and I quartered them)
1/4 cup chopped cilantro
1 heaping tbsp agave nectar
2 tbsp lime juice
1/4-1/2 tsp salt (adjust to taste)
Dash white pepper
Blanch peas in boiling water for about ninety seconds. Remove them and plunge into an ice bath. Drain them and put them into a food processor fitted with the S blade. Pulse until peas are quite mushy and broken down–almost a puree.
Cut the avocado in half, remove the pit, and scoop the flesh into the food processor. Give the whole mix–peas and avocado–a few pulses, until it's all nice and mushy, but not quite without texture.

Remove the avocado and pea mix from the food processor into a mixing bowl, and add all remaining ingredients. Mix well. Check for seasoning, and adjust to taste.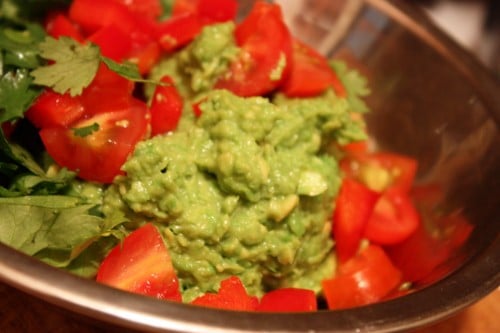 I was in the mood for yet another memorable lunch, and so the question of how to serve my new favorite guac quickly arose. A brief glance in the fridge revealed some fresh, local arugula, basil, corn, and tomatoes. Arugula, I knew, would be my green base. As for the other ingredients, they morphed into this simple little salad:
Summer Corn and Cherry Tomato Salad with Basil Dressing (serves 2)
For the salad:

2 ears worth of fresh corn kernels (raw)
15 cherry tomatoes, halved or quartered
1/4 cup parsley, chopped
For the dressing:
1/3 cup olive oil
3 tbsp white wine or apple cider vinegar
1 tsp agave nectar
10 basil leaves
Dash (each) salt and pepper
Blend all dressing ingredients in a blender till well and evenly mixed. Toss salad ingredients together, and top with two or three tablespoons of dressing. Serve immediately.

I served the guac and cherry tomato salad next to each other. They were harmonious neighbors.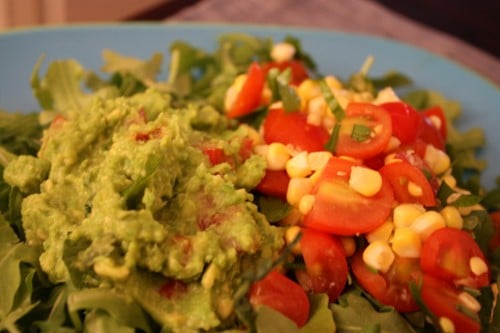 And the meal was rounded out with some left over sweet 'tater.

Yum. This was yet another wonderful weekend lunch. I wish they were always so good!
Hope you all try out the lower-fat guac soon. You could make it with beans, too (Mama Pea has one with white beans, and there are other versions with edamame), but I think the peas work particularly well because they're so light. It really is a delicious twist on the tried and true, so thank you, Sarah, for asking.
What do you all think? Too many fats on my blog? Not enough? Am I striking up the right balance between calorically dense recipes and lighter recipes, or would you like to see more of one or the other?
xo