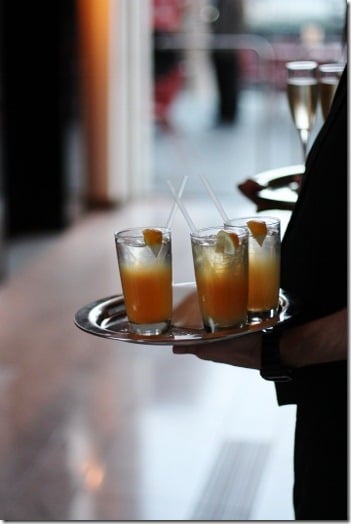 Happy Tuesday. Glad that I got you all excited about raw broc! (Everyone, that is, except for Jen!)
So as promised, I'm here to recap the weekend wedding I attended, which was one of the most glamorous yet tasteful affairs I'm sure I'll ever go to. I was a friend of the groom, my good friend Jesse, whom I worked with for years at FSG (and interviewed when he applied for his job!). Over time, Jesse and I became friends and confidantes: we compared notes on our then dating lives, griped about work when we needed to, read each other's manuscripts and pushed each other to acquire books, and, most of all, spent a very unprofessional amount of time laughing together. The day I left my job, Jesse was the person who walked me and my boxes downstairs, put me in a cab, and told me that I was doing the right thing.
I can still remember when Jesse was scheduled to go on his first date with his witty, generous, and beautiful wife, Sarah, and his glowing excitement the day after he met her. I wasn't surprised at all by their engagement, and I was thrilled to celebrate their union with them this weekend. That they'd planned what seemed to me to be the ultimate NYC wedding was all the more reason to hop on the 'ole Boltbus and get myself back to New York for the festivities.
The day before the wedding, I scurried downtown to see my friend Cassie for a while. On the way home, an inner debate was raging: do I spend $20 (+/-) on what will surely be a delicious salad at One Lucky Duck, or do I behave frugally and eat at home? Realizing that I'm not in NYC often, and that I miss its vegan restaurants terribly, I decided to heed the call. I don't do a lot of frivolous spending in life, but I'm almost always happy to put money toward great vegan and raw food.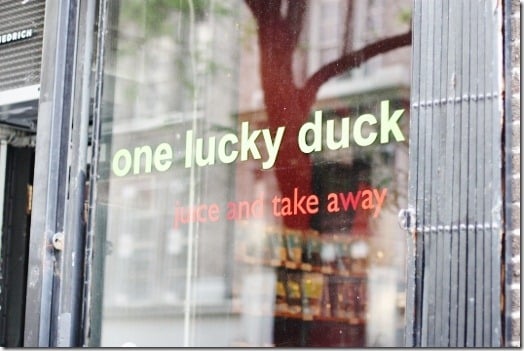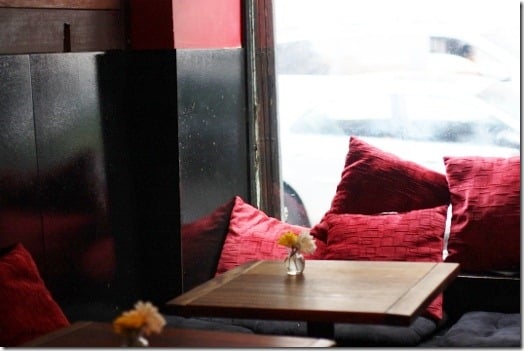 Home away from home. My selection was a "build your own" salad with basil, greens, dulse, tomato, beets, jicama, carrots, and a sweet miso dressing. And for all of that organic goodness, it wasn't even $20. Even if it were, that wouldn't be the point: the food at Pure is so high quality and so environment- and animal-conscious that I would gladly pay premium for it anytime.
The sweet miso dressing at Pure is so good, I could cry. Or drink it, as people claim to be occasionally drinking my outstanding miso sesame dressing these days.
I paired the salad with some leftover tofu ricotta from a dish I cooked for my cousin last week. That dish is to come!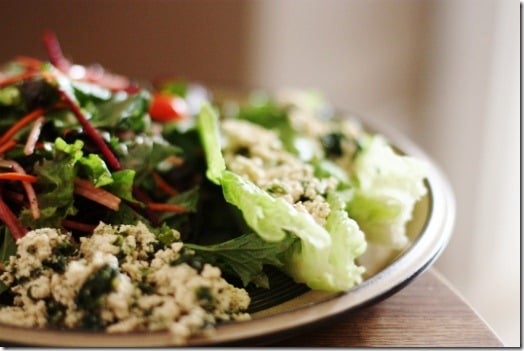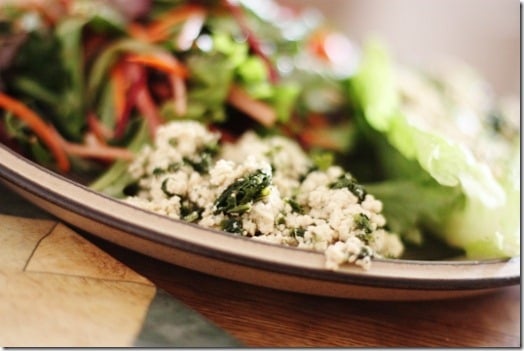 Just moments later, it was time for the pre-wedding cocktail party at NYC's swanky Standard Hotel in the meatpacking district. Aside from the fact that I can never walk  through this part of town without being beset by memories of awkwardly "going out" on Saturday nights in college, I enjoyed snapping some shots of the West Village scenery: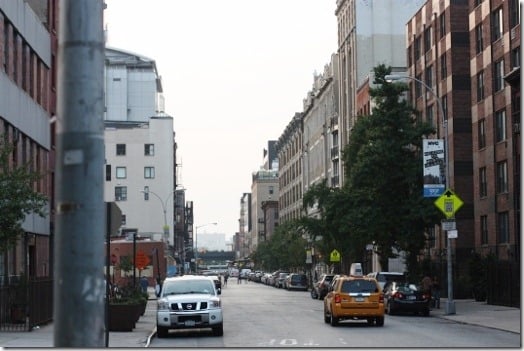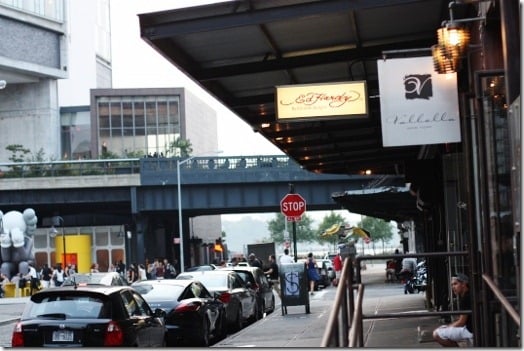 The hotel itself juts out over NYC's highline, as if it were emerging from the Hudson River itself:
Inside, we were treated to specialty cocktails ("the Sarah" and "the Jesse"), a patio, and spectacular views: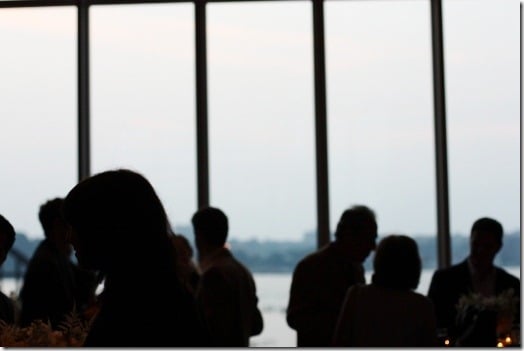 The cocktails looked fabulous, but with the rare exception of a half glass of wine over a fine dinner, I'm not a drinker. This is a personal decision, and not a health one (nor, in this day and age of really great Vegan wine, is it an ethics decision). As a veteran non-drinker of four or five years, however, I am a fountain of tips on how to navigate parties and events without hitting the sauce OR feeling conspicuous. The most important thing you should do is order a mocktail: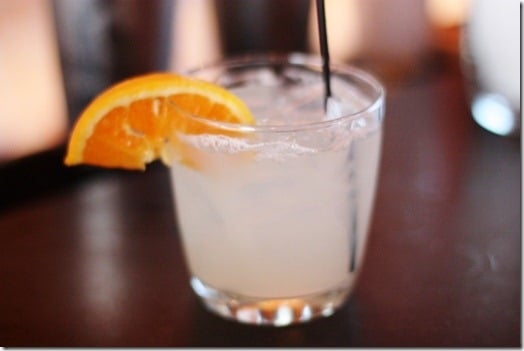 I asked for lemon, lime, a dash of ginger beer, and soda water, all topped off with an orange slice. You can get anything you like—cranberry and soda is fabulous, too, and so are virgin mojitos. The fresher the better: I wouldn't opt for juices from concentrate, which often have HFCS in them. But at a fine bar with really good, fresh juices, you ought to be safe.
Another note: I try to avoid simple syrup, not because refined sugar freaks me out beyond repair (I have it so rarely that I can afford to have a teaspoon here and there) but because the plain white sugar used is often processed with bone char from animals. If you happen to be lucky enough to be at a party where they use dermarara or another sort of vegan-friendly, coarse sugar to mix drinks with, that can add some pizazz to the mocktail.
Or, if you're a purist, go with lemon, soda, and a twist of lime. It's my personal favorite refresher, and almost always travels the room with me at cocktail parties.
No matter what, don't be ashamed or feel awkward about having a non-drinking evening! If you carry anything in your hand, it's highly unlikely that other guests will notice. And even if they do, you can always just shrug and say you weren't in the mood. There is tremendous social pressure to drink alcohol at each and every gathering we go to, and while it's fine to enjoy some drinks if you want to, I think a lot of people drink without any real desire to. This can add needless morning fatigue to your life, and if you happen to be watching your weight, it's a lot of unnecessary calories, too. Before you go out, take stock of your mood and cravings: if you want a cocktail, enjoy a great one, or a good glass of wine. If you're really not in the mood, but are planning on drinking purely out of habit, why not test the waters and go virgin for a night? You'd be surprised how much clarity, energy, and fun can ensue.
I spent the evening catching up with a lot of very dear former coworkers. The FSG bonds go deep, and this was like a mini-homecoming for me: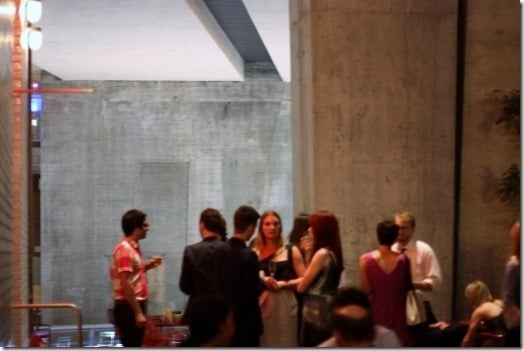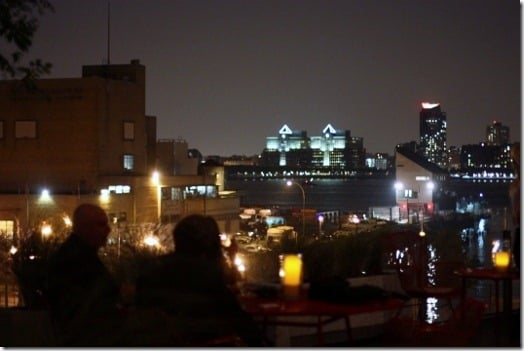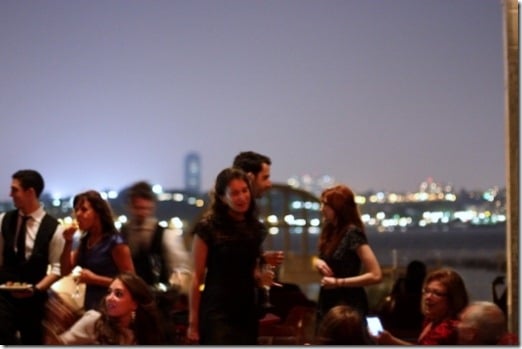 Most of all, I soaked up a little NYC glitz and glamour. In these reclusive student days, I rarely go out, which is generally fine with me. Every now and then, though, it's fun to enjoy a summer evening of dressed up socializing, all to the spectacular views of downtown Manhattan and the Hudson.
Sadly, school is an ever-present tug, and at 8:45, it was time for this girl to go home and do some Orgo. I knew the next day would be special, and I wanted to be well rested and productive for it. I'm glad I made that choice, because it was a special day indeed, and tomorrow I'll tell you all about the fabulous wedding party at Blue Hill Stone Barns, complete with vegan food porn. Till then, friends, happy back-to-work week!
xo