My friend Anne and I have a new tradition called "ingredient potlucks." It involves meeting up after work, comparing notes about what each of us has in the fridge, and coming up with a meal that is quick, healthy, and tastes really good. Last time we did this, we came up with a delicious sweet potato, brown rice, lentil and hemp salad with hemp oil and a mustardy glaze. Last Thursday, we weren't even sure we could do an ingredient potluck, because we were both running a little short on groceries. That said, necessity is the mother of invention, and I think you'll be impressed with our final creation.
Earlier that week, I had made my kale salad with apples, raisins, and creamy curried dressing, which I posted yesterday. Since I had more kale on hand, and more carrots, and one more apple, and some raisins, I decided to make it again. I was out of walnuts for the dressing, though, so I used cashews, and realized that it's just as good with cashews, and a little more neutral-tasting. When I got to Anne's, she had beets to spare, so we added those to the salad. What a great addition they were!
So good.
For our entrée, we did something similar to what we had done last time: a mish mosh of grains and legumes, spruced up with a good vinaigrette. Anne had quinoa and red peppers; I had some eggplant I'd grilled up and had yet to use.
Boom.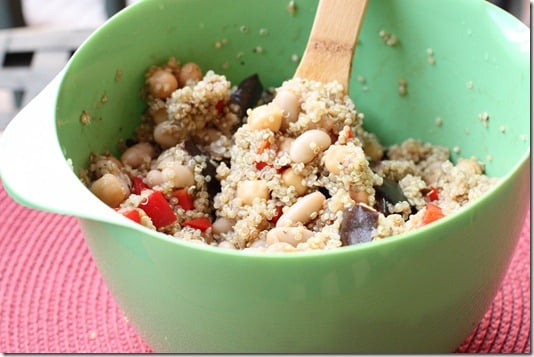 Dinner was served.
Quinoa with Roasted Eggplant, Red Peppers, and Balsamic Vinaigrette (vegan, gluten free, soy free)
Serves 4
1 small eggplant*
Coconut oil spray
1/4 tsp sea salt + extra for roasting eggplant
*You can use whatever cooked veggie you have lying around your fridge instead of roasting the eggplant: roasted peppers, zucchini, sweet potato, steamed broccoli–you name it, it'll work!
Black pepper to taste
1 cup quinoa (dry)
2 1/4 cups water
1.5 cups cooked cannellini beans
1 cup cooked chickpeas
Half a red pepper, chopped
Scant 1/4 cup balsamic vinegar
3-4 tbsp oil of choice: avocado, hemp, sacha inchi, olive, etc.
Juice from one whole lemon
1. Slice eggplant into 3/4 inch thick rounds. Preheat oven to 375 degrees. Spray both sides of eggplant with coconut oil spray and season with salt and pepper. Roast on a foil-lined baking sheet for 25-30 minutes, flipping once through. Set aside.
2. Mix quinoa and water. Bring water to a boil, then lower to a simmer. Cook until the quinoa has absorbed all of the water and the "ribs" are coming off of the grain. Fluff and let sit for a few minutes.
3. Chop eggplant (or another veggie you have at the ready) into 1 inch cubes. Mix with the quinoa, the beans, the red pepper, oil, vinegar, lemon, and 1/4 tsp salt. Season to taste with black pepper, and serve!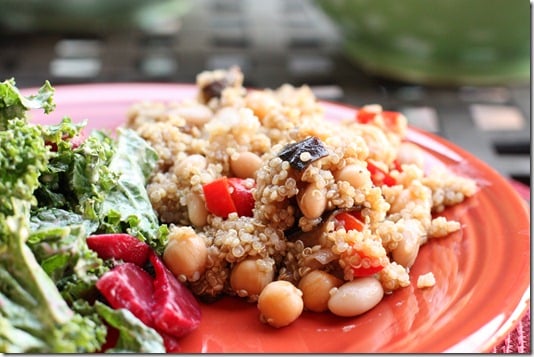 Along with the salad, this was so tasty. Its heartiness complimented the crispy kale well!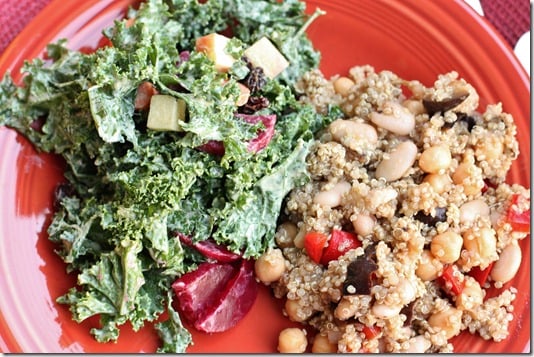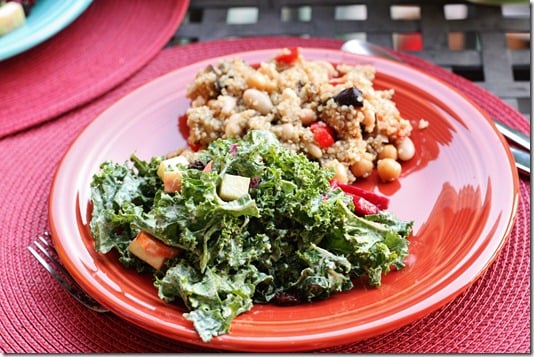 All the more proof that healthy, tasty food can be simple to make. As I note in the recipe instructions, you don't have to roast eggplant to make this dish. You can use whatever cooked veggies you've got. Improvise!
Next time you're meeting up with a friend, I challenge you to consider this kind of ingredient potluck, too. I don't mean you invite someone over to dinner, run to the market for ingredients, plan a fancy menu, and then slave over a meal. That kind of entertaining has its own considerable rewards, but it's not the kind of thing you can do at a moment's notice.
Instead, try comparing what's in your fridge to what's in your friend's, and then thinking about how you can squeeze a balanced meal out of it! Anne and I have found that beans and grains are an easy way to go, but you can find all sorts of ways to create something nourishing from what you have. When I think of a meal like this, I usually ask myself if I've got my major macronutrient groups (fat, protein, complex carbs) basically covered, and then think about what kinds of seasonings will work. If you have whole grains and are struggling to find a nice way to serve them, consider a vinaigrette: it's so easy, it works well in the leftovers, and it really adds flavor to the dish.
What kind of meals do you guys like to create at a moment's notice?
Tomorrow, I have a green recovery story for you that took the author a month and a half to write and send to me. The thoughtfulness and sincerity she poured into the piece is evident, and I hope you'll all enjoy it!
xo