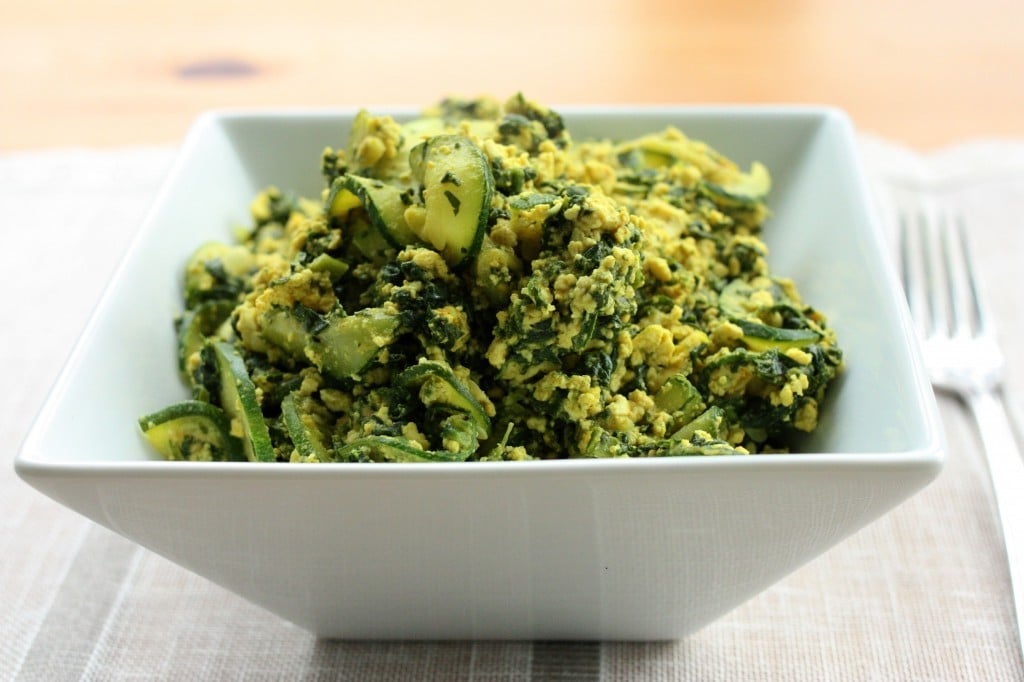 As I began this post I was trying to think of the last time I shared a tofu scramble recipe. I think, amazingly, that it was my tofu tahini scramble, which is without a doubt one of my all time favorite CR recipes. But how is it that two years have passed since I shared a variation of this most cherished vegan staple recipe?
I think the answer is that tofu scramble is one of those dishes that's so basic, so intuitive, that I rarely ever measure or document what I do when I make it any more. And sometimes these are the sorts of recipes that slide beneath a blogger's radar, because we're all jazzed up about new things we've tried. But I know that you guys love tried-and-true recipes as well as novel ones. So when I whipped up this new tofu scramble a few days ago, I was immediately excited to share it.
The fundamentals of a tofu scramble, at least as I enjoy them, are as follows:
extra firm tofu (pressed for even 10 minutes if possible)
nutritional yeast
veggies (whatever you have in your fridge or freezer)
turmeric (for a lovely yellow shade and anti-inflammatory benefits)
After this, you can really play around and be creative. I've used curry in my tofu scramble. I've used sesame oil and a splash of mirin for an Asian twist, and I've used lemon and oregano for a more Mediterranean flavor. It's really up to you. Treat your tofu scramble as you would a stir fry: a template that you can adapt with the seasons, your current inventory of produce and seasonings, and your mood.
This particular scramble came into being at the very end of my week's worth of groceries. I didn't have much fresh produce left, but I did have a zucchini. And I also remembered that I had a box of frozen, chopped spinach in my freezer. Chopped spinach is a great freezer staple: once you defrost it, it's incredibly easy to mix it into stir fries, skillets, and grain dishes.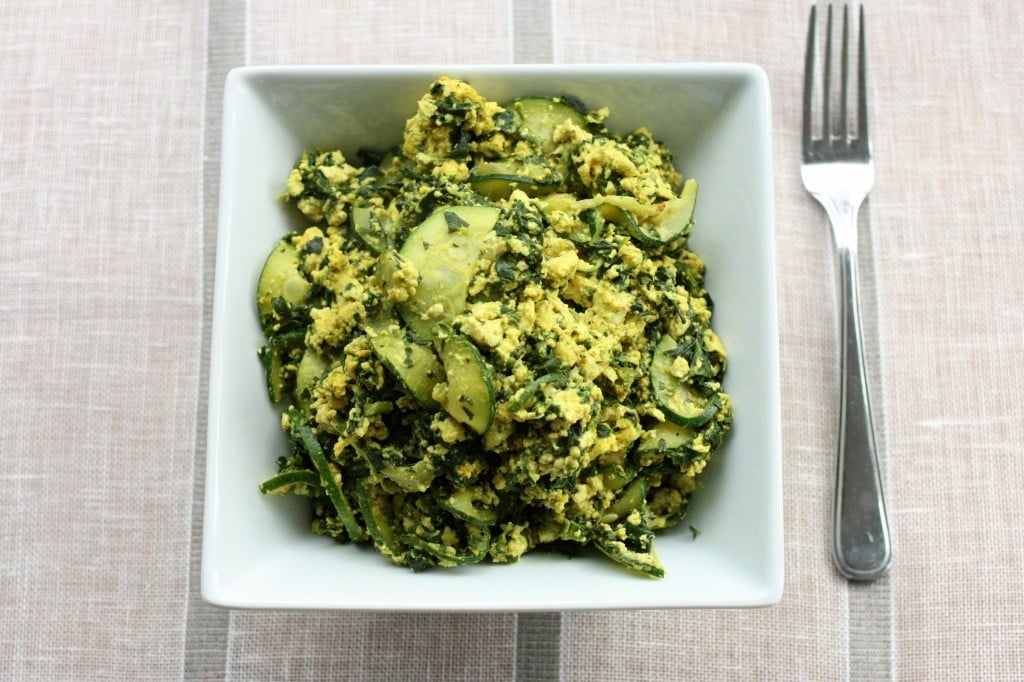 Very Green Tofu Scramble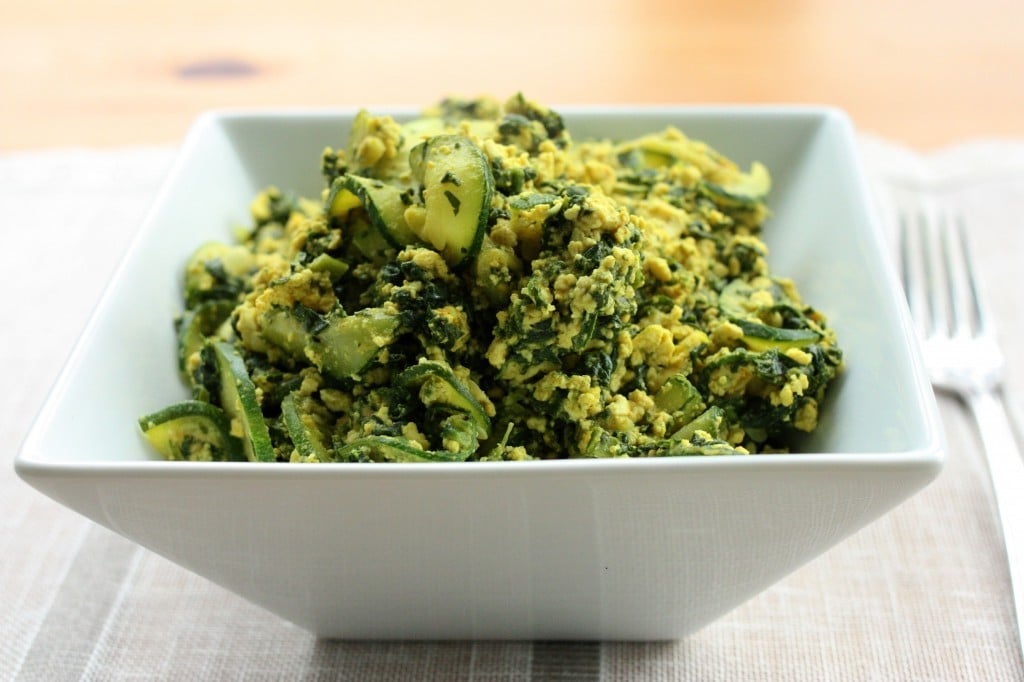 Ingredients
2 teaspoons coconut or olive oil
2 cups zucchini, quartered and sliced into ¼ inch thick pieces
1 14-16 oz. block of extra firm tofu, pressed for as long as you have time for (a few hours is ideal, but 15 minutes is fine. For instructions on pressing tofu, check out this post)
1 10 oz. box frozen, chopped spinach, thawed and pressed through a colander to remove excess liquid (or 3 cups fresh, finely chopped spinach)
2 tablespoons tahini
3-4 tablespoons nutritional yeast (to taste)
½ teaspoon turmeric (more if you prefer)
Sea salt and black pepper to taste
Instructions
1. Heat a large skillet or wok over medium flame. Add the oil and saute the zucchini until it's soft and cooked through (about 4-5 minutes).
2. While the zucchini cooks, crumble the tofu with your hands, so that there are still some visible pieces, but it's broken up quite thoroughly. Mix in the frozen, chopped spinach.
3. When the zucchini is ready, add the tofu and spinach to the skillet, along with the tahini, nutritional yeast, turmeric, and a few tablespoons of water (3 or so). Mix everything well, and heat it for a few minutes, till it's warmed through (if you use fresh spinach, heat until the spinach is wilted). Add more water as needed, and season to taste with salt and pepper. Serve.
Makes 3-4 servings.
Needless to say, you can add any other vegetables you might have, or swap the zucchini for mushrooms or peppers or whatever! You can also finish the scramble off however you'd like: with a squeeze of lemon, an extra sprinkle of nooch, some salsa, avocado slices–whatever suits you. I enjoyed the scramble just as it was, fresh off the stovetop.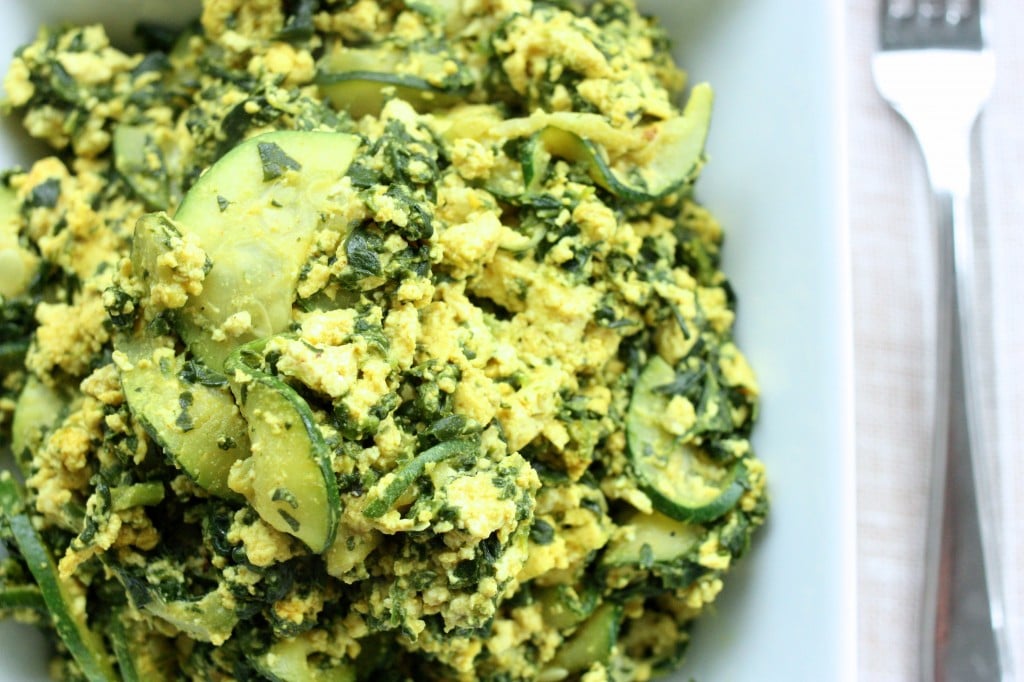 This makes a great breakfast, which is of course the traditional way to serve tofu scramble, but the leftovers will be nice for lunch or dinner, too.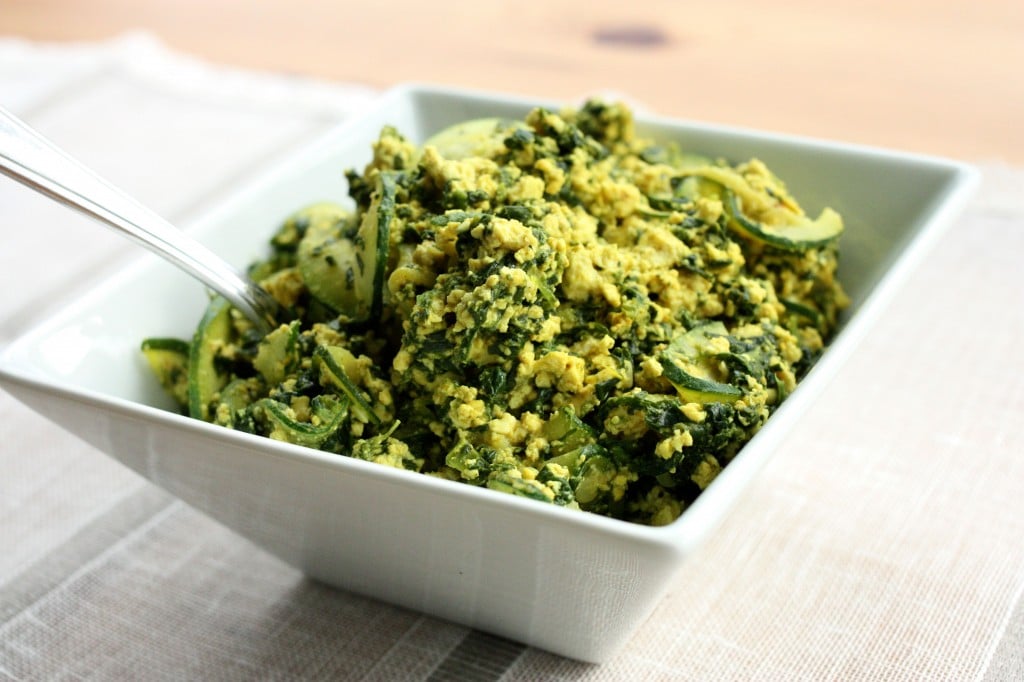 Before I go, it's time for an announcement! As those of you who have read this blog for a while know, I was for over two years a practicing nutritionist, trained at a naturopathic school. I loved my work with clients, which coincided with the early years of this blog. Indeed, nutrition work–the profound feeling of gratitude and fulfillment I got from helping people–was a huge factor in my choice to return to school for a health care degree.
For the next year–and possibly after that, but I'm playing this by ear depending on how my application process goes–I'll be relaunching my nutrition counseling. I'm super excited, and eager to dive back into a kind of work that was so inspiring to me, and hopefully helpful to others. Here's what some of my former clients have had to say about me and my services:
"Gena is a brilliantly capable counselor, nutritionist, and confidante. As a high stress individual with a history of disordered eating, I have found her wealth of knowledge and compassion for my struggles to be invaluable. She's worth more than the price of her services, and I recommend her to everyone I meet who considers food-related counseling of any sort."

"Gena has gone to great lengths to educate herself in the fields of diet and nutrition, and her knowledge has helped me make major strides towards a healthy life. She listened to my problems with great patience and understanding and treated me as a person suffering from symptoms, not just a list of symptoms. If you are looking for an open heart, and the brains to back it up, talk to Gena."

"I suffered from disordered eating for about 10 years…Through her compassion, honesty, and understanding, Gena made me realize what it means to me to be healthy and happy; both mentally and physically.  Thanks to Gena, after ten years I can now say I am a woman who enjoys food, enjoys life, and enjoys the way she looks at the same time.  I am finally my own person again."

"I came to Gena having lost over 130 lbs and being a regular follower of her blog . . . I was bombarded with a swirl of ideas/suggestions gleamed from numerous places – the gym, various blogs, independent research, and multiple friends/work peers eager to offer advice.  I sought a trusted adviser who'd get to know me, understanding my objectives and guide me down a safe nutritional path that supported my goals around optimal health specific to my relationship with food.  Though I have been a client of Gena's for a relatively short period of time, she has recommend changes that since implemented have dramatically improved multiple areas of concern."
Within the next few weeks, I'll be posting more details about my services and offerings. For now, here are the basics:
What I Do
Nutrition counseling that emphasizes nourishing, whole foods, balanced eating habits, and sensitivity to the emotional issues that surround food
Support for men and women who have complex relationships with food, histories of disordered eating, or body image struggles
Sound, evidence-based feedback and information for those who are new to plant-based eating and have questions about how it works
Tips on how to build more nutrient dense, balanced meals
Adaptable, individualized weekly meal plans
Recipe ideas in keeping with clients' unique needs and particular tastes
Emotional support for clients with histories of dietary extremes, as well as tips on how to find a greater sense of balance
How I Work
I offer counseling over the phone, via Skype, via gchat/Facetime, or by email. We can discuss the method that works best for you
After a one hour, initial session, I offer thirty minute follow ups, along with flexible, individualized meal plans and recipes
I offer counseling on an individual, ongoing basis, or in packages
I offer additional, supplementary materials as needed, including grocery checklists, emotional eating worksheets, and food/mood journals
Special Considerations
While I have and will continue to work with men and women who have eating disorder histories, the counseling I offer is not a suitable replacement for the therapy, dietetics work, or medical interventions that can be crucial to active eating disorder recovery. If you suffer from an eating disorder, it's important that you seek out a care team that has the training and experience to serve you. If you want to chat about whether or not you're at a place in recovery where my work can be valuable to you, please reach out, and we can discuss it.
My work isn't intended to replace the treatment of any other healthcare professionals.
Many people have asked me in the past if I work only with vegans. The answer is no! As a nutritionist, my goal is simply to help each client find a diet that is appropriate, healthful, and sustainable for his or her body.
Think you might be interested? Shoot me an email at [email protected] I won't be launching my services until the end of this month, but I'm happy to answer any questions you might have about whether or not I'm a suitable person to help you. (And if I'm not, maybe I can recommend somebody great who is.) I can also give you a sense of my pricing structure. More details will be available soon on the site, but for now, I'm just gauging a sense of overall interest.
I think that's it for this evening, folks. Have a great night!
xo