Warning: this post might make you jealous. I have eaten at NYC's famous Candle Café two days in a row.
I didn't plan on it. Exactly. I had plans to have a Mom-daughter dinner on Saturday night, and Candle was my restaurant of choice. I am never—and I do mean never—disappointed with a meal there (granted, I nearly always get the same meal, but still! Consistency takes talent), and besides that, I love the ambiance, the warmth, the friendly and kind waitstaff, and the green juice. Nuff said.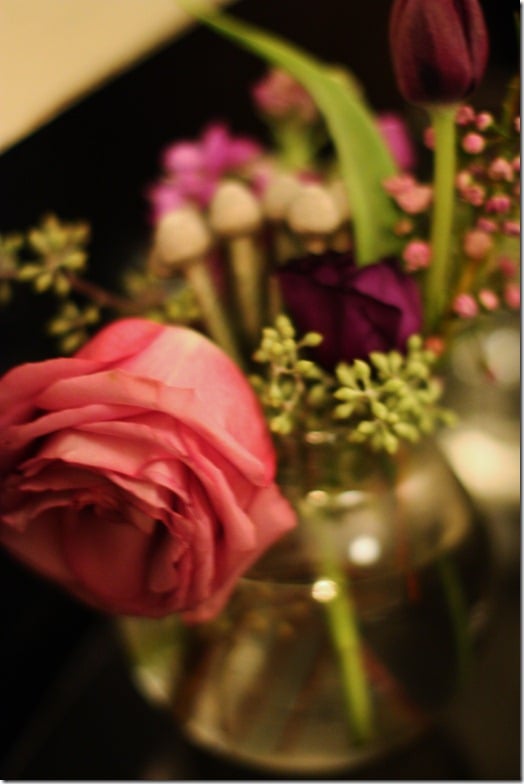 This was my Mom's first time dining at Candle with me, so I was excited to watch her peruse and choose from the menu. She settled on a glass of Syrah and the chanterelle mushroom risotto with cashew cream:
I helped myself to a bite, and oh my lord, am I glad I did. This risotto was mind-bogglingly good; possibly the best I've ever had. My Mom immediately declared that it was one of the best she's ever had, too (and my mother adores risotto) and that she'd never have known it was vegan if she'd tasted it outside of a vegan restaurant. Win!
I went for something a little more standardly Gena-ish, starting with the house salad and cumin vinaigrette:
You really can't beat fresh (and grilled) hearts of palm.
Next, I did my standard entrée, which is the "good food plate" (four sides and two dressings). This one might have been my favorite yet: quinoa veggie pilaf, roasted beets, steamed vegetables, and baked yam:
I opted for a tahini and a creamy cranberry dressing. The latter was spectacular, and I will be trying it out soon for myself.
With bellies full and hearts content, Mom and I caught the crosstown bus home. We did so, however, without my camera (!!). This is the first time in many years of blogging that I've ever left my camera anywhere, and I was mortified to realize it this morning. Thankfully, the Candle folks had kindly hung onto it for me (Mark, you rock), and even more thankfully, I was supposed to have lunch with my friend Gabi, who lives on the Upper East Side, anyway. It was fate: I was going back.
This time I started with a green goddess juice:
The thing I love about Candle's green juices is their very greenness! Other green juices end up all apple and cucumber, and no dark leafies: not these juices. They're sweet enough for me to handle, but always heavy on greens and ginger. Yum.
I started with a butternut squash soup. Simple and delish:
Gabi and I both moved on to the daily salad: quinoa, pinto beans, green beans, pumpkin seeds, jicama, avocado, and mesclun. I requested the fabulous cumin dressing with mine: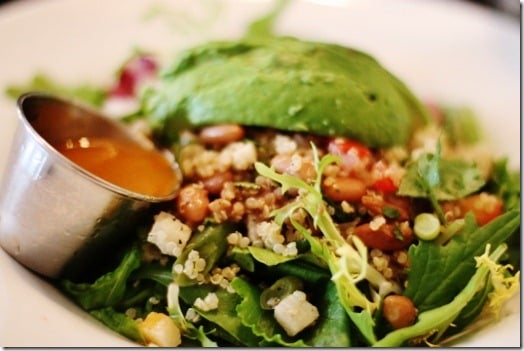 I'm not gonna lie: this cumin dressing puts my own cumin dressing to shame. It really does.
As expected, these were two wonderful meals. But they were more than that: they were a chance to see fellow friends in the vegan community. They were a reminder of how lucky New Yorkers are to have such establishments next door. They were time well spent with people dear to me. And they were really really really good excuses to pick up the new Candle 79 cookbook.
And now, I'm on the bus, on my way back to DC. It's always very hard for me to leave New York, but this time, it is only for the duration of finals! In three weeks, I'll return to my stomping grounds. I just need to muster up the energy and determination to get through this final push of the semester. More green juice, I think, is in order.
I'll greet you all tomorrow, from Washington.
xo