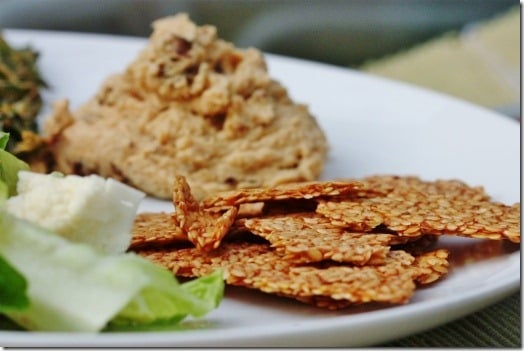 Well, I suppose it's Monday again. After a nice long weekend of frolicking in NYC, it's time to get serious again—about finals, about life. I returned from a lengthy Orgo lecture today, feeling just a little glum about getting back-to-business after my Thanksgiving respite. A delicious and energizing snack plate was in order.
The problem was, I was fresh out of my juice pulp crackers (which are a normal snack of choice). I was also out of rice cakes (a frequent substitute), and snack bars. What I did have were some flax crackers that I was sent some time ago (I won't tell you how long ago—these things don't readily expire, OK?) by the nice folks at Foods Alive. When I originally got these, I gobbled up the maple cinnamon and regular salted crackers in a jiffy. Can you guess why one bag lingered on?
I've gotten much, much cozier with both onions AND garlic this year, let the record show. But I'm still not exactly bosom buddies with either, and the idea of a cracker marketed as being dominant in both was a little scary to me. With courage and resolve, I opened the bag, and tried one. My verdict? Really good, actually. And in spite of the fact that there's no mistaking either the garlic or the onion in these crackers, I didn't have any terrible aftertaste from them, which is my usual fear!
These crackers are rightly sold as being a source of Omega-3 fatty acids, which are essential for our health and are customarily underrepresented in most peoples' diets. Do keep in mind, though, that flax seeds are essentially indigestible in whole form, so these are the sorts of things you have to chew pretty well. (This is why flax meal is so popular, or it's one of the reasons.)
The onion and garlic put me in a slightly Mediterranean mood, and I puzzled over what to dip these in. My first thought was my famous raw "pizza cheese," which I haven't made in far too long. But I was craving something a little more carb- and protein-dense, so I decided to do a legume-based version of that old school CR fave. Out came the chickpeas and the food processor, and so began my first ever stab at homemade sundried tomato-basil hummus. There's no going back now.
Sundried Tomato and Basil Hummus (vegan, gluten free, soy free)
Serves 4
1 can (or two cups) chickpeas, rinsed
Juice of 1 lemon
2 tbsp tahini
1/8 tsp sea salt (or more)
Black pepper to taste
Water
1/3 cup sundried tomatoes (either soaked in warm water or in oil), chopped
1/2 cup rinsed and dried basil (or, use 3 tbsp pesto and omit 1 tbsp tahini)
1) Place chickpeas, lemon juice, tahini, salt, and pepper in a food processor and process quickly. Let the motor run and add water in a thin stream, until the hummus reaches a creamy, yet thick consistency.
2) Add the tomatoes and basil. Pulse well to combine it all. Serve with crackers, bread, or veggies. Or, you know, a spoon
I added a few of my homemade kale chips for good measure: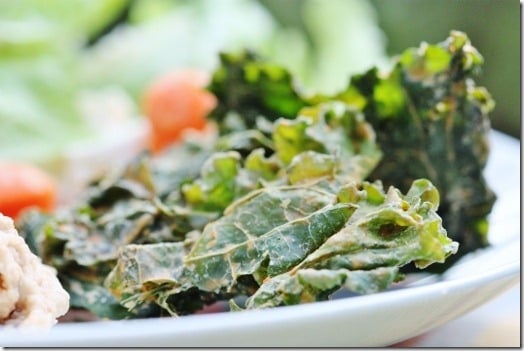 Now that's what I call snacking.
Sometimes, a bit of good food is all you need to face the week again. Can't wait for these hummus leftovers!!
Want to know what else I made today? Chocolate date paste. Looks gross, but is genius.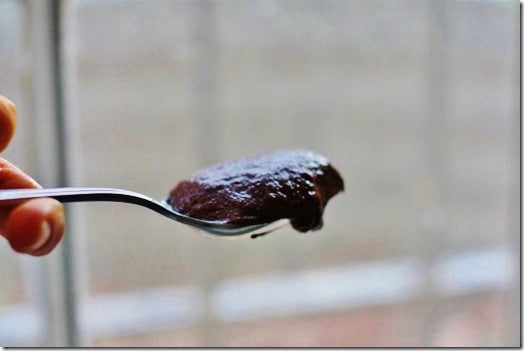 And I'll tell you all about what I did with it back here, tomorrow.
xo