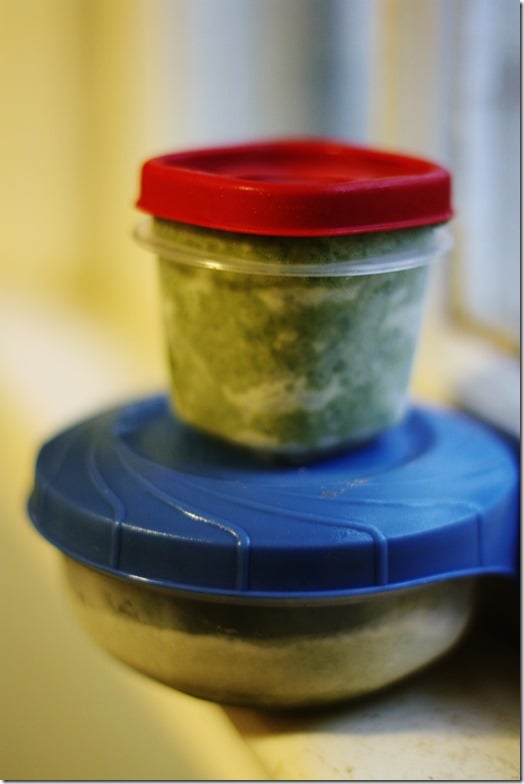 Once upon a time in my early twenties, before I had taught myself how to cook, the thought of "entertaining"–or even cooking for my roommate–struck a bolt of fear deep into my heart. I could barely manage to make dinner for myself without burning something: how on earth could I be expected to elegantly construct a meal for four people, or ten? How would my peculiar food tastes translate into a meal that everyone would enjoy? Was I supposed to prepare a lot of small dishes, or just hope that I could pull off a giant casserole? Did I have to know things about wine?
These are all normal questions for a 22-year old to ask herself as she contemplates serving food and drink to other people. In my case, there were some unusual anxieties, too, because I hadn't yet reached a moment in my recovery where I could casually break bread with other people. Restaurant dining made me anxious, as did eating in front of others. The prospect of being a hostess–a job that seems to demand such ease around food and cooking that one can put guests at ease, too–seemed like an unlikely fit for me.
Oh, how the times have changed. Entertaining is now one of the things I most love to do. This is not only because it gives me a chance to relish company, but also because it's a fantastic opportunity to cook, cook, and cook some more. Like many passionate foodies, I show and share love through my cooking, and often find that a cookie or casserole or bowl of chocomole is more powerful that countless avowals of affection. Dinner parties, party parties, and candlelit meals at home give me a chance to put all of the affection exuberance I feel for the people close to me directly on the table.
Of course, entertaining is anything but a pleasure when you're stressed about details. Now that I'm a student again, I'm basically incapable of weeknight cooking: I can make food on Sundays, and I can make it during some pockets between class during the week. If I want to have a guest or two over for a weeknight supper, I have to plan well in advance. This month, I have at least two dinners that fall on nights where I'm in class till quite late. This means that I need to have entrees that are essentially ready to serve, but which showcase the hard work and love that I like to pour into my cooking.
A few weeks ago, as I pondered how to pull this off without a hitch, I emailed a couple of friends for advice. What I wanted to know was whether or not I might easily freeze an entree in advance; all of them said yes, and graciously offered me suggestions. Angela thought that her butternut squash burritos might freeze well; I'll be finding out when I make them for a quick dinner party next week. Dreena suggested either her chickpea tart or her chickpea ratatouille, which sound fantastic, and will be on various menus of mine during Thanksgiving weekend. And Ricki, whose recipes have never failed me, suggested that a table of omnivore diners might enjoy her meaty lasagna. I made it, adding a few tweaks and twists of my own, and it was a huge hit.
What I've realized over the course of these entertaining adventures is that having frozen things at the ready makes life almost totally stress-free. So it's a new goal of mine to share some freezer-friendly recipes with you from time to time. Frozen entrees are key, but I actually find that it's equally important to have pre-made or frozen accoutrements: mini pizza crusts for appetizers, a pantry stocked with beans for last minute party dips, vegan pie crust that can be used at any time for tarts or desserts, and, believe it or not, pesto.
Why pesto? Because pesto is like nutritional yeast: it makes everything better. It takes a boring white bean dip and turns it into a brightly flavored masterpiece; it elevates pasta dishes to new heights; it adds depth and exquisite taste to roast veggies, and it tends to make any salad even better. I'm a huge fan of pesto, and I use it in tons of my recipes (to start, my ).
I've been making walnut pesto regularly for years, and it was not until this month that I realized that the stuff can be frozen. Painlessly. Pesto freezes really, really, really well, and it's useful not only to have around, but also as a means of using up your summer basil, if you happen to have a garden. You can freeze it in tupperware (per my photo), in a freezer bag, or even in ice cube trays (an ingenious trick I just learned about). It ought to last for at least a few months, because the garlic and lemon are preservatives along with the freezing. If you use the ice cube trick, you can simply pop one cube into a pasta or risotto right before you serve, or you can thaw a whole container and then store in the fridge for a few days. No matter what, you'll be thrilled to have this versatile condiment at your fingertips.
This week, I used some frozen pesto both in Ricki's lasagna and in a white bean + pesto recipe that I'll share very soon. Had I not had frozen pesto on hand, I'd have had to run out for basil, overpay for it at Whole Foods, and spend precious time on yet another meal component. As it was, two meals were made easy with this simple frozen condiment. So, readers, take note: if you've got access to organic basil, or if you happen to remember this post next summer, as you face a glut of fresh basil plants, get thee to thy freezers!
Not sure which pesto recipe to use? I like the following walnut pesto, which I most enjoy on my roasted vegetable pasta salad.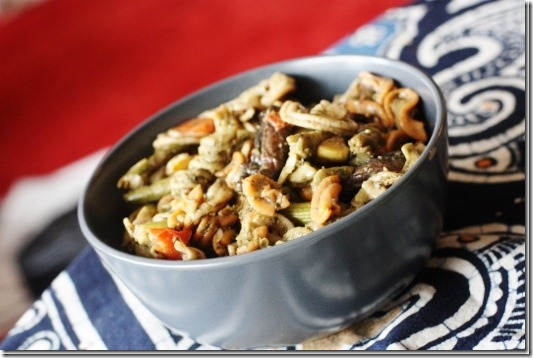 Choosing Raw Walnut Pesto (Vegan, GF)
Serves 6
1 cup coarsely chopped walnuts
2 1/2 cups packed fresh basil leaves, rinsed and dried
1/3 cup good extra virgin olive oil
1 large garlic clove
1 tbsp lemon zest
Juice of 1 lemon
Salt and pepper to taste
1) Grind walnuts in a food processor till finely ground. Add basil and pulse till it forms a coarse mixture.
2) Add the lemon zest, garlic, and juice, and pulse a few more times. Turn motor on and run as you add olive oil in a thin stream. I like my pesto very thick, but add more oil if you like a thinner mix.
3) Add salt and pepper to taste. Use, or freeze!
Hope this post (and others to come) show you that entertaining and prepping food ahead of time are not fine arts. With only a small amount of effort and organization, it's easy to pull off a fantastic dinner for yourself and others on the fly. Happy prepping 🙂
xo