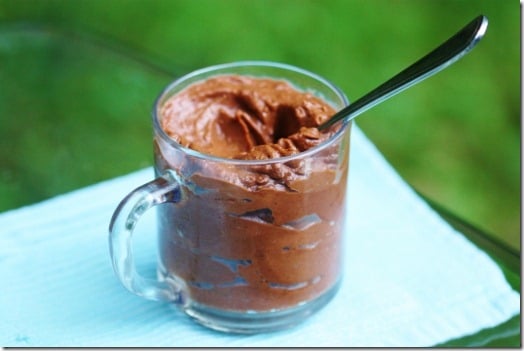 Nice responses to my eggplant bacon! Glad it's a hit, and hope you all start sneaking it into your vegan BLT's soon.
Last week, I made my chocomole for the first time in a long time, mostly because M had never tasted it before. At some point between food processor and fridge, as I was licking the spoon and cleaning the spatula, I wondered, "why don't I make this every week? Every day? Every hour?"
Chocomole is one of the first dessert recipes I posted here on CR. If you're new to the blog and have no idea what I'm talking about, I'm talking about a raw chocolate pudding that uses avocado—yes, avocado—as the base. I know it sounds weird, but trust me when I tell you that, once you taste chocomole, you'll never look at pudding the same way again, or stop coveting the richness of this particularly decadent version.
I think that certain recipes are so flawless that we shouldn't even attempt to improve them. I have no intention of messing around with banana soft serve, with my outstanding miso sesame dressing, with my zucchini marinara, or with my zesty orange cashew cheese. These recipes are great precisely because I can keep making them almost by heart, and I know that they'll always be as good as they were the first time. No upgrades needed.
I was fairly certain that chocomole was in that category of recipes until last week, when it occurred to me that it might be fun to put the "mole" in my mole. With mesquite from my friends at Navitas Naturals on hand, as well as some yacon syrup, chili powder, and cinnamon, I decided to spice up my usual formula for chocomole, and see how I liked it.
As it turned out, I liked it a lot.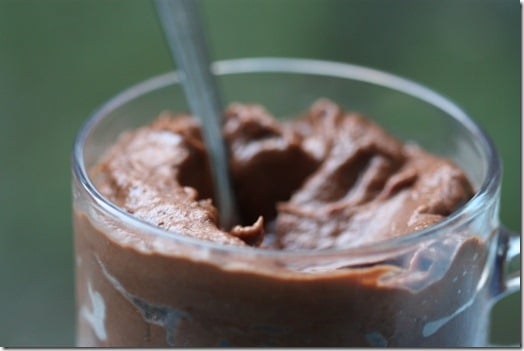 Mexican Chocomole (Raw Chocolate, Avocado, and Cinnamon Pudding)
(Raw, vegan, gluten and soy free)
Serves 2-4
1 large avocado
4 pitted dates
2 tbsp yacon syrup
2 tbsp almond butter
2 tbsp mesquite
1/4 cup cocoa or cacao powder
1 tsp chili powder
2 tsps cinnamon
1/4 cup almond milk or water, and more reserved in case
1) Place all ingredients in your food processor and pulse to combine.
2) Run motor and add liquid, keeping in mind that you might need more to get the pudding right. Stop, scrape the sides of the bowl, and turn on the motor again, adding more liquid if you need to. In the end, you want a whipped pudding texture.
Like so: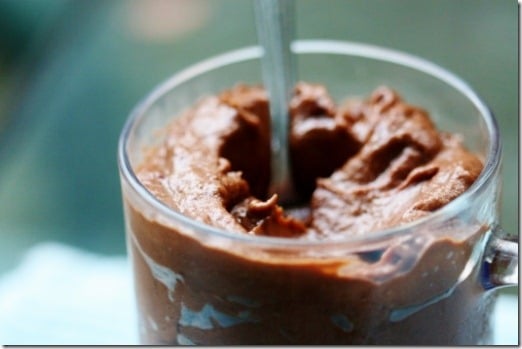 I challenge you to eat a single portion of this stuff. If you're a student working from home, and fighting off the jitters about Monday's orgo exam, I challenge you to eat less than all of the portions.
Kidding. Kind of.
A few nota bene's about this recipe:
First, the almond butter is not necessary, and if you're on a lower fat diet, you can certainly omit. But I find that it adds a nice balance and mouthfeel to the pudding, so definitely consider it.
Second, you can absolutely omit the yacon and use dates alone, or a dates and stevia combo. I love the flavor of yacon syrup, but it's pricey, and the recipe will be great without. The mesquite is optional as well, but once again, it really does good things for the flavor.
Third, this could keep for about 2-3 days in the fridge. But it won't. Trust me.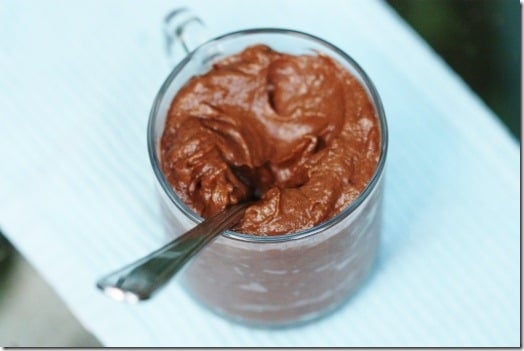 I love revisiting old classics and discovering their tastes, textures, and delights anew. I'm going to bed tonight on a chocomole high.
Till tomorrow!
xo