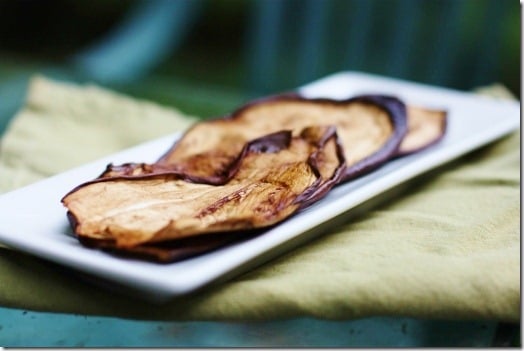 I was recently doing some online browsing on Herbivore and stumbled across this t-shirt:
Which got me thinking about bacon, and how much everyone loves it. I can't say that I ever shared that enthusiasm, which is probably why I've never given much thought to bacon substitution. I have methods, of course, for creating smoky flavors in my food (check out my up in smoke hummus), and I love adding a salty kick to my meals (dulse is my vehicle of choice). But bacon, per se? It's not often that I re-create it, unless I happen to be making tempeh bacon as garnish for this dish or that.
Last week, I had a plump, end-of-summer eggplant sitting around the kitchen. I didn't feel like roasting it, and I didn't even really feel like eating it: for whatever reason, it wasn't inspiring me, in spite of the fact that I really love eggplant. Suddenly, it hit me: I'd try eggplant bacon.
If you're wondering why I say "eggplant bacon" as though it's a commonplace dish, it's because it is a commonplace dish, at least among raw foodists. Most raw eaters have tried some version of eggplant bacon, which is really just marinated and dehydrated eggplant slices, at some point in the raw odyssey. Except, that is, for me. Until a few days ago, I'd never tried making the stuff for myself. Now that I have, I think it's safe to say that things will never be the same again.
Whether you like bacon or not, these slices are sure to brighten your cooking. You can use them in sandwiches, soups, or even as raw "breads," if you don't mind bread that's very salty. You can mince them and throw them into salads, or you can even snack on them as they are: I think they'd make a great option for camping and travel. I like them because they don't demand any fancy prep: simply marinade, dehydrate, and go.
A small NB: eggplant skin contains solanine, a plant poison. It's unlikely that the small amount found in this recipe will cause GI symptoms or other upset, but in any case, I recommend peeling the eggplant first.
Raw Eggplant Bacon (raw, vegan, gluten free)
Makes about 20 thin slices, or sized according to your eggplant
1 large eggplant, peeled and then sliced lengthwise into thin (1/4 inch thick or less) slices
2 tbsp tamari
2 tbsp maple syrup
2 tbsp apple cider vinegar
2 tbsp olive oil
1 tsp chili powder
1/2-3/4 tsp smoked paprika (adjust to taste)
Black pepper to taste
Optional add-ins: garlic, tomato sauce, cumin, cayenne pepper, mesquite powder
1) Mix all marinade ingredients (tamari through pepper) together. Submerge eggplant slices well, and let marinade for at least an hour.
2) Place slices in a dehydrator and dehydrate at 115 degrees till totally dry: this should take about 12 hours. For crispier bacon, dehydrate longer.
If you don't have a dehydrator, you can bake these at 350 for about 18 minutes or until golden, occasionally basting them with marinade.
Garlic and cayenne will add a nice kick to these; so will spices of your choosing. Cumin is a common addition to eggplant bacon, though it's a very distinctive taste, and I like these on the simpler side. No matter what, they are sweet and salty slices of raw, vegan heaven:
Thinner cut strips are great when you're trying to visually recreate the look of bacon—I just liked my slices thick!
This recipe is demonstrative of how raw foods can replace the essence of a mainstream dish without really having much to do with the original at all. These slices are as far from meat as can be, but they do manage to convey the salty, smoky, and earthy flavors that people associate with bacon. All without the attendant cruelty, saturated fat, and environmental toll. As with all raw vegan versions of animal food, they aren't a perfect imitation, but I think they're better: an inspired interpretation.
And that, my friends, is what uncooking is all about.
Have you guys ever tried eggplant bacon? Other vegan bacon substitutes you love? Lemme know!
xo