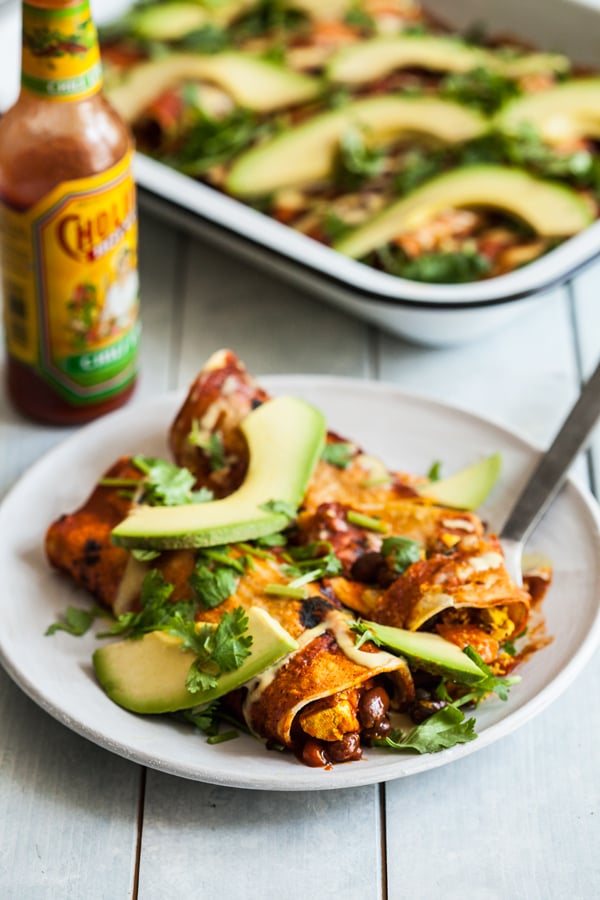 My breakfast game has been lacking for the last couple of weeks. I love creative, savory morning meals, but when things get busy I tend to default to toast or oats. Now that I've got a breather from class, I'm diving back into more diverse and playful breakfast ideas. The nice thing about these tofu scramble black black bean vegan breakfast enchiladas is that they can be prepared on a weekend and then enjoyed in leftover form for days to come, which actually makes them an easy, portable option for busy mornings!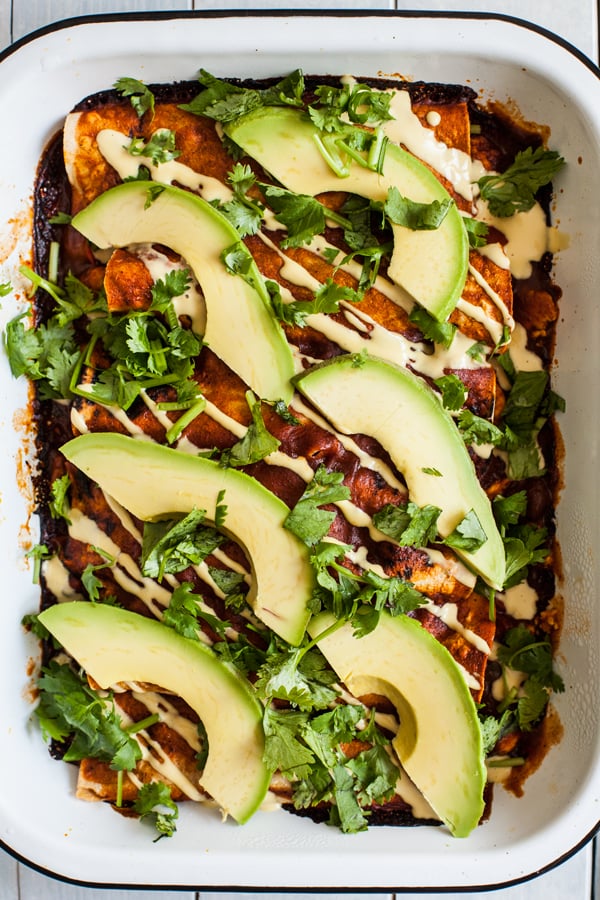 As far as enchiladas go, these ones are also pretty quick to prepare. The tofu scramble will take about 15 minutes, and if you use a store-bought enchilada sauce, the assembly goes quickly. Once the enchiladas are all baked, you can take liberty with the toppings. I used a generous, zigzag drizzle of my all-purpose cashew cream with 3 tablespoons of nutritional yeast whisked in (to create something "cheesy"), along with avocado slices and lots of chopped cilantro. Any vegan shredded cheese would be great, as would pickled jalapenos.
The scramble itself is a variation on my classic tofu scramble, kicked up with some ground cumin and crushed red pepper flakes. The black beans add extra protein, fiber, and iron, along with some texture contrast to the tofu. If the idea of enchiladas isn't calling to you, the scramble itself is a tasty and nutritious breakfast option in its own right. (A dash of hot sauce makes it even better!)
Tofu Scramble Black Bean Vegan Breakfast Enchiladas
Author -
2

teaspoons

neutral flavored oil

such as avocado or grapeseed or water

1

green bell pepper

chopped

1

red bell pepper

chopped

1

onion

chopped

1 15-

ounce

block extra firm tofu

pressed beforehand if possible and roughly crumbled

1/2

teaspoon

ground turmeric

1/2

teaspoon

ground cumin

1/2

teaspoon

smoked paprika

1/4

teaspoon

fine salt

3

tablespoons

nutritional yeast

1 1/2

cups

cooked black beans

1 can, drained and rinsed

1/4

cup

chopped vegan bacon

optional; my current favorite is SweetEarth Benevolent Bacon, but you could use a homemade option or another brand of choice

1

tablespoon

freshly squeezed lime juice

Dash crushed red pepper flakes

to taste

12 6-

inch

wheat or corn tortillas

2

scant cups

1 14-ounce can store-bought red enchilada sauce (you can also make your own using the sauce portion of this recipe)
Topping options: all-purpose cashew cream you can blend in nutritional yeast to make it "cheesy" or truly amazing cashew queso sauce, avocado slices, chopped cilantro
Preheat your oven to 350F. Wrap your tortillas in foil and place them in the oven to warm up while you prepare the enchilada filling.

Heat the oil or water in a large, deep skillet over medium heat. Add the peppers and onion. Cook the vegetables, stirring now and then, for 5-7 minutes, or until the onion is clear and soft. Add the tofu, turmeric, cumin, paprika, and salt. When the spices are evenly incorporated and the tofu is warmed through (about 2-3 minutes), stir in the nutritional yeast, black beans, and vegan bacon if using. Mix everything well, then add the lime juice and crushed red pepper. Taste the mixture and adjust seasonings as desired.

Remove the tortillas from the oven. Lightly oil a 9 x 13 inch rectangular baking dish. Pour about 3/4 cup of the enchilada sauce into the baking dish and spread it out with a spatula so that covers the bottom of the dish.

Fill a tortilla with about 1/3 cup filling, then roll it up. Place the tortilla seam-side down in the baking dish. Repeat this process with all of the remaining tortillas, placing them side-by-side in the dish. Pour the rest of the enchilada sauce over the rolled tortillas, using a spatula to spread the sauce evenly on top.

Transfer the enchiladas to the oven and bake for 35 minutes, or until the sauce is dark and bubbly (check them at 30 minutes to see if they're ready). Allow the enchiladas to cool slightly, then top with

cashew cream

or

cashew queso

, if using, and any other toppings of choice. Serve.
Leftover enchiladas will keep for up to 5 days in an airtight container in the fridge. They can be frozen for up to 3 weeks.
If you have the time, I definitely recommend pressing your tofu before scrambling, so that the filling isn't overly "wet" when you roll up the enchiladas (if you don't have time, just be sure to use extra firm tofu). Some people prefer more crumbly tofu scramble, others a chunkier mix. I like big crumbles myself, but this is up to you. And in place of black beans, you can feel free to substitute kidney, pinto, or another bean you love.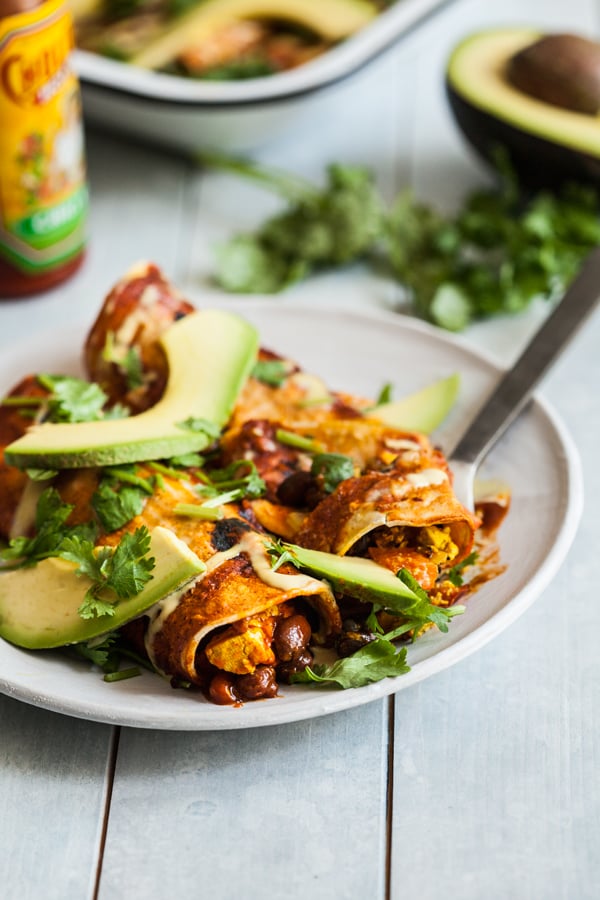 It's such a treat to wake up to a recipe as flavorful, textured, and colorful as this one. I also love that the dish is packed with protein and fiber; nothing against toast, but this sticks to the ribs a bit better, and it's been keeping me super satisfied through the mornings!
Hope you'll give these a try and enjoy them. Can't wait to hear what you think. For now, wishing you a calm end of the week. I can't believe it's already Thursday, but I guess that's what happens after a long weekend.
See you for weekend reading,
xo