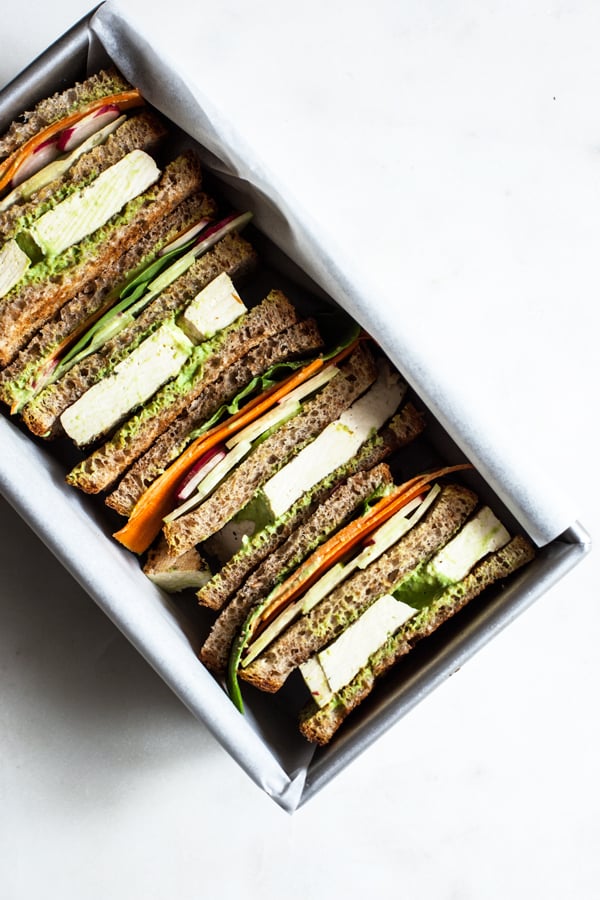 It's occurred to me recently that there's a serious shortage of vegan sandwich recipes on this blog. I've gotten into such a routine with my vegan lunch bowls that sandwiches sometimes get short shrift. But really, there's nothing like a sandwich for an easy, packable lunch, and it's about time I shared some of my go-tos. This green goddess club sandwich is a new favorite, and while it's good for any season, the dressing and flavors are particularly appropriate for spring.
The star of the sandwich, of course, is the vegan green goddess dressing. I'm trying not to share too many recipes from the next book, as the publication date is still so far away, but this dressing is quickly becoming a staple at home, and it feels strange not to mention it or write about it. It's a more flavorful, more complex version of the delightfully green tahini dressing that I've made and mentioned so often. I love what a little vinegar and green onion does to the mixture.
The sandwich formula here is pretty simple: grilled or baked tofu, fresh veggies (I used radish, cucumber, carrots, and baby spinach, but you can adjust this with the seasons and get creative with what you use!), toasted bread, and plenty of the goddess dressing (I slathered it on every slice of toast). The result is a sandwich that is hearty and protein-packed but full of light, lemony, herbacious flavor.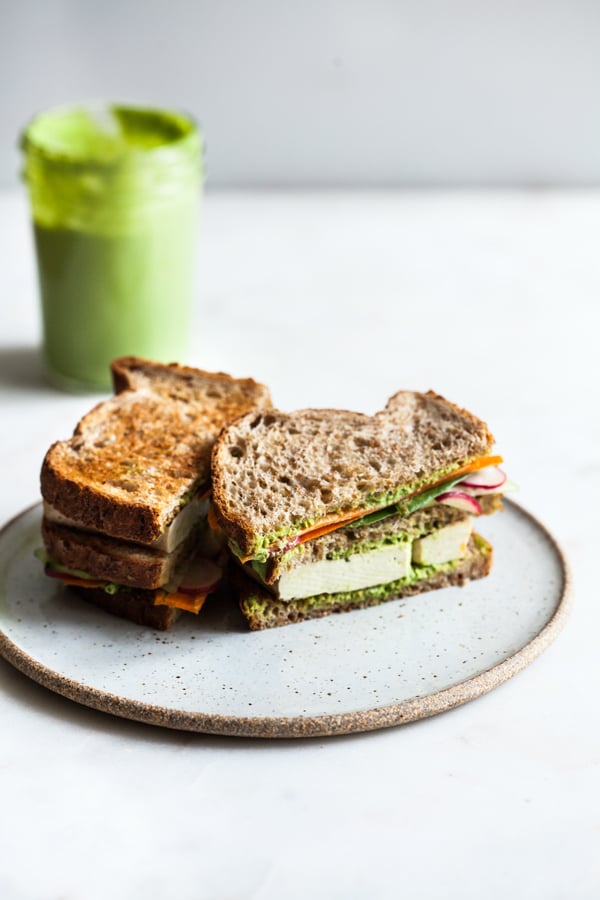 Every time I post a sandwich or toast recipe on my Instagram page, I'm asked right away what bread I like to use. The answer is that I love trying lots of different kinds, and lately I'm working on making my own bread at home, which is a process I hope to write more about. But right now, I'm really digging the tender, sprouted breads from Silver Hills Bakery.
Silver Hills Bakery opened in 1989 with a mission to empower people by providing healthy, whole grain products. The company is still family-owned and operated, still dedicated to making delicious, nourishing, plant-powerful breads, bagels, and buns. All of the products are vegan, and they're all made with nutrient-rich, high-fiber whole grains that have been sprouted in clean, cold Canadian water (the company is headquartered near Vancouver). Silver Hills foods are non-GMO and rich in protein, as well as fiber and B vitamins.
The sprouting process can help to make breads more nutritious by releasing anti-nutrients that block our absorption of essential minerals. It may also help to lower glycemic index, which means longer, more sustained energy from all of those healthful complex carbs. Silver Hills is devoted to the sprouting process, to creating breads with patience and integrity. And their hard work and craftsmanship shows—the breads are so tender, wholesome, and flavorful. The sweetness and nuttiness of whole wheat and ancient grains is in every bite.
Silver Hills offers a number of bread products, including their signature squirrely bread, which boasts 12 grams of protein and tons of B vitamins—50% of the RDA for niacin—in every in two slices. I also love the brands "big 16" bread, which features 16 different grains and seeds, including millet, buckwheat, amaranth, quinoa, sunflower, and flax. It's packed with magnesium, selenium, and zinc. The company also offers a "little big bread" option, which is the same treasured, sprouted recipe in a smaller, thinner slice. This bread is perfect for clubs and stacked sandwiches, and it's what I used to make my green goddess club.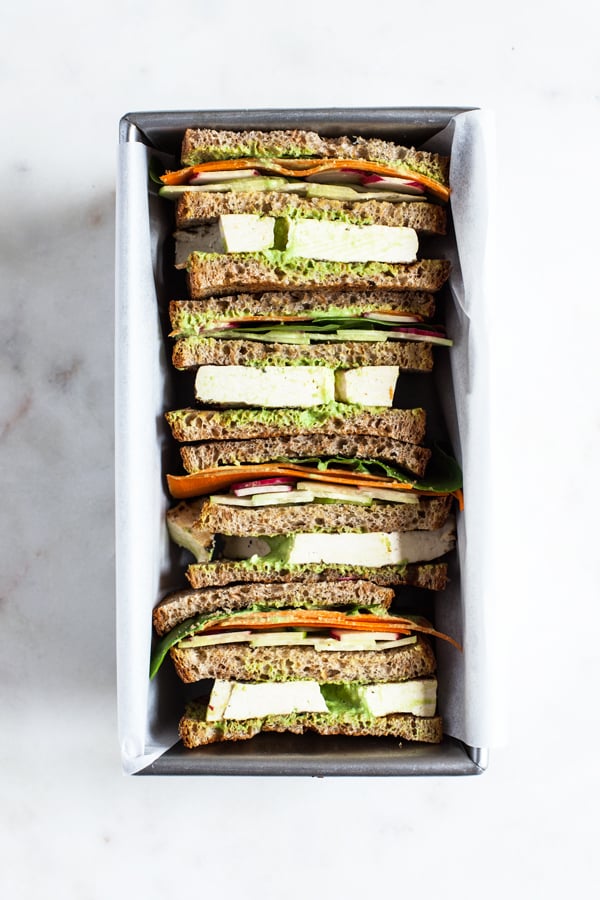 Print Recipe
Green Goddess Club Sandwich
Ingredients
For the club:
1

block

15 ounces extra firm tofu, pressed if possible

2

tablespoons

lemon juice

2

tablespoon

tamari

2

carrots

sliced into wide, thin strips

1

large cucumber

cut into thin rounds

4-5

radishes

sliced thinly

Couple handfuls baby spinach

arugula, or another green

12

slices

Silver Hills Bakery Little Big Bread

or another thin, whole grain bread of choice

Optional: sprouts; microgreens; chopped fresh mint

parsley, or green onion tops
For the tahini green goddess dressing:
1/4

cup

tahini

1/4

cup

+ 1 tablespoon water

1

tablespoon

lemon juice

1

tablespoon

apple cider vinegar

2

teaspoons

agave or maple syrup

1

clove

garlic

roughly chopped

1/4

cup

fresh parsley leaves

1/4

cup

fresh basil leaves

1

green onion

top only

1/2

teaspoon

salt

Freshly ground black pepper to taste
Instructions
Prepare a grill or grill pan (or preheat your oven to 375F). Slice the tofu into ½-inch thick slabs and place them into a shallow dish. Whisk together the lemon and tamari and pour over the pieces. You can allow them to marinate in the fridge for an hour or so, or you can start grilling.

Grill the tofu for 3-4 minutes per side, until you have some nice grill marks. Flip and repeat until you've grilled all of the tofu. Alternately, you can bake the tofu slices on a parchment-lined sheet for 20-25 minutes, or until lightly golden, flipping them once halfway through baking.

Blend all dressing ingredients together in a powerful blender or a food processor till smooth.

Toast the bread. Lay four pieces of toast in front of you and top each with a quarter of the grilled tofu, as well as a tablespoon or so of the green goddess dressing. Top with another slice toast. Layer this slice with even layers of the veggies, then another tablespoon green goddess dressing. Place a final layer of toast on top and slice the club sandwich in half. Repeat and serve!
Notes
If you like, you can use 15 ounces of your favorite pre-marinated, baked tofu or smoked tofu in place of grilling/baking at home.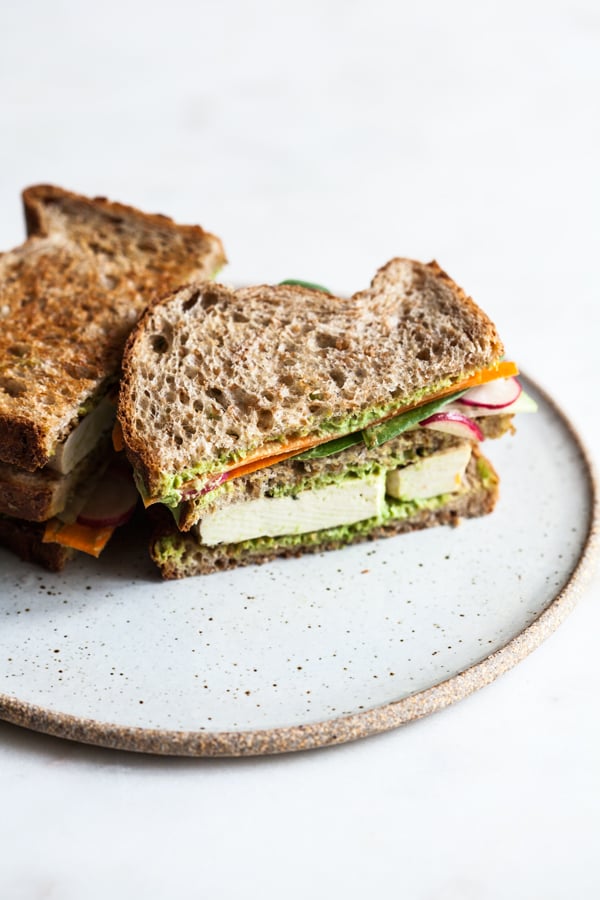 I love that this sandwich packs a protein punch, includes healthful fat in the form of a scrumptious dressing, and is layered with fresh, crispy veggies. I can't wait to try it with fresh, heirloom tomato slices in the summer and thinly sliced sweet potato rounds in the colder months. I also highly recommend using the optional addition of fresh, chopped herbs; they add a nice touch and make the whole bite more spring-y. If you'd like to save yourself some time, you can use a pre-baked, marinated tofu or smoked tofu from the grocery store in place of baking or grilling at home.
You can learn more about Silver Hills by exploring the company's website. And if you're curious about finding Silver Hills breads (or bagels!) near you, they're available at a number of wholesome grocers and health food stores. The website includes a convenient store locator to help you search.
Yeah, there's really nothing like a good sandwich. This colorful club certainly beats the bland, mayonnaise-slathered ones I remember from growing up. I have a feeling I'll be making it pretty often around here, relying on it especially when I'm having lunch on the go. (I'm already thinking ahead to my DI year, when more of my daily meals will be packed up!). Hope you'll enjoy it, too, and that you'll save your extra goddess dressing for putting on anything and everything.
xo
This post is sponsored by Silver Hills Bakery. All opinions are my own, and I love these wholesome breads. Thanks for your support!