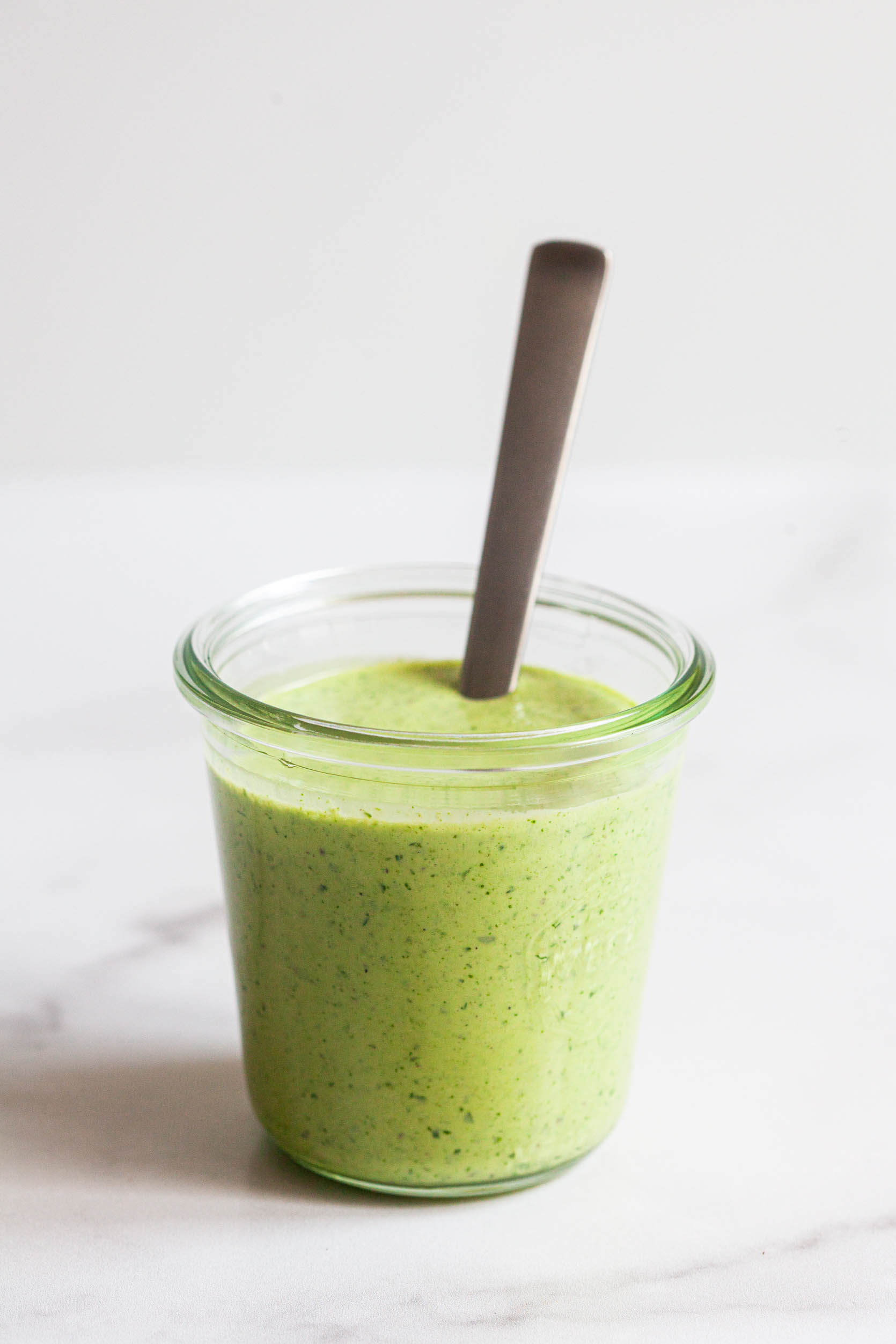 I know, I know. Who needs another tahini dressing? The answer is me. I need one. Because no matter how many tahini dressings I make, I don't seem to tire of them. This delightfully green tahini dressing, which features bright, herbaceous parsley and a handful of spinach, is my latest favorite. I'm always trying to think of ways to sneak more leafy greens into just about anything, be it a soup, a grain pilaf, or a pasta dish. So why not a dressing?
My Favorite Tahini Dressings
Tahini is probably my favorite condiment, nut/seed butter, and creamy base for just about everything. I've created lots of tahini dressings since I started this blog. Favorites include balsamic tahini dressing, balsamic Dijon tahini dressing, turmeric tahini dressing, tahini pesto, and yum sauce.
My favorite of all is my every day lemon tahini dressing. I first wrote the dressing down and published it in Power Plates, but I'd been making some variation on it for ages before I called it by its rightful name. It's bright, lemony, garlicky, and a little sweet. And this dressing is a variation of it, made brighter and more summery with the addition of a fresh herb and a little green.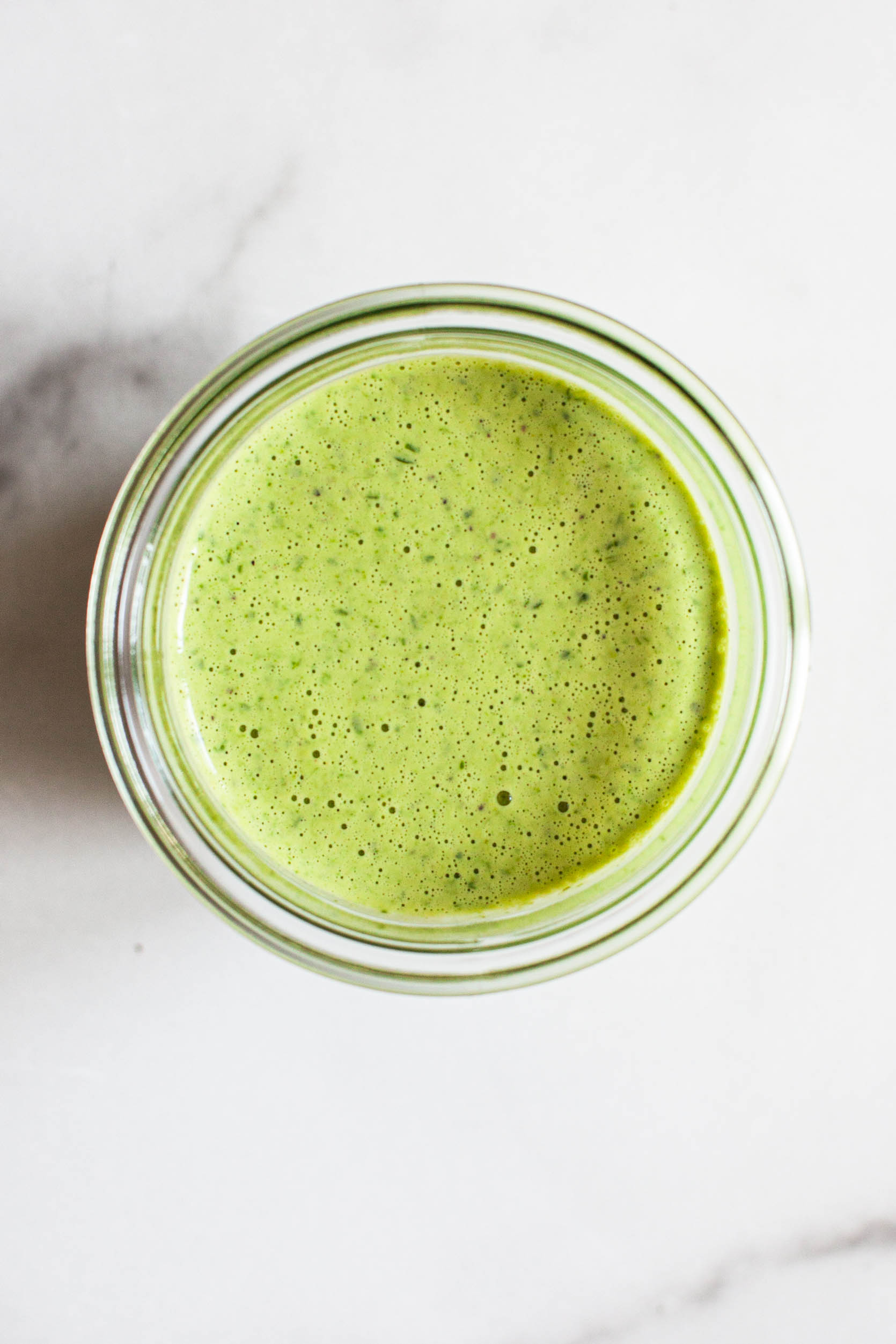 How to Make Delightfully Green Tahini Dressing
Making this dressing couldn't be easier: just pop the ingredients into a blender, and blend! If you don't have a blender, you can use a food processor, too. If you do that, begin by processing all of the dressing ingredients together, minus the herbs and spinach, first. Once you have a creamy dressing base, you can chop the parsley and spinach up and then throw them into the food processor. Keep pulsing the mixture together until it's the consistency that you like.
Speaking of, it's up to you how textured vs. smooth this dressing is. I like to leave a tiny big of texture, so that I can see little green flecks of parsley in the dressing. But you can also blend it until it's a smooth, consistent bright green.
Delightfully Green Tahini Dressing Ingredients
The base of this dressing is similar to my every day tahini dressing: tahini, water, garlic, lemon, salt. The fun little twist is the addition of greens, and while I tend to stick to parsley and baby spinach (not always in the proportion listed), you can use whatever herbs and greens you have. A small handful of kale works well here, since the other dressing ingredients will balance out its bitterness. Basil and cilantro in place of spinach, alongside the parsley, are delicious. I've sometimes added chopped green onion tops or chives.
Any type of tahini should work pretty well here. I tend to prefer tahini brands that are on the looser, more pourable side, and I like tahini that's made with roasted seeds, as I think it tends to be nuttier tasting and less bitter than raw. If you're out of tahini, you can replace it with cashew butter or (if you have a powerful blender) a half cup of raw, soaked and drained cashews.
Delightfully Green Tahini Dressing (gluten free)
Author -
1/3

cup

tahini

3/4

cup

water

1

small garlic clove, roughly chopped

3

tablespoons

freshly squeezed lemon juice (substitute white vinegar)

1/2 - 3/4

teaspoon

salt (to taste)

freshly ground black pepper, to taste

1/2

cup

spinach leaves

1/3

cup

parsley leaves and stems, packed
Blend all ingredients in a high speed blender or a food processor till smooth. The dressing will be a bit runny at first, but it will thicken as it's stored.
Dressing will keep in an airtight container in the fridge for up to 6 days.
Once you've got a mason jar full of this bright, herbaceous sauce in your fridge, you can put it on just about anything—and I do. I drizzle this on grilled tofu, I pour it onto bowls (I especially like it in bowls with my pistachio spinach falafel), and I love it on top of grain salads. If what you have it in the fridge is just a jumble of leftover veggies, beans, and cooked grains, you can make a pretty delightful meal by adding a big spoonful or two of this sauce.
Hope you enjoy it, and that you have a restful weekend ahead of you!
xo