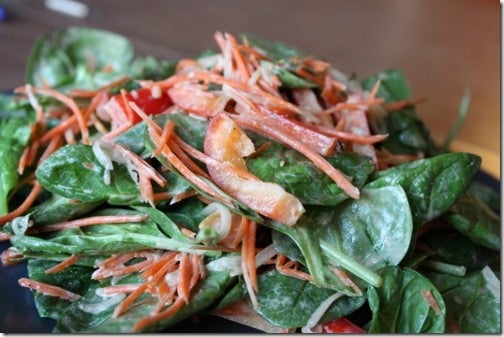 I wish I could take credit for this one. As you all know, tahini is without a doubt one of my favorite condiments. I use it in everything, from smoothies (like my mellow green smoothie) to soups to sauces to dressings, and I adore it. Every time I post a tahini recipe, I get at least four or five comments from readers who hate the stuff, and ask what they can substitute for it (the answer: cashew or macadamia nut butter). But I persist in loving it, and everything it's a part of: hummus, falafel, and so on, and so forth.
A few nights ago, my boyfriend was struck with the ingenious notion of combining tahini and balsamic vinegar. As soon as I heard it, I declared it brilliant. Not a typical flavor pairing, but since when do I like conventional flavor pairings? If avocado and chocolate didn't forever persuade me that conventional pairings are nonsense, then nothing will. And actually, tahini and balsamic work really beautifully. The sweet and sour balsamic offsets the salty tahini, and since tahini is a relatively mellow flavor, it's a perfect canvas for a really strong acid.
Our original tahini and balsamic experiment was just that: tahini and balsamic vinegar, tossed with a bowl of chopped veggies. The following day, at lunch, I made a slightly more refined version. I hope you'll love it.
Balsamic Tahini Dressing
Ingredients
1/4

cup

tahini

2

tablespoons

balsamic vinegar

1/3

cup

+ 2 tablespoons water

1

clove

garlic

crushed or finely minced (optional)

1

tablespoon

tamari or nama shoyu
Instructions
Whisk or blend all ingredients together, and serve. Dressing will keep in an airtight container in the fridge for up to five days.
For my part, I served this over a heaping bowl of veggies and spinach.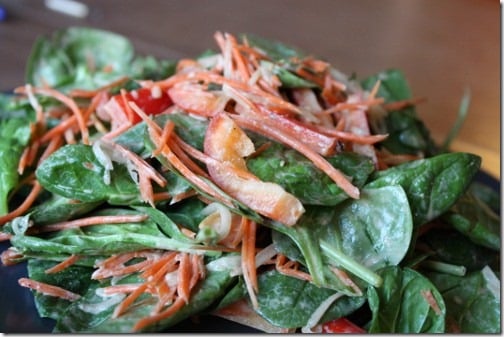 The meal was rounded out with some simple whole grain crackers and a white bean dip—I'll be hitting you with that recipe soon! It was a lovely, simple lunch.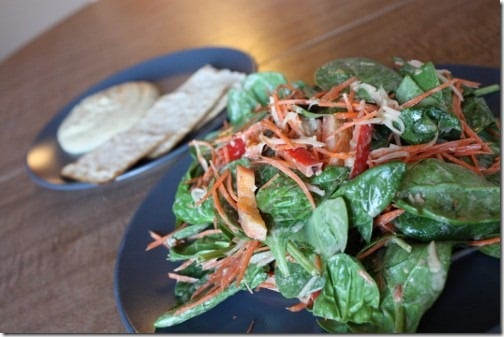 This dressing proves that adventuresome flavor combinations almost always pay of. (Almost—I'm still traumatized by the garam masala and honeydew melon smoothie I once tried.) What are your favorite unexpected flavor pairings? And what recipes did you find them in?
xo