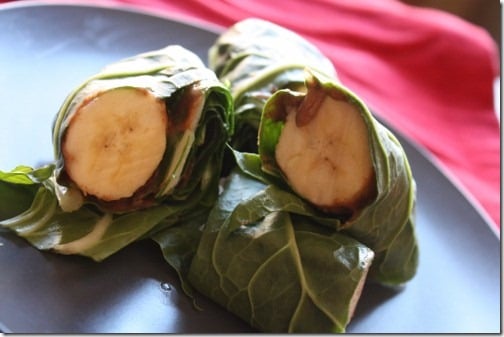 Glad you all liked the balsamic tahini dressing! I'm still using up my leftovers, and loving it.
As I mentioned before embarking on my week of internet withdrawal, I'm now in D.C., spending some quality time with the boy before orientation and classes begin. This means quiet days, full of blogging, counseling, food making, and food eating. It has been nearly six years since I had this kind of idle time on my hands, and it feels great. I'm sure that, given another month or two of it, I'd be going stir crazy, but for now, it allows me to be pleasantly self indulgent. Especially when it comes to cooking.
You see, six years of 9-5 often pitted my creative impulses as a foodie against my career life. It's not easy to come up with breakfasts and lunches that are creative and fun in the office kitchenette, or in the process of transporting food hither and yon in tupperware. I would often read food blogs written by women with unconventional working hours with a sense of envy, gazing wistfully at their perfectly tailored bowls of oats, neatly chopped and manicured salads, or—imagine!—hot lunches. Now, as I enjoy a very brief interim between 9-5 life and full time student/blogger life, it's nice to experience, if only for a week, the fun of full time domesticity.
Case in point: these breakfast sushi. They're surprisingly quick and easy to prepare, and in fact I think they'd make an excellent portable breakfast option for any busy working guy or gal, but I probably wouldn't have thought to make them had I not been at home with some time on my hands. Creativity abounds when one has a little time in the kitchen! I'll definitely be making these a staple, and wrapping them up to take to classes when they start.
Note that I used chard leaves for the sushi wrapper in this recipe. Collards, dino kale, and romaine leaves would all work just as well, though if you're a little sensitive to the taste of greens I'd definitely recommend using chard, rather than collards. As with all raw leaf wraps, you'll want to trim the stem quite a bit before wrapping, per the directions below!
Breakfast Sushi (serves 1)
Ingredients
1 banana
1 large Swiss chard, collard, kale, or romaine lettuce leaf
1 tbsp almond butter
1 tsp agave nectar
Instructions
1) Cut the thickest part of the stem of your leaf wrapper out with a "V" shaped cut, like so: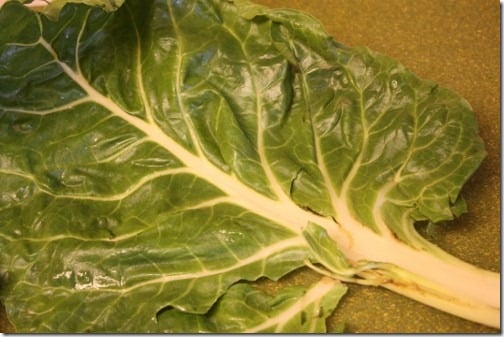 2) Spread the tablespoon of almond butter into the crease of the leaf: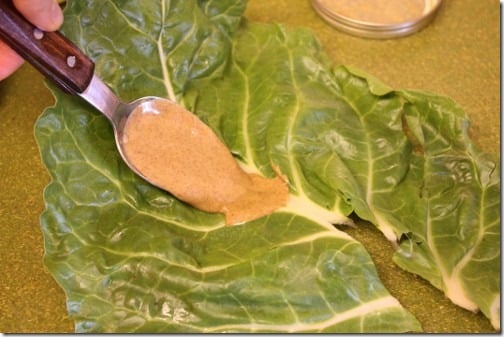 3) Drizzle it with about a teaspoon of agave—this is optional, but I liked it:
4) Cut your banana in half, and layer it so that it's straight in the center of the leaf: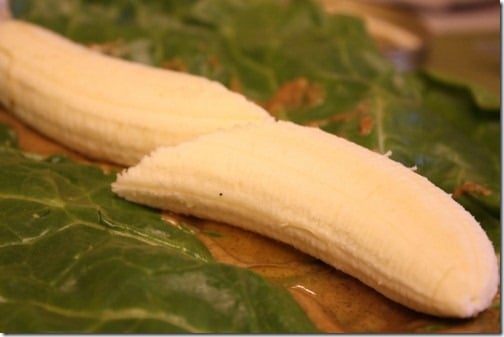 5) Fold up all of the edges bottom edges, and then and wrap it up neatly from right to left: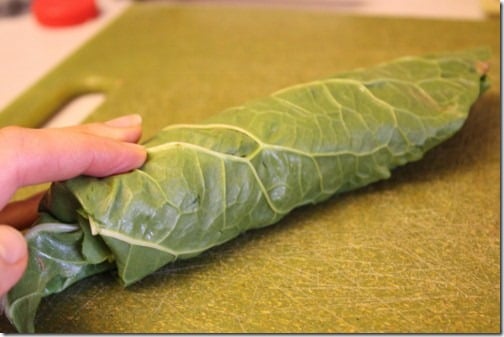 6) Slice into 3-5 pieces (depending on the length) and enjoy!
What an easy, tasty, and fun breakfast! I was totally charmed, and loved every bite: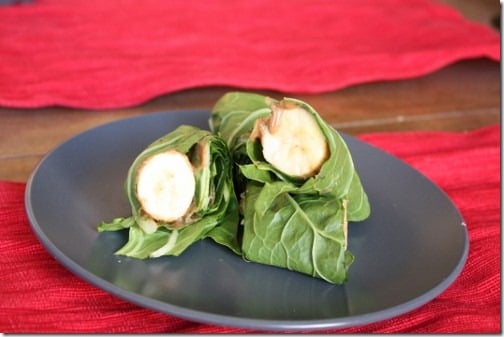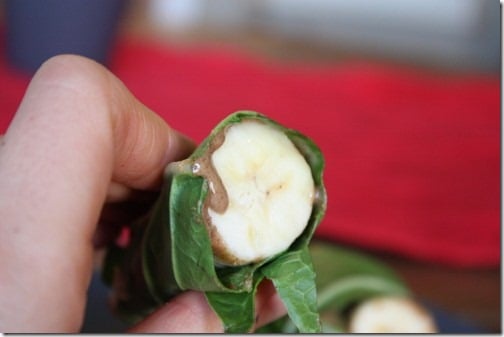 There are tons of ways to modify this recipe: use any nut butter you like, any other spread (I think an organic an all natural jam would be great), or layer in some dried fruits. I plan on making a version with raisins or dates soon! I also think it would be fun to try this with other fruits: apple slices and almond butter sound pretty great to me.
I'm so often asked what raw foodists (or semi-raw foodists) eat for breakfast, and this is as good a suggestion as any! It's fast, tasty, all raw, and all vegan, and it's a fun recipe to try with kids, too. Give it a shot, and let me know what you think!
xo