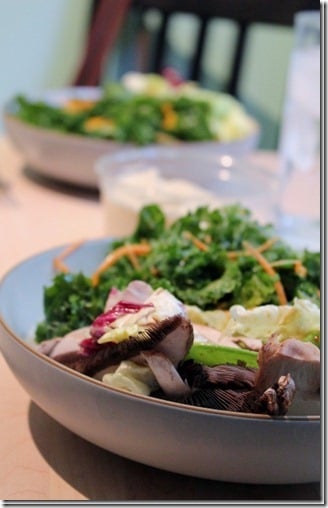 Great responses to my raw breakfast sushi with bananas and almond butter!
Yesterday, I had a lunch date with one of my favorite fellow bloggers: Emily of Daily Garnish. I've been reading Emily's blog for a long time now—it was, until recently, called The Front Burner—and met her for the first time at the HLS this past summer. The moment we shook hands, I felt at ease with Emily, and the feeling was compounded when she and Gina and I stood in line for lunch service, rolling our eyes a little at the photo-taking that was preventing the line from moving along. Here, I thought, is a woman who likes to eat and doesn't like to wait. I can relate.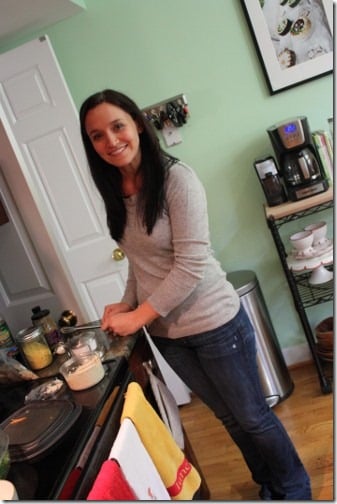 Yesterday's lunch only proved what I already know about Emily: she's smart as a whip, honest, forthcoming, and fun. By the time we sat down to eat, we already were acting like old friends. And before that happened, we had a fun time prepping salads in her (lovely) kitchen!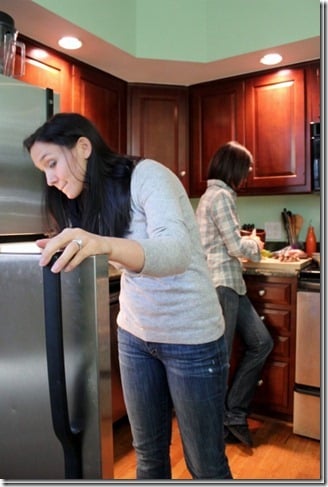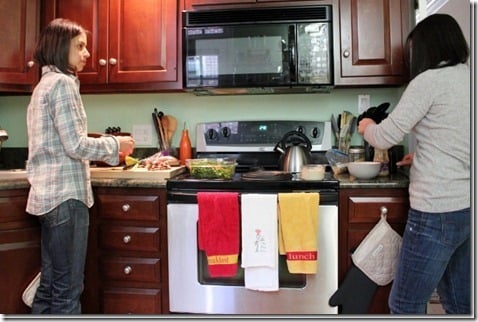 For my part, I had brought over a big container of kale massaged with avocado, lime, Braggs, agave, a drizzle of olive oil, and tossed with carrots and peppers: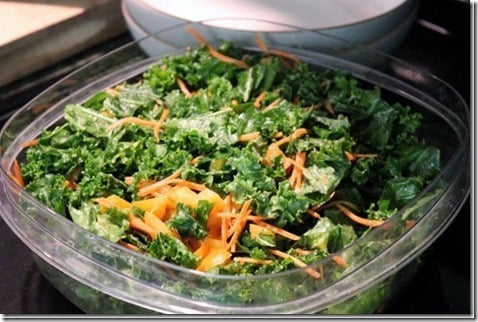 We also made a simple salad of butter lettuce, radicchio, pear slices, sugar snap peas, and portobello mushroom: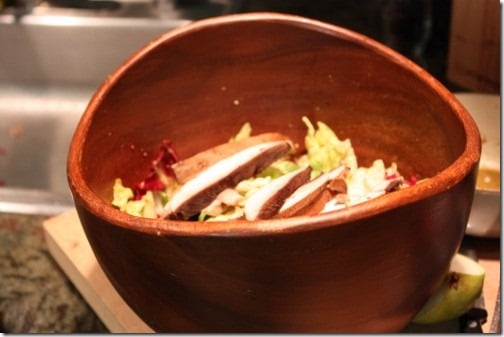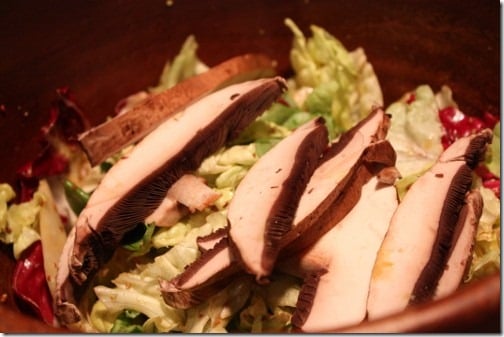 For which Emily threw together a fabulous dressing of liquid aminos, nooch, vinegar, and mustard: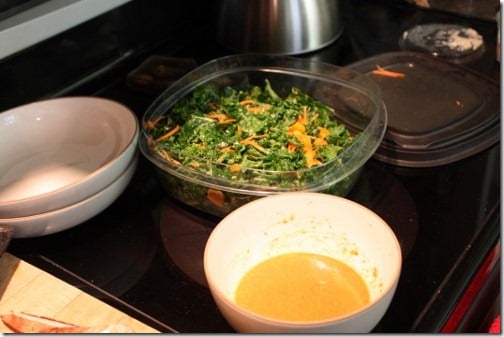 I also brought along some of my classic raw cashew "cheese"—not fermented this time, but still delicious: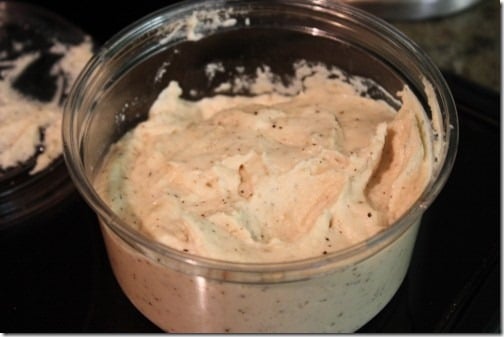 We sat down to heaping bowls of salad, spoonfuls of cashew cheese, and some H20: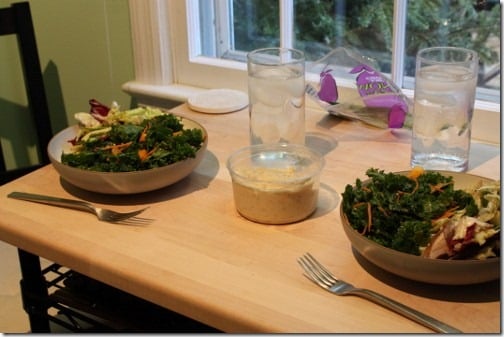 My plate: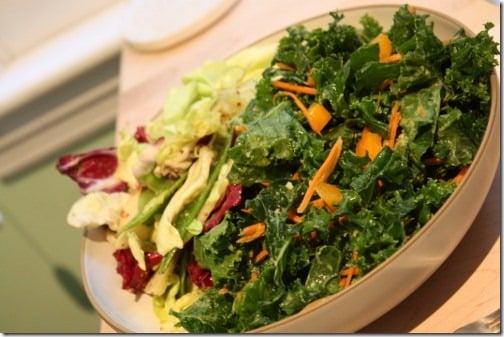 We topped our bowls with some cinnamon-spiced quinoa that Emily had prepped in her rice cooker—a perfect way to round out the meal!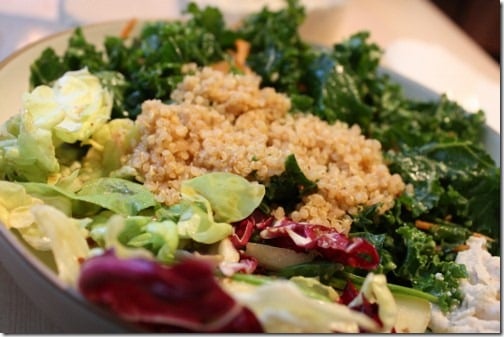 We talked about many things over our lunch, but the topic we kept circling back to was honest writing. Emily recently wrote a (really great) post on calorie counting, which reeled in a ton of comments. As you may recall from my how to build a meal sized salad post, I believe that counting can be useful for people who are prone to either drastic over- or under-eating. I don't recommend it to those who are prone to obsessive behavior, nor to women who are currently struggling with an ED, but I did find that it was crucial in my own ED recovery, since it was my habit at the time to under-eat and not take in enough calories. Counting helped me to be accountable on paper, and ultimately in my every day behavior. It's not something I do any more (unless I'm curious about a certain meal's adequacy for my body), nor would I wish to, but I do appreciate it as a tool in certain scenarios.
Emily got a lot of positive feedback for her post, and some criticism, too. But what she clearly took away from the experience was a sense of satisfaction from bringing up challenging topics. I can relate. This year, I started writing about animal rights for the very first time on my blog. It was a topic I wanted to write about in the past, but consciously avoided for the wrong reasons. I was afraid of being attacked, and I was also uncomfortable with the fact that many people assume that all animal rights advocates are militant and judgmental.
Ultimately, I realized that the popular stereotype of an animal right's champion as an off-putting zealot—which is unfounded and unfair—won't change until more people like me, who feel passionately about animal rights but are interested only in decent and respectful conversations, step up to the plate and set a positive example. It reminded me a lot of my struggle to self-identify as a feminist in college: I felt very much that I was a feminist, but also felt some discomfort with what that word signified (unfairly) to some people. Ultimately, I realized that stereotypes don't vanish until we give people a new image to combat the popular image that has been lodged in their minds. So the public will scoff at "feminazis" until it is forced to see that feminism is not synonymous with bitterness or anger, and that feminists are simply reasonable women and men of all personality types who believe in gender equality. Likewise, the popular stereotype of animal rights champions as fanatical and holier-than-thou will persist until more vegans, vegetarians, and compassionate individuals manage to speak out about the urgency of animal rights without being disrespectful or close-minded. When we speak out honestly about the causes we care about or the issues that matter to us, we help to keep public perception of those issues accurate and nuanced.
I admire Emily's goal of being more outspoken in 2011—which you can read more about in her recap of our lunch, here—and I hope she and I will always support each other's honesty! In the meantime, I'm psyched to have a new friend in my new home-away-from-home of Washington, D.C.. I hope that many more lunch, dinner, and play dates await us!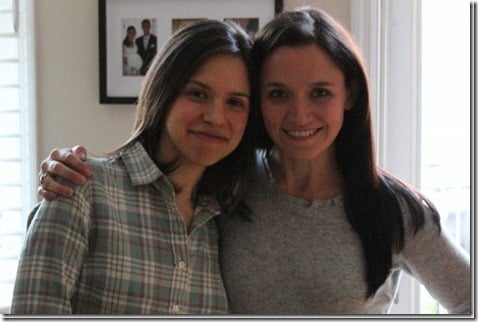 xo