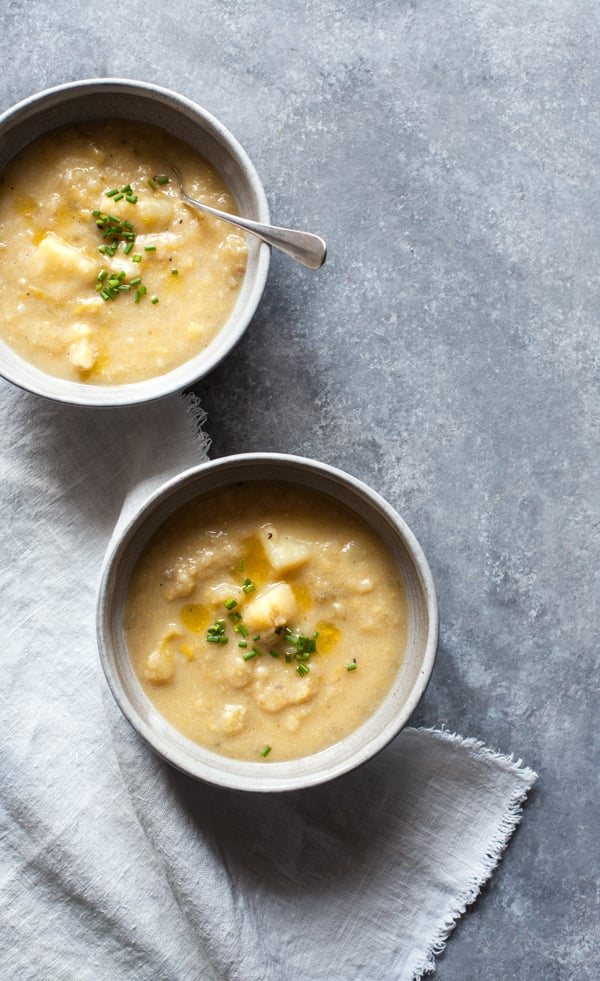 When I decided to make this creamy vegan potato leek soup last Friday, it still felt like winter here in New York. It was gusty, bitter cold, and damp, and a pot of hearty, stick-to-your-ribs soup was just what the doctor ordered. Now, half a week later, it's practically spring outside, but I have to admit that the soup feels every bit as welcome. This is simple vegan comfort food at its finest.
The potato leek soup is one of the recipes I prepared for my week experiencing the SNAP food challenge. I wasn't sure if leeks would fit into the budget, but at $3.23 for a pound, they did — along with 2 pounds of yellow potatoes for about $3. The recipe yields six generous portions (about $1.65 per serving), and the fact that it's so warming and filling makes it a great recipe to stretch for a few days. We enjoyed it on Sunday night for dinner with some toast, and Steven has brought it to campus for lunch two days in a row.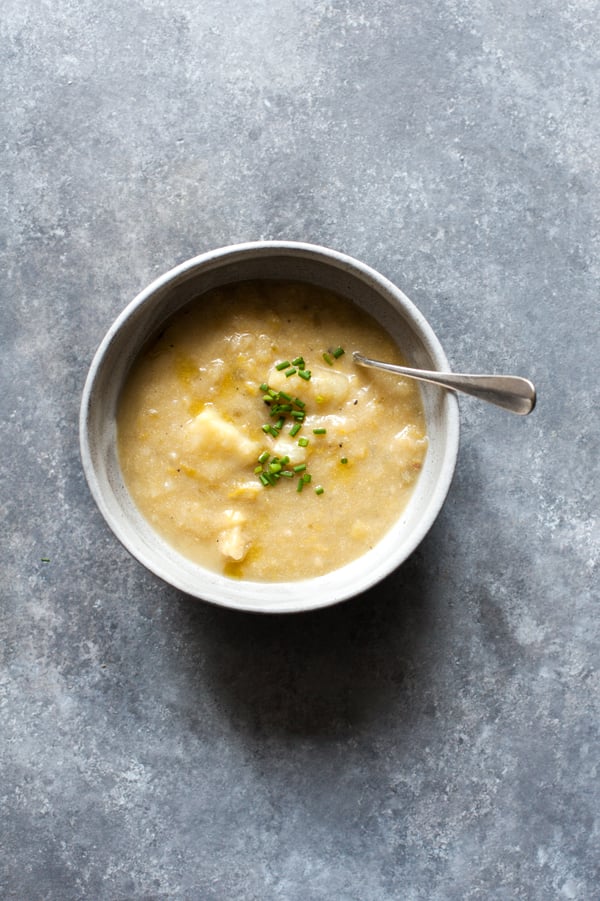 In spite of the name, this creamy vegan potato leek soup contains not a drop of cream, cashew cream, coconut milk, soy milk, or any other dairy substitutes. The creaminess is all thanks to the potatoes, which get half-pureed with an immersion blender (or regular blender), as well as the nutritional yeast, which adds umami to the soup.
One of the things I love about this recipe is that it's so ridiculously simple: cleaning and chopping up the leeks is probably the most time-consuming/annoying step. I jump at a chance to cook something with so few ingredients these days, but you could definitely choose to add some additional vegetables or seasonings (like additional fresh herbs) if you'd like to jazz it up. Coconut bacon would be a killer topping.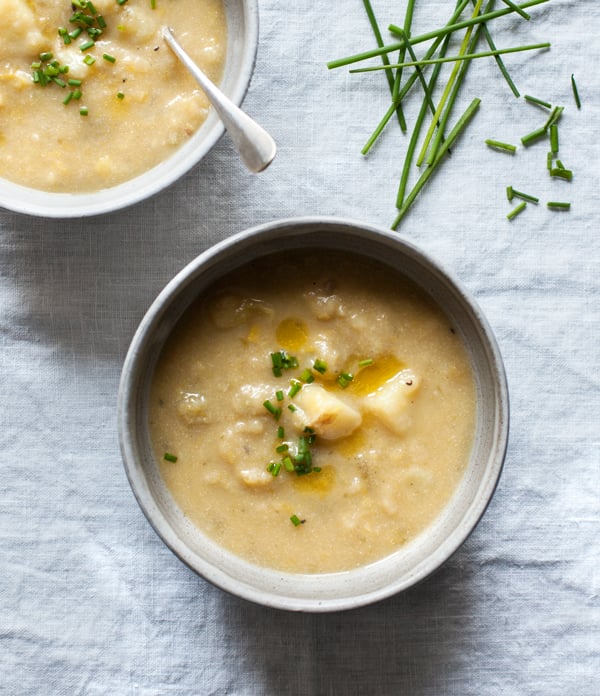 Creamy Vegan Potato Leek Soup
Author -
1

tablespoon

olive oil

2

large or 3-4 small leeks

dark green stems removed, washed thoroughly and sliced thinly

2

stalks celery

chopped

5-6

large Yukon gold potatoes, peeled and roughly chopped (about 2-2 1/2 lbs after preparation)

1

teaspoon

salt

Black pepper to taste

4

cups

vegetable broth + 2 cups water

1/3

cup

nutritional yeast
Optional: 4 heaping cups washed and chopped kale

collard greens, or spinach

For topping: Chopped green onions snipped chives, or coconut bacon
Heat the olive oil in a large soup pot over medium heat. Add the leeks and celery and cook, stirring occasionally, until the leeks have completely cooked down. Add the potatoes, salt, and pepper.

Add the broth and water. Bring to a boil and lower to a simmer. Simmer for 25-30 minutes, or until the potatoes are so tender that they're almost falling apart. Use an immersion blender or a regular blender to blend about half the soup, so that it has a creamy, thick texture but chunks of potato and celery are still visible.

Stir in the nutritional yeast and adjust salt and pepper to taste. If you'd like to add greens, stir them in now and keep simmering the soup until they're wilted and tender. Serve the soup with toppings of choice.
Leftovers will keep in an airtight container for up to 6 days, and can be frozen for a month.
While the soup is perfect with a crusty slice of bread or toast, it's definitely filling enough to stand on its own. Stirring in the optional greens helps to add more fiber and a little extra nutrient density. Steven doesn't care for greens in his soup (it's a texture thing), but I do, for the opposite reason (I love the texture), so when we made it I set is portion aside and stirred some chopped spinach into my bowl. The meal was quick, easy, and really satisfying.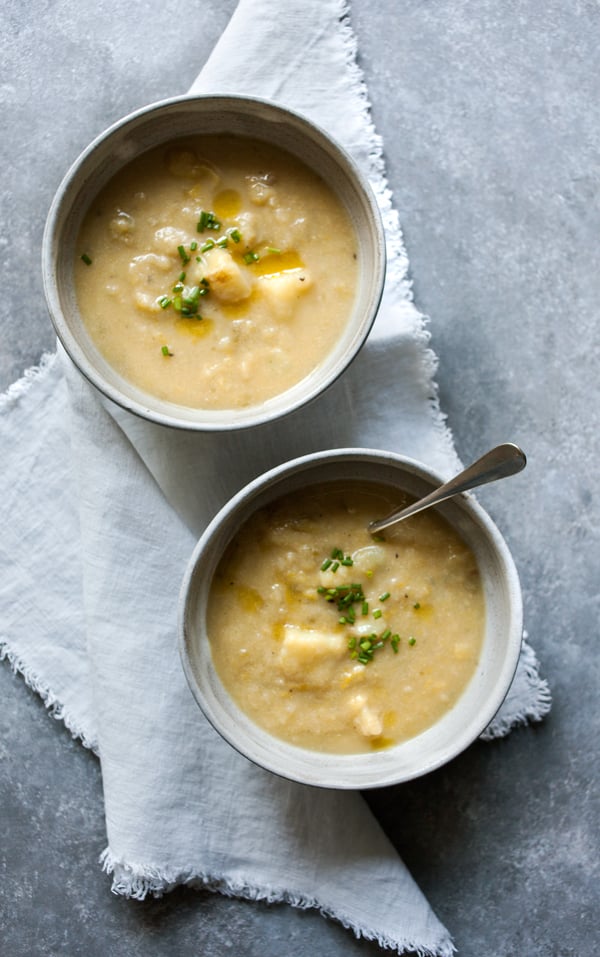 Whether you're still immersed in winter temperatures or just now climbing into spring, this soup is a wonderful go-to recipe for quick comfort food. I hope that it'll be warming you up soon.
xo