It's no great secret that I love cashew cheese. From the basic variety to my "pizza cheese" to my cashew cheese with meyer lemon and dried cherries, to my new favorite—sweet potato cashew cheese—I find that cashew cheese is one of the tastiest and most versatile raw, vegan spreads around. So it's no surprise that I woke up this morning with a cashew cheese craving. Only problem was, I didn't know how to flavor it. I would have been happy with the plain variety, but c'mon: I write a food blog, and you guys have seen that one before. It was time to get creative.
I spent all morning thinking about how I might add some zest to the cashew cheese, and then, as I stared at a basked of navel oranges at the grocery store, it came to me: zest. Orange zest. That, and a nice squeeze of fresh orange juice, promised to deliver me a batch of sweet, salty, and surprising cashew cheese. And it made good on that promise.
Zesty Orange Cashew Cheese (Raw, vegan, gluten free, soy free without miso)
Makes about 1 1/2 cups
1 1/4 cups raw cashews
1 tablespoon mellow white miso (totally optional, but if you leave it out, you'll want to add a little more salt)
1/2 tsp sea salt
1 tbsp freshly squeesed lemon juice
3/4 cup fresh (or bottled) orange juice
1 1/2 tbsp orange zest
Freshly ground black pepper to taste
1) Empty cashews into a food processor along with miso, salt, and lemon juice.
Grind the cashews till they're well ground, about 30 seconds.
2) With the motor on, add orange juice in a thin stream. If the consistency starts to get thinner than you want, just stop adding liquid. Likewise, if the cheese remains too thick, add more than 3/4 cup juice.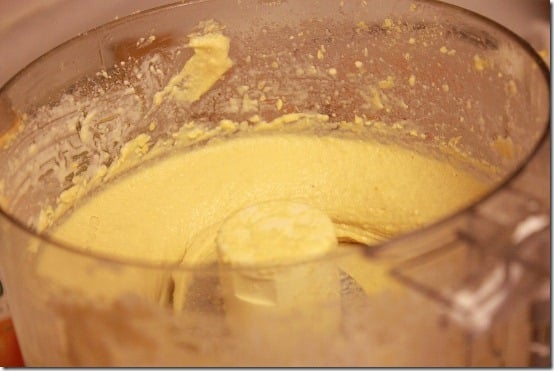 3) Add zest and pepper, and pulse to combine.
I love cashew cheese as a sandwich spread, a pasta topper, or in wraps. But I especially love it in a nice big scoop above a big green salad, which is exactly how I ate it today.
D.C. Blogger Meetup?
By the way, this post comes to you from the comfort of M's apartment here in D.C. Next week (Thursday the 10th-Thursday the 17th) I'll be in town for my spring break. Any D.C. guys or gals interested in a blogger (and blog reader) meetup? A lunch would work best for me, if we can manage to find a place that's easily accessed from everyone's workplaces. Aside from that, I'm totally open about the spot (as long as we avoid Café Green; still too traumatized by the tiny portion sizes to return). Emily, Valerie, Sana, and Katie, I'm curious to hear what you think, obviously! Comment on this post or email me if you're interested in joining.
Happy weekend, all—so glad it's finally here.
xo