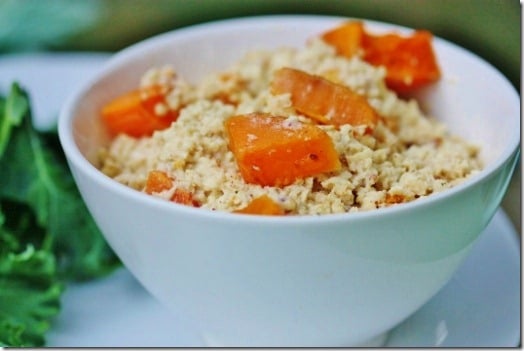 Creamy coconut parsnip rice with caramelized butternut squash: it's the kind of recipe that sounds so exotic, so rich, and so layered. In some ways, this recipe is all of those things. What it is NOT is difficult, time consuming, or unapproachable, which exotic and layered recipes often are. In fact, the roasted squash (which could be swapped out for different ad-ons) is the most time-consuming part of this recipe. In these busy November days, with my semester heading into its closing stages, I've never needed recipes like this one—quick, easy, filling, and complex—more urgently.
If you're curious about what, exactly, makes caramelized squash caramelized, it's a good question: essentially, it is simply butternut squash that has been roasted at high temperatures with a touch of sugar and salt. The end product is covered with a sweet and salty glaze—hence the comparison to caramel. It's one of my favorite means of preparing any winter squash, and it's also a killer method for beets, carrots, and parsnips, the latter of which is the other star of this dish!
This meal, like many of my combo raw/cooked meals, is room temperature or just lukewarm: the parsnip rice is room temperature, and the cooked squash heats it up a bit when you mix. You can absolutely heat the whole dish gently in a sauté pan, if you're in the mood for a warmer meal, or even steam the parsnips. You can also do as I did, and dehydrate the parsnip rice for about 10-15 minutes before you mix it with the coconut milk, salt, and other ingredients. None of these steps are necessary if you're in a rush: they are simply means of creating a warmer plate, which I know is a priority for many of my readers as we head into winter months.
Creamy Coconut Parsnip Rice with Caramelized Butternut Squash (high raw, vegan, gluten and soy free)
Serves 2
For the caramelized squash:
2 lbs (about one small) butternut squash, peeled and diced into inch cubes
2 1/2 tbsp coconut oil
2 tbsp dermerara or palm sugar (date paste, maple syrup, and agave are all acceptable substitutes, but I like the traditional use of sugar here)
1/2 tsp sea salt
1/4 tsp black pepper
Toss the squash in the oil, sugar, salt, and pepper. Roast at 400 degrees for about 25-30 minutes, until squash is tender and getting brown. You can (and should) leave it in the over for a few minutes longer if you want a more caramelized effect. Set aside till you're ready to make dinner.
For the creamy parsnip rice:
4-5 parsnips, peeled and roughly chopped
1/4 tsp sea salt (or to taste)
Juice of half a lime
2/3-3/4 cup coconut milk (full fat or low fat, but full fat is nice here)
2 tsps agave
1 tsp cinnamon
1/2 tsp curry powder (optional)
1) Place parsnip and salt in a food processor and process till the mixture resembles rice. At this point, you can dehydrate it for about 10-15 minutes to warm it up, if you so desire.
2) Transfer rice to a bowl and mix with your coconut milk, lime, agave, and cinnamon. Mix in your butternut squash, check seasoning, and dig into a fresh bowl of sweet, creamy comfort.
Note that while the squash works really well in this recipe, you can substitute a raw veggie to make it all raw, or any combination of roast or steamed veggies in place of squash. The rice here is a wonderful template for further culinary experiments!! And there's a lot you can do with the rice, too: currants, raisins, and lime zest would be a fun place to start.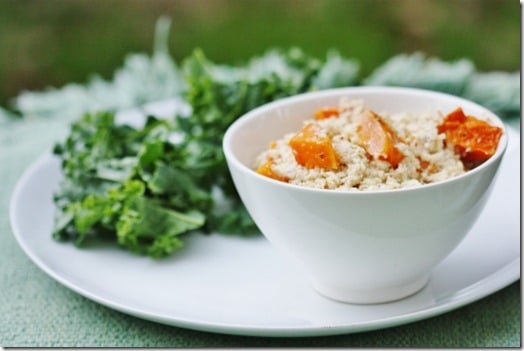 Dishes like this embody the versatility that I so embrace in cooking. Raw or cooked, complex or simple, salty or sweet: there are so many ways to customize this meal!
Anyway, before I go, apologies for having disappeared for a day. It's hard for me to a) write my blog and b) cook things to write about on my blog when I'm gearing up for two exams. Even so, I'm always dying to get back to the keyboard when I take a hiatus, however quick: I miss you all, and our conversations.
Hope you're having fantastic weekends.
xo