Hi everyone!
I hope your holiday weekends are off to a great start. I'm thrilled to be sharing a very special post with you today; it's the second installment in my Choosing Raw interview series, and it's a good one! My guest is no stranger to you all by now: the very lovely Melissa, who is the heart and soul behind FitnessNYC.
One of the first blogs I discovered, FitnessNYC continues to be a blog I read and savor nearly every day. It's a useful resource for any city dweller—Melissa has nailed the fine art of keeping her readers informed about goings on and opportunities in New York, always with an eye on her readers' wallets. It's also a tremendous source of inspiration for anyone who's looking to upgrade their fitness routine. Though she never brags her athleticism on the blog, Melissa is a fitness star, through and through: marathon runner, Lotte Burke fanatic, gym rat, and mastermind of genius workout playlists!
If I had to choose, I'd say that the two things I love most about Melissa's blog are its enthusiasm and its modesty. I'm grateful for the many fitness blogs out there, which inspire me to amp up my workout routine. But I have to admit that the culture of stat-sharing can sometimes seem a little self-congratulatory. Not so at FitnessNYC. Melissa might run eight miles in the morning and hit Physique 57 for a double class in the afternoon, but she never seems to be patting herself on the back for it.
More importantly, Melissa loves to sweat, and it shows. One phenomenon I often see with female clients (especially runners) is the use of exercise to mitigate eating. These clients might enjoy food, but they use working out to feel "safe" about what they're eating, rather than for the physical thrill. I don't cast aspersions on this; it's natural for exercise to be a part of one's desire to stay fit. But I do enjoy Melissa's unadulterated love of physical activity: she's not doing it for the calorie burn, nor to justify last night's dinner. She's doing it because she loves to sweat more than any lady I know.
Finally—and I'm sorry to ramble before I get to the lady of the hour herself—I have to mention that I also have the pleasure of calling Melissa a friend (in fact, she's the person who pushed me to start this blog!). And as her friend, I can tell you that what you see on her blog is exactly what you get in person: honesty, sincerity, modesty, intelligence, and a big heart.
So without further ado, I present Melissa of FitnessNYC! Don't forget to read the end of the post carefully, because I'm hosting a giveaway to honor having her as my guest!
1) Let's begin at the beginning: how did your love of fitness develop? Has it been a lifelong passion?
I have always been very active and had lots of energy. Growing up I played several sports, danced and did gymnastics.  My mom did workout videos every single morning, so I have always been a fan—starting with Mousercise and working my way up to Denise, Gilad and Kathy Smith.  I became interested in things like yoga and cardio kickboxing in middle school, so I would take classes at the Y on a regular basis.
I was never an amazing athlete; I went to a huge high school, where you basically had to be top in the state to be on teams, so I enjoyed recreational league swim teams, softball, dance and gymnastics more for social reasons than for aspirations of glory.
In high school, I was more involved in community service groups, NHS, the art program and drama than athletics. I would basically go to the gym a few times a week, swim a few times a week and take daily walks with the dog, but it was never anything too structured. I was generally pretty active since I biked to work everyday and was always on the go.
In college, I found that going to the gym was actually a great way to relieve stress, break up my studying sessions, and take some time to daydream or work through my thoughts.  I didn't go everyday, but I never found going to be a chore. When I studied abroad in Spain I found that it was pointless to waste time at the gym, so I just did as much walking and site seeing as possible.  When I returned from Spain, I started to go the gym on a daily basis, not because I had gained weight, but I found it was really important to my mood!  I also had a huge crush on a guy who I would often see at the gym, so that was further incentive to be a sweaty stalker.  So for the last six and half years, I have gone to the gym on a near daily basis and found it to be the perfect way to keep my mood and stress levels in check, and more recently, through running to challenge myself.
2) The reason I love your blog so much—OK, one of the reasons—is that your love of fitness seems so unbelievably untarnished by concerns about weight loss or maintenance. Unfortunately, many of my female clients seem to use exercise more as a means of self-regulation than satisfaction: they exercise in order to feel "safe" about what they eat. One of my favorite of your posts included a mention that you'd been to the gym in the morning and went again in the afternoon, not because you felt guilty about not working out "enough," but because you really just wanted to. I loved this idea—the notion that you just couldn't get enough. Tell me more about what it is you love so much about exercise and the way it makes you feel.
I have never really equated weight loss with exercise. Honestly, your body is more a reflection of your diet than your workout routine. However, I am happy that exercise has never been connected to diet or weight maintenance for me, because it has allowed it to be so much more fulfilling!  I find that even a day or two out of the gym and I have tons of nervous energy that needs releasing, less physical energy, and I am a whole lot more cranky.  Even just a half hour of light exercise, walking, elliptical or jogging keeps me on an even keel.  Add a few days a week of more intense exercise (which is what you need to really make a physical difference) and I am on cloud nine from the endorphin rush. But I never push myself to do more than I feel like or adhere rigidly to a schedule.
In high school, I suffered from depression, and I have found exercise to be more beneficial than the years of therapy and Zoloft. In terms of body image, I am certainly not immune to days where I don't love my body, but running definitely has helped me appreciate the sheer strength and endurance of my body over my jeans size.
3) Another thing I love about your blog is your total honesty about the fact that you've never felt like a "born runner." Running, you make clear, was a bit of a struggle for you at first, and it's something you've had to work hard at. What's your advice for people like me, who tend to think that they're "bad" runners, or simply not cut out for it?
Definitely!  I still don't know how I made it through "the mile" in grade school!  For years, I tried to run, but could only go a few houses before starting to wheeze!  I tried a lot of techniques to get better, running a minute, walking a minute, etc.  But I always gave up and stuck with things I enjoyed, like swimming, biking, power walking, kickboxing classes. However, it really started to annoy me that I couldn't run.  Actually, my decision to sign up for the marathon was almost entirely based on my frustration with my running struggle and wanting to overcome it!  I can say two things helped me become "a runner."
Finding a friend to sign up for a 5K with me.  I did the Revlon Run Walk in 2003.  Races are a great way to get motivated, excited and committed.  Plus, I knew I could walk if I needed to—I didn't.
Second, there was a summer I didn't have access to a gym.  So I was doing lots of biking and powerwalking.  Then my friend told me that powerwalking was for old ladies—and I decided to make the switch.  Plus I had almost no free time that summer, so my 3 mile run was far quicker than my 3 mile walk.
My best tips:
•find a friend to run with
•sign up for a short race
•run outside!
•have a great playlist
•start with just once or twice a week, so you don't burn out or lose interest
I have written a few posts on getting started; check them out for more info!
So you want to be a runner? Part 1
So you want to be a runner? Part 2
4) I spend a lot of time assuring my readers that they can work raw foods and meal planning into their busy lives. But a common dilemma for me — and I'm sure other women can relate — is how to work physical fitness into my busy life! What are your best tips on staying active and fit amidst work, socializing, dating, etc?
This can be SO hard!  Basically, I have an very general idea of my schedule each week, so I know what days I have to workout in the morning, what days I might have a lunch hour free, and what days I have time to squeeze in an after work gym session before meeting friends for dinner/drinks/etc. And, of course, the occasional nights when I get to go straight home and can use the gym in my building for PM workout.
So if you look at your day as 4 opportunities to work out:
1.    first thing in the morning (always a safe bet, not too many obstacles come up before 8 am)
2.    lunch hour
3.    right after work
4.    after dinner
You have to find which works best for you each day and try to fit at least a quickie into one of those slots.  Some people really hate morning workouts, or cannot workout after dinner, others have no energy after work.  I feel for all of you, but guess what push through those harder times for a few days, and it will get much easier and even enjoyable. I always find it hard to get motivated after work, but I find that after the initial few minutes of misery, sometimes I have my best workouts!  Even if you are not a morning person, you may find that you have more energy all day and sleep better at night, if you squeeze in that AM jog!

5) One of your truest strengths as a blogger is your sense of place: FitnessNYC is both a fitness blog and an ode to our tremendous city. I'm always inspired by your informative posts on local goings on, deals, and attractions. Tell me more about how you feel fitness and New York-ness intersect on the blog. And what are your tips for staying fit in an urban environment—especially in the cold months, when running outdoors isn't a great option?
This is a great question! I don't know why I have never addressed it on my blog. My original tagline was: staying healthy, happy and fit in the city—and having a little fun too.  So I try kind of show that I have a life outside the gym—you can have both!  I am also obsessed with NYC and the amazing culture and fitness resources it offers, so if I can review a class or let people know about a special fitness freebie that might inspire even one person to love and enjoy fitness—that's the greatest thing ever! Vital Juice Daily and the Time Out Spa and Sport sections always have great deals and information on the latest classes and studio specials!
Staying fit in NYC is both really tough and really simple.  Everyone is so busy and works long hours and there are lots of distractions.  However, there are tons of options: countless yoga studios, specialized fitness classes, 24 hour gyms, running clubs galore, etc.  I would say a nearby gym is probably the most convenient and affordable option.  You get tons of classes and machines for about the same price as three or four classes at a fancy yoga studio.
I am also a HUGE believer that natural fitness is the most effective. If you are truly time-strapped, put your heels in your bag, lace up your sneakers and walk to your destination.  We urban dwellers have ample opportunity to walk, so forgo the cabs and subways when you can!
6) OK. Here's a toughie. There are many in the raw community who discourage intense exercise as a means of either weight loss OR health-generation. While I'm inclined to disagree with that stance—I like to work out and always feel better when I do—I also agree that I've been healthier and happier since I abandoned my more marathon workouts and gotten used to gentler, shorter gym runs and more yoga. Then again, I can't help feeling just a tad sheepish when so many of my blogging sisters are training for marathons and triathalons!

Where do you stand on this? How much is too much or enough? How intensely should we be sweating to be healthy?
I think this is a personal decision. I don't think there is a magic number.  You have to find the amount and intensity that feels right. I think a balance of cardio, strength and yoga/pilates is a great mix for anyone, even if it is just once a week of each to start. Whatever you do find what you love and gives you that happy, exhilarated feeling.  I can agree that no exercise is healthy.  I will say that I believe powerwalking is exercise.  Let's look at some of the benefits that might appeal to the raw population:
-Sweating is detoxifying!
-exercise lubricates your joints and keeps your body limber
-weight bearing exercise is important to increase bone density
-exercise can improve mood and naturally alleviate depression
-raw food frees up time and energy; why not use some of it improving your cardiovascular health and endurance too?
Excess is no good either.  For those looking for major changes in endurance, speed or body fat, I do recommend one to two days of very high intensity intervals, you get more bang for your buck in much less time!
I also think the idea that exercise is only a temporary "high" due to increased blood flow and oxygen is sort of shallow because the same can be argued for the raw food lifestyle.  If you stop eating raw food, you don't feel as good.  Furthermore, even a moderate amount of exercise can have notable stress relieving effects.
No one should feel the pressure to compete with other bloggers or their friends about exercise or diet. Not everyone has to be a marathoner, especially if you don't enjoy it.  I incorporate a wide variety of exercise in my weekly workout wrap-ups.  I like running because it gets my creativity flowing, I often pre-write blog posts in my head or thing of ideas on a long run. The elliptical is where I daydream or think about my goals/to-do items. The rower is the best for silencing my mind and achieving total calm. Spinning, by contrast, amps me up and makes me feel on top of the world.
7) You've your own journey with raw foods. Tell us a little bit about your experience with eating raw.
Well, I think I am one of the luckier semi-raw foodists!  I kind of randomly got a hostessing job at Pure Food and Wine. At the time, I had NO IDEA what raw food was. I learned a ton and must have read Raw Food/Real World 20 times over the course of the summer.
I had a fairly easy time staying mostly raw while I was working there and really enjoyed it!  I worked there for over a year, and was raw until dinner for about a year.  It took me a while to warm up to all the raw hype, but slowly I became much more adventurous.  I had never had a mango or avocado before I worked at Pure Food and Wine! I always loved fruits and veggies, but I was pretty basic with my choices.
I would say the two life changing things I took away from Pure Food and Wine and my raw experience were:
1.) Vegetarianism. When I started working there, never in a million years did I think I would ever be a vegetarian! I wasn't a huge meat eater, but I always liked knowing that I would have the fairly safe grilled chicken salad as my back up order in a restaurant with limited healthy choices. I never had a low carb lifestyle, but I generally thought protein (lean chicken and turkey) was important to keeping me thin. After learning more and reading, Diet For a New America, I knew I could never eat meat again. Even though it is purely ethical with me, I wouldn't feel good or right eating chicken, even if I knew the bird had been lovingly tucked into a nest with 600 thread count Egyptian cotton sheets. [Interruption from interviewer: hooray for vegetarianism!!!]
2.) A new definition of healthy foods.  Logically I had always known that processed foods were not healthy and had never been a huge diet food person. However, I was actually semi-restrictive with natural foods. I avoided dried fruits, nuts, oils, and even high GI fruits because I thought they would pack on pounds instantly. I would probably feel safer with a 100 calorie cup of froyo than a small serving of almonds because I would worry the volume in almonds wouldn't be enough. However, I can to realize that these foods are actually part of any healthy diet in moderation.  While I have never loved nuts or dried fruits, nut butters and fresh dates are now staples in my diet. More importantly, I have broken away from fearing any food, and that resulting freedom has been amazing.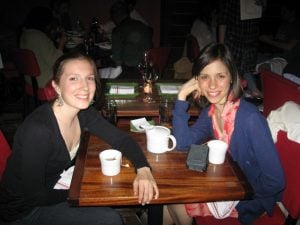 (Melissa and Gena at Pure Food and Wine)
8 ) What do you love about raw foods? And be honest: what don't you love? What do you feel are some of the challenges of eating raw? And how do you think they can be avoided?
What I love about raw foods is how they can literally feel like an IV of health to your system.  How eating healthy food makes you crave healthy food and that you can actually create the most indulgent salads imaginable with a little creativity!
I do have a hard time dealing with the social issues of being raw.  Working at a restaurant made me a total foodie and restaurant snob. However, I found that some of my friends really didn't appreciate my new diet and actually didn't want to eat out with me when I started ordering my brunch granola, fruit salad and yogurt, minus the granola and yogurt.  That was very hard, but Gena, you have taught me to stand up for my health decisions, and I never tried to make anyone else a raw foodist!
But my personal challenge committing to a raw lifestyle wasn't just other people, sometimes it is easy to feel guilty about not following the rules, such as eating 100% raw and food combining, and I never let myself feel guilty about what I eat EVER! I just can't waste energy stressing about what I ate versus what I shouldn't have eaten, etc. Some of that stems from experience with food far before learning about raw, and for the most part raw food actually made me more willing to expand my horizons.
I am still working to find the raw balance that works for me!
9) I get a fair number of clients who are concerned about keeping up their athletic regimes on a raw or semi-raw diet. It goes without saying that they're particularly concerned about protein intake. While I, as you know, tend to discourage fixation on protein, I sympathize with this concern and try to handle it with respect for their needs. What's your feeling about fueling one's body for exercise on a raw diet? And what protein sources would you recommend?
I think your best bet is to still with the protein rich, but lighter sources: nuts have protein, but the high fat content can weigh you down a bit. I find green juice, hemp and chia seeds and bee pollen to be good bets. A lot of people rave about Sun Warrior Protein, but I have never tried it. I don't typically worry about protein, but there are times when I realize I am too carb/fruit heavy and adding the greens, seeds and juice can help balance those things.
10) OK. The fun part! Please share your all time favorite raw recipe with us! And tell us why you love it.
Well, you can find my top 5 recipes on my blog.
But I thought I would share my favorite raw dish to order in a non-raw restaurant. AsI said, social dining can be hard when you really want to eat raw, but don't want to draw attention to your order. I love Thai restaurants because they have so many raw options. My favorites are mango salads and papaya salads. You can always get a papaya salad and either a mango avocado salad and/or a shredded mango salad. While they may not be 100% raw–the dressing and nut garnish may contain trace cooked elements–they are pretty close and deliciously tasty and refreshing.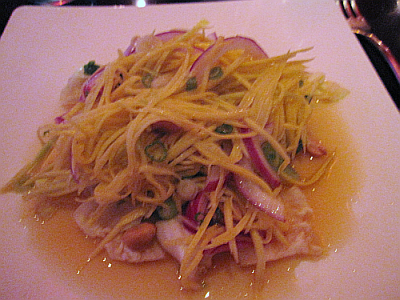 Thanks, Mel!
To honor having Melissa as my guest, I'm giving away a special book: Born to Run, by Chris McDougall.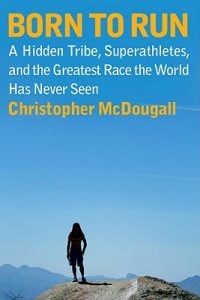 How many of you have wondered—perhaps in struggling with running yourself—whether or not human beings were really meant to run in the first place? I know I have; as you can see above, running does not come easily to me, even when I do it and enjoy it. Well, this is the very question that Chris McDougall sets out to answer in Born to Run. To answer it, Chris travels to Mexico's Copper Canyon, where he's intent on studying the Tarahumara Indians, who are legendary for running hundreds of miles at a time without injury, without stress, and without stop. In fact, the Tarahumara are renowned for their serenity and joy, not to mention their lack of autoimmune disease and physiological damage.
What emerges from Chris's quest is a travelogue, an anthropological portrait of the world's greatest natural runners, and a riveting account of a fifty-mile race in which Chris ultimately chose to participate.  And guess who was running alongside him? None other than Scott Jurek, ultramarathoner and vegan!
If that's not enough to pique your interest, you should know that the book has plenty of interesting information on the Tarahamura's diet, which is low in animal protein and extremely high in chia seeds. It's a terrific read for all vegan or raw athletes, or for anyone seeking out a compulsively entertaining and intelligently researched summer read!
To win a copy of Born to Run, just leave a comment on this post naming one thing about Melissa's advice or feedback that stuck with you. Good luck!
Finally, I have the winner from my last interview giveaway! The lucky lady is Jenna from one of the first blogs I discovered, FitnessNYC continues to be a blog I read and savor nearly every day. It's a useful resource for any city dweller—Melissa has nailed the fine art of keeping her readers informed about goings on and opportunities in New York, always with an eye on her readers' wallets. It's also a tremendous source of inspiration for anyone who's looking to upgrade their fitness routine. Though she never brags her athleticism on the blog, Melissa is a fitness star, through and through: marathon runner, Lotte Burke fanatic, gym rat, and mastermind of genius workout playlists. Jenna, please email me with your name and address so that I can send you Lindsay's ebook!
Have a lovely 4th, everyone!
xo