On Thursday, I had the privilege of attending a special event at the James Beard Foundation in Manhattan. My friend Brendan—ironman triathlete, vegan spokesperson, author of the Thrive books, and the maker of Vega—was speaking as a part of a series called "Enlightened Eaters." The event, titled "Pig Out on Plants," featured the incredible cuisine of Angel Ramos of Candle 79, and was a celebration of both the tastes and the ethics of vegan eating.
This may sound like a standard (if swanky) vegan event to you, but in fact it was far more significant than that. The Beard Foundation, a nonprofit devoted to American culinary culture, has historically been a home to the most discerning of food critics, food lovers, and food makers. The Foundation is situated in the stunning townhouse that once belonged to food critic James Beard, dubbed the "Dean of American Cookery" in 1954, and best known as one of the people who distilled French cooking into American gourmet food. The Foundation is also famous for its annual awards, given to cookbooks, chefs, and food critics.
This award has never before been given to a vegan chef, and this is hardly surprising. The fine dining world tends to turn its nose up at veganism. Professional chefs smirk at us, as if to say that we couldn't possibly know what it is to savor fine food because we don't eat flesh, while amateur foodies tend to roll their eyes at vegan friends. How many vegans and vegetarians reading this post have been snickered at by friends who considered themselves real "food lovers?" I personally can't count the number of times I've heard the words "The thing is, I really love good food. I could never be vegan."
Newsflash, Food & Wine subscribers: vegans love good food, too. Our choice not to contribute to animal suffering doesn't mean we have meager appetites, or that we lack good taste. The existence of such remarkable restaurants as Millennium, Candle 79, Pure, and Horizons, the growing number of vegan cookbooks written by dynamic chefs, the sudden explosion of vegan bakeries, ice cream shops, and chocolatiers, and of course the power of vegan food blogs all go to show that vegans will no longer be marginalized and pushed aside by the foodie establishment.
Thursday night's event signaled—at least to me—a shift in the way that the fine dining world has come to regard non-meat eaters. To watch vegan cuisine be celebrated in the home of American taste-makers was nothing short of exhilarating, and I know that every vegan in the room with me felt the same shiver of pride.
As I entered the famous Beard House kitchen to snap photos, only to be greeted by the friendly faces of Joy Pierson and Benay Vynerib from Candle Cafe, I thought "our time has come."
Of course, the Candle Cafe/Candle 79 masterminds were churning out plate after plate of incredible food.
First to catch my attention were the arancini,with mushrooms and cashew cream:
They were crispy, light, and delicious. I also paused to sample 79's famous seitan chimichuris. I'm truly not a seitan fan, but I could gobble these up any day: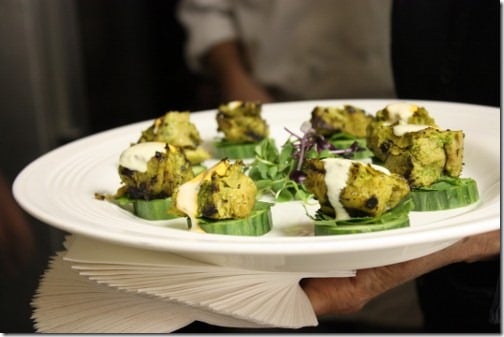 Ditto for 79's seitan cakes with cashew creme fraiche, which are to die for:
Inside the cocktail party, I found Brendan chatting with various guests, and we all took a moment to appreciate what was my favorite appetizer of the night: Jerusalem artichoke soup with crispy sage leaves.
I helped myself to a few of these before the night was done. The soup was creamy yet light, and the sage was a perfect addition to the subtle and delicate flavor. Delicious.
Also on the menu were ravioli with tofu cheese, a vegan classic:
The amazing and talented Joy Pierson of Candle Cafe, standing with the equally amazing Angel Ramos:
Brendan gave an inspiring chat about his path to plant based eating. I love how he always emphasizes in speaking engagements that the road was a little twisting and turning. Brendan's first stab at veganism was really a foray into "carbitarianism." He was fueling on a lot of bread and a lot of carbs, and not enough plants, greens, nuts, seeds, and psuedograins. As a result, he was always hungry and tired. When he tweaked his diet to be slightly more raw and alkaline, his health and performance immediately shot up. An important lesson for anyone who's ever tried veganism briefly, without bothering to adjust the diet for his or her body, and given up in frustration: veganism is like any way of eating in that it takes time to find a healthy balance. Keep experimenting!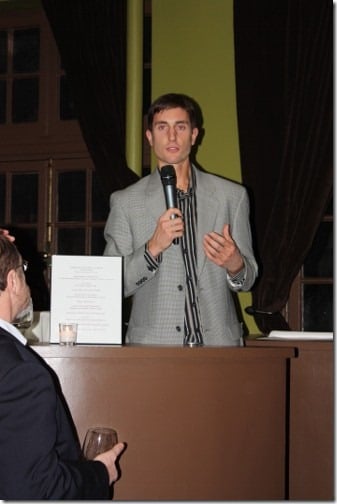 Also in the audience was my good friend Kris Carr, who's new book, Crazy Sexy Diet, hits the shelves today! I'm proud to say that I was a consultant for the book, and that my recipes are featured in its pages. I'll be writing more on it this week, but for now I should mention that Kris will appear on Good Morning America tomorrow morning. Tune in!
Here are Kris and I as we gleefully gossip and catch up. I'm making a weird face: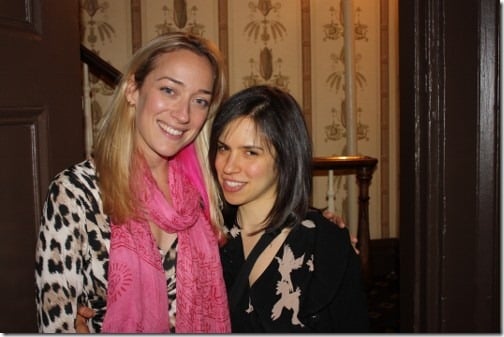 Now I'm not making a weird face: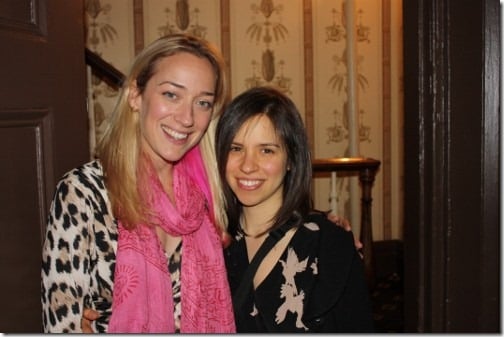 Kris and Brendan, chit chatting:
And the three of us. I believe Kris and Brendan are attempting to feed me seitan cakes from each flank:
It was so wonderful to be in the company of two good friends that night, and to celebrate plant based eating. Every time Brendan and I hang out, I leave our conversation with renewed energy and a sense of purpose. We're both excited about all of the things we hope to do for veganism, for the environment, and for human health.
As I left to put on my coat, Kris and I chuckled at the irony that the Beard House's next event would be a meatball night. But that hardly detracted from our sense of gladness for the event. Entering the food blog community was the first time I felt as though my veganism was celebrated by fellow food lovers, rather than scorned. I'm so grateful to my fellow bloggers—vegan and omni—for making me feel like a true chef, when others had made me feel like a second class food citizen. With any luck, the fine dining world will follow in the food blog world's footsteps, and will continue to learn about and embrace veganism. Given our current crisis in food production, and more conscious and compassionate attitudes growing nationwide, it's hard to believe it won't. I'm excited to see the day when veganism and haute cuisine will no longer be thought of as antagonists. And I give the Beard Foundation true applause for taking an important first step.
What are your thoughts? Do my vegan readers ever feel condescension from foodies? What about my omni readers—have you ever struggled to reconcile your food love with the idea of veganism? Curious to hear your thoughts!
xo