Ah, student life. Study groups. Finals. All nighters. Coffee (lots of coffee). New textbooks.
Loans.
Of all the many things that characterize the joys of living the life of the mind, living on a budget is perhaps one of the most ubiquitous. This is true of graduate and undergrad life alike, of course, but as I prepare myself for a new semester, I like to think that I have better financial planning skills than I did when I was eighteen. I'm also a much better cook, which means that I'm determined to make as much homemade food as possible this semester, and not to squander my funds on campus dining when I'm between classes. Let's begin with snacks.
No matter how many times I vow to make my own snack bars, I continue to fail. I'm not sure why—I'm so disciplined about making my own food in other instances. But for some reason, I can't stop dropping dough on Larabars, Pure Bars, Vega bars, and other favorites. Now, though, is the time to stop. I have buckwheat groats. I have a food processor. I have dried fruit, nuts, chia seeds, hemp protein, agave, spices…in short, there's nothing else I need to make awesome homemade energy bars happen. After all, the thing I like most about my favorite raw snack bars is their simplicity. Larabars—the flavors I like, anyway—have three item ingredient lists. Vega bars, as my friend Brendan will always tell audiences at his speaking engagements, were designed to replicate the snack bars he was making at home in his own kitchen. These bars aren't supposed to be impossible to replicate.
With this in mind, I took a crack at one of my first raw snack bars a few weeks ago. With Vega bars in mind (they're probably at the top of my raw snack bar list, due to the flavor, the great nutritional profile, and the absence of excess sugar), I decided to use a base of buckwheat, dates, cashews, and Vega Whole Foods Optimizer in the vanilla chai flavor (this is my personal favorite). If you don't have Vega, that's fine. You can omit it altogether, or you can substitute hemp protein, Sun Warrior, or another vegan protein powder of choice.
The best thing about these bars is that, even though they're raw and vegan, they require zero dehydration. Simply mix, shape, refrigerate and enjoy.
Buckwheat Chai Energy Bars (yields 12)
1 cup soaked and dehydrated buckwheat (follow instructions from my buckwheat cereal post)
1/3 cup pumpkin seeds
1/2 cup cashews
1 cup dates, pitted
2 tbsp agave nectar
1 scoop Vega vanilla chai
1 tbsp flax oil
1) Grind the dehydrated buckwheat, pumpkin seeds, and cashews in a food processor coarsely (i.e., not so much that they start to look like powder).
2) Add all remaining ingredients and pulse until the whole mass starts coming together and adhering. You may need to turn it out into a bowl and use your hands, but it should stick together easily.
3) Turn the mix out onto a flat, smooth, clean surface, and flatten it into a giant rectangle, making it as neat as you can. You can also use a baking dish for this!
4) Press the mixture down, and then use a sharp knife to cut it into 12 bars. Wrap in saran or tin foil, and store in fridge.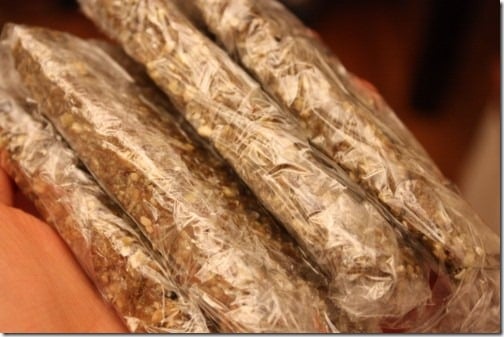 These make wonderful snacks. They're even a decent solution for a meal on the go. Now that I spend every other weekend on the BoltBus to DC, I eat quite a few lap lunches. Here's a shot of Friday's meal: salad, an apple, and the very last bite of one of these bars:
Delicious and nutritious raw, vegan dining on the go. I suspect these bars might be a good standby for days with hectic class schedules in the upcoming semester, too! One thing to note is that these do get overly crumbly after a week or so, so you'll want to eat them within 7-10 days.
Snack foods tend to be some of our nation's least healthy. Check the label on any conventional granola bar, snack "cake," cookie, or even trail mix, and you'll be horrified by the nutritional stats. This is too bad, because snacks and on-the-go meals are the ones we need to be most nutrient rich—after all, aren't we counting on them to get us through busy times? Rest assured, then, that these snack bars are chock full of nutrition: protein from the buckwheat, nuts, and Vega, healthy fats, simple sugars that help to fuel you for immediate activity, and a touch of Omega-6 fatty acids from the flax oil. They're a perfect solution to the junk-food-as-snack-food dilemma.
Hope you get to try these soon, and that they're as simple and rewarding for you to make as they were for me.
What's your favorite snack bar—commercial or homemade? Have a recipe to share? What other on-the-go foods do you love?
Stay tuned for a big event recap tomorrow. Happy Sunday!
xo