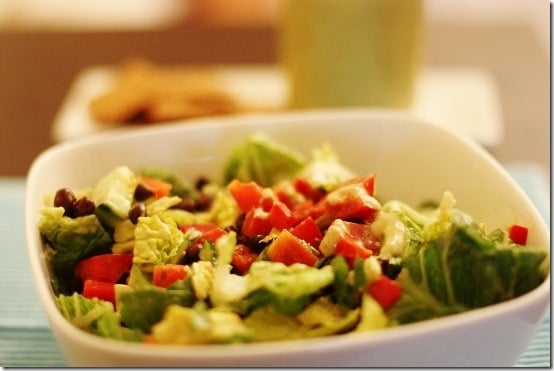 On Thursday, when I arrived in NOLA, I made a quick grocery run to Whole Foods with Knud as my chaperone. As we strolled the produce aisles, Knud came upon a sample of a new flavor of Cindy's dressing: fresh avocado vinaigrette. Normally, I'd have walked past it: I almost never purchase salad dressings. I like to make my own—dressing is actually one of my favorite things to make, period—and I also think it's silly to spend money on something in a bottle when it's far cheaper and more delicious to DIY. Knud's reaction to the dressing, however, was overwhelmingly positive, and the notion of fresh avocado anything caught my attention, so I decided to give it a try.
It was awesome.
Of course it was awesome. It was avocado mixed with the flavors of roasted tomato salsa, white vinegar, and a little cayenne pepper. How could it not have been awesome? In fact, I was a little upset that I hadn't thought of it first. I promptly purchased the bottle, and spent the rest of the weekend devouring it over salads. But what I really wanted was to think of a way to imitate—or even surpass—the dressing at home.
Today at lunchtime, I made good on that goal. My version is a little different from the Cindy's original—it's not quite as spicy or oniony or garlicky (because I omitted the garlic, and went easy on the onion and spice), but I think it's equally fresh and tasty. It's nice and tart, easy to make, and since I used fresh tomatoes and onions in place of roasted or canned ones, it's all raw.
You can imagine my dismay today, when I returned from the 80 degree, dry, and sunny skies of NOLA to a "wintery mix" of snow and slush and rain in NYC. (Yes, snow.) Oftentimes, my readers report having a hard time eating raw or mostly raw meals when it's cold or rainy out—they want warm food, they say, as comfort. I feel this way too sometimes, but I have to admit that I usually have the opposite impulse: rainy skies and chilly winds often make me crave summery flavors or foods. It's just wishful thinking. Today's lunchtime nutrient dense salad of romaine, red peppers, black beans, and cucumber, dressed in my new spicy and fresh avocado dressing, was like a giant, crunchy bowl of guac and salsa. The black beans rounded out the meal's nutrition, and they added to the summery theme.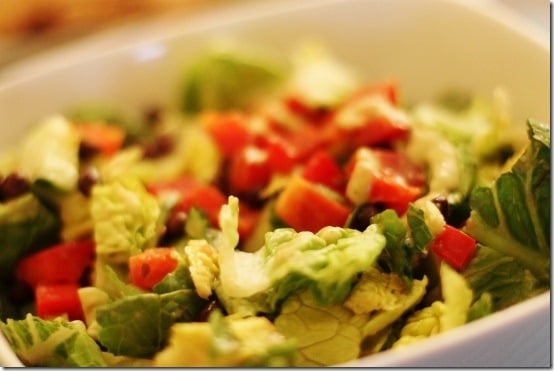 On the side, I had some of my Foods Alive flax crackers, which I intend to review soon!
Here's the dressing that made it all happen:
Fresh Avocado Fiesta Dressing (Raw, vegan, gluten free, soy free)
Yields 2 1/2 – 3 cups
1/2 large avocado
1/4 cup white balsamic vinegar
Juice of 2 limes
1 tsp Herbamare or Spike seasoning (optional)
1/2 tsp salt (or to taste–the Herbamare will add salt, too)
Cayenne pepper to taste
1 2/3 cups water
2 tbsp extra virgin olive oil or flax oil
1/2 cup chopped tomato
1/3 cup chopped white or yellow onion
1/2 cup chopped cilantro
1) Blend first eight ingredients together in a high speed blender till totally creamy.
2) Add the tomato, onion, and cilantro, and blend for about 30 seconds, or until the vegetables are mostly blended in, but the dressing maintains a little bit of texture. Serve over fresh greens, raw veggies, or however you like!
A truly delicious new dressing to savor.
Not a fan of fiesta flavors? That's OK. Why don't you give my avocado cumin dressing or my sweet and salty avocado dressing a try? I'm a huge fan of them both.
And now, I'm overdue for some nuclear chemistry. See you guys back here tomorrow!
xo