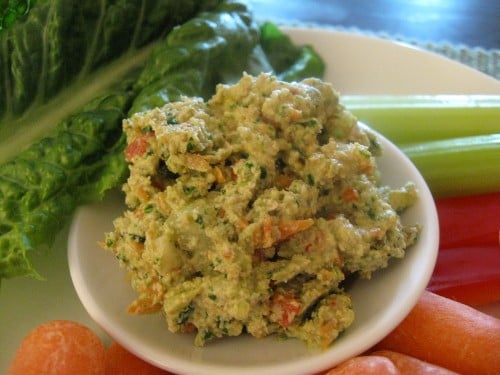 Hey all!
Terrific responses to my post on labels. I'm glad we were able to discuss the good, the bad, and the ugly.
I'm here to share a quick, tasty recipe that I whipped up over the weekend. It was inspired by a Nomi Shannon recipe. For those of you who don't know her work, Nomi Shannon is a raw foods chef, cookbook writer, and educator (she was the winner of last year's Best of Raw winner in the vegan educator category). Her recipes are simple, clean, easy, and healthy, and they can be found in her excellent cookbook, The Raw Gourmet.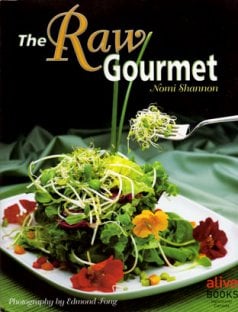 This is a new addition to my cookbook collection, and I couldn't be enjoying it more! Ms. Shannon, like me, creates recipes don't require a great deal of planning, soaking, sprouting, or dehydrating. She emphasizes eating a majority of vegetable foods (rather than nuts or desserts), and she creates the tastiest of meals with super-simple flavors and ingredients. I've already made such winners as Cabbage Roll-Ups, Tip Top Turnip Salad, Orange Tahini Dressing, Indonesian Yum-Yum Dressing, and Spinach Mousse. This weekend, I decided to put my own spin of her Vegetable Pate (Garden Pate, in my own language). Describing this pate, Shannon says, "Pates are often comprised of a high percentage of nuts. They can be difficult to digest and high in fat, so many people avoid them. This savory and attractive pate contains only one cup of sunflower seeds. It's density comes from ground flax seeds and dehydrated vegetables which absorb moisture and add flavor."
Amen! Many nut pate recipes are excessively heavy or dense, and while there is a time and a place for rich food, it's always nice to have some alternatives. Shannon's recipe calls for olives and an entire head of cauliflower, neither of which I had on hand. I also chose to omit the scallions and onion (of course!), and to use slightly less vegetable add-ins than the original recipe called for, but I added a cup of green juice pulp (kale, cucumber, celery). My ultimate creation, then, was fairly different from Shannon's own, but it preserved her original idea and flavorings. Here's the simple and tasty recipe:
Garden Pate (yields 2 cups, at least)
1 cup sunflower seeds, soaked at least 2 hrs and drained
1/4 cup ground flax seeds
2-3 tbsp Bragg's liquid aminos
1 1/2 tbsp flax oil
1 tsp ground cumin
1/2 tsp curry powder
1/2 tsp ground coriander
1/2 cup chopped parsley
1 cup vegetable juice pulp
1 small red pepper, cut into small cubes and dehydrated for 2-3 hrs (raw is fine, too)
1/2 zucchini, shredded and dehydrated for 2-3 hrs (raw is fine, too)
1 carrot, shredded and dehydrated for 2-3 hrs (raw is fine, too)
4 tbsp chopped parsley
Blend the sunflower seeds, flax, Bragg's, flax oil, cumin, curry, and coriander in your food processor, adding watter in a drizzle until the mixture is completely smooth and creamy.
Add the vegetables, parsley, and pulp and give it all a few good pulpses, till the veggies are incorporated but not blended. Stop, transfer the mix to a bowl, and then mix in the parsley with your hands.
The result? Fresh, tasty, herb-y goodness:
This makes a terrific salad topper, wrap-stuffer, or, as pictured here, dip for crudites.
Hope you all give this one a try, and check out more of Nomi Shannon's work (there are some free recipes up on her website!).
In the meantime, don't forget that the free teleclass for those who are still considering joining the Choosing Raw + Spark! Wellness January 2010 Cleanse is tomorrow night at 8 p.m. EST! Whether you've already signed up and have questions about the cleanse, or you're considering signing up but want to clear up some questions first, please join us!
To call in, dial +1 (712) 432-0111. When prompted, enter your "Participant Access Code" 403732, followed by the # key. And you're in. I look forward to hearing from you all!
xo