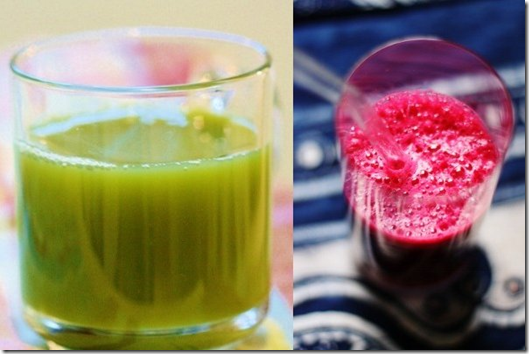 Happy Monday, all!
Before I get to juice, thanks for all of the enthusiasm over my cashew vanilla milk. Since a few of you emailed me to ask if store-bought almond milk is OK, I just wanted to be clear: yes! store-bought almond milk is just fine, and in fact, it carries the advantage of calcium and B-12 fortification. I've always preferred the taste of Blue Diamond, but in the organic realm, the Pacific brand is great. I'm also partial to Silk Pure Almond. These brands are very high-quality, and the cost difference between them and making your own is not, as some readers noted, very big (in fact, purchasing premade may be cheaper).
With that said, I really do love the taste of the homemade stuff, and making my own allows me to adjust sugar and salt as I like (it's hard to find an unsweetened, store-bought variety that doesn't contain at least 150 mg sodium per serving, which isn't insignificant). So my typical policy is to purchase almond milk regularly to save time, and when I know I'll have time to make some of my customized CR blend, I grab the opportunity!
Speaking of DIY projects, I have an article over at One Green Planet on how to get started with fruit and vegetable juicing at home. Specifically, it details why fresh fruit and vegetable juices are so helpful and beneficial within busy lifestyles, and it offers up five of my all-time favorite juice recipes. While the process of juicing and cleaning a juicer may seem to have no place in a conversation about time-management, trust me, it does: if you happen to be a student or a busy person on the go, making only 1 vegetable daily can help you to enhance your diet, and ensure that you're getting an added boost of vitamins and minerals if you've been cutting corners with vegetable intake. Check the article out!
Finally, a head's up that I'll be doing a VegNews Twitter Chattomorrow, January 31st, at 6 PM PST (that's 9 PM, east coasters). Julianna Hever (the Plant Based Dietician) and personal hero Michael Greger, M.D. and I will be speaking about healthy vegan eating. If you'd like to join us and ask us questions about health-related topics, please use the instructions here to log into the chat and participate! It should be a lot of fun. Hope to see some CR readers there! And if you'd like to mute the chat (ie, you don't want 10308239 tweets from me for in an hour) you can use this link to do that.
Till tomorrow,
xo