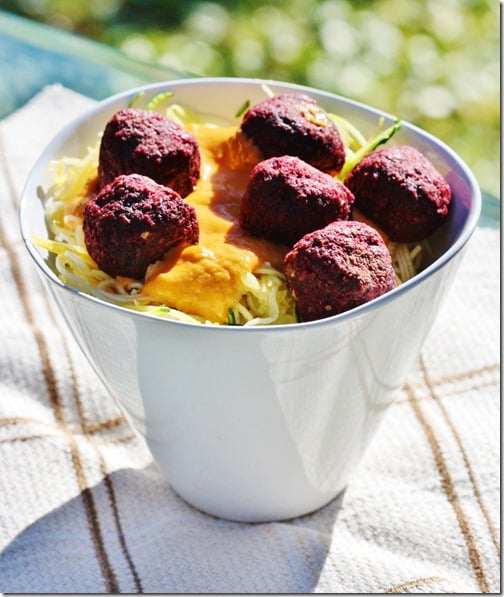 Thanks for getting so excited about yesterday's juice post! Before I tell you all about the fantastic raw "beet ball" recipe I recently made from recycled juice pulp and almond pulp, I wanted to pause to answer a couple of questions that popped up about juicing. If I don't answer your particular question in this list, feel free to ask away in the comments section!
Isn't it true that juicing makes your blood sugar "spike," because you're not eating the juice with enough fiber and protein to slow sugar absorption into your bloodstream?
It's true that fruit juices raise blood sugar, which is why they may not be suitable for diabetes or people who are sensitive to sugar. But for individuals who respond normally to fruits and sweeter vegetables, juicing in moderation should not be a problem, especially if juice is consumed in proximity to a properly balanced meal. I often drink juice *with* a meal, or I drink it as a snack not long before another meal, which means that the sugar is digested more slowly than it would be if I were to use juice as a meal replacement, which I do not recommend. This way, the many nutritional benefits are delivered without too much blood sugar variance.
Additionally, be aware that you can create many tasty, all vegetable blends, and that you can adjust the sweetness of your juices as you wish! I often do straight greens with only a little carrot. On days when I need more simple sugar as fuel (right before a workout, for example), I do more fruit. Balance is key.
Why can't I just blend vegetables up in a Vita-Mix to make juice? I don't have a juicer.
For more detail on this question, I could refer you back to this post, straight up from the CR archives! But in short, I'll say: the point of juicing is to flood your body with nutrients without activating digestion through the absorption of fiber. This is not to say that fiber is bad; fiber is great! But to ingest the amount of vitamins and minerals one has access to in a juice, one would have to eat or blend a lot of vegetables. For people with sensitive digestive systems, juicing is a relief: it allows for maximum vegetable consumption with minimal irritation from enormous amounts of dietary fiber.
I do not personally subscribe to the popular theory that digestion is a horrible, taxing process from which we must intermittently offer our bodies period of "rest" in the form of fasting or juicing. I believe our digestive systems are meant to process ample food, several times daily. But I do have moments when I want to perk up with a ton of vitamins and some simple sugars, and I'm not in the mood to digest a giant bowl o' vegetable, or to fill up completely (for example, if I want a really nutrient dense but light afternoon snack in preparation for a full dinner). This is where juicing can be really helpful.
It's also a tool to simply increase the nutritional power of your lunch or dinner without adding too much heft!
Blending is great, too: it allows for rich nutrition with the addition of fiber, which helps to create satiety and is generally good for bowel and heart health. But it's a different creature altogether from juicing; more filling, more of a "meal" experience, and not always as likely to provide quite the same amount of vitamins with as little fuss.
Now, if you want to create regular fruit and vegetable juices with your Vitamix, you can most certainly blend them and then strain them, reserving the pulp (as I always do) for recipes. Check out Sarah's helpful tutorial! This is a perfectly acceptable means of juicing without a juicer!
What kind of juicer do you recommend?
I use a Breville Juice Fountain Plus. It's hardly the fanciest juicer, but it's very decent, it was a good price for me, it has stood the test of time, and the pulp is "wet" enough that I can use it in many fun recipes (super dry pulp can be impossible to work with).
Hope this is helpful!
So: almond pulp. I promised you guys a recipe on Sunday, and now I'm here to deliver. Most of you requested cookies, and I'm sorry to say that I'm not sharing a recipe for those: rather, this is a savory dinner/lunch recipe. But I promise I'll come up with some incredible cookie recipes, too!
These raw, vegan "beet" balls use flax and almond pulp as a base. The addition of beet pulp, left over (of course) from my juice, makes this meal rich in ingenious conservation skills: juicing is not necessarily the most cost-effective health habit, so I like to counter the volume of vegetables that go in my juicer by always using the pulp in bread, crackers, burgers, and more. Ditto for homemade almond milk, when I make it. Nothing in my kitchen goes to waste.
Can this recipe be modified for non-juicer, non-dehydrator, non-blender homes? It's a little tough, but you can experiment with grated beets, almond meal, and an oven. I know I've been throwing you guys a ton of "appliance-heavy" recipes lately, and I'm sorry for that: it's just that pre-med/blogger life really means planning ahead, and my dehydrator helps me to preserve things for later enjoyment. Tomorrow's recipe will be gloriously appliance free!!!!
Raw, Vegan Spaghetti and Beet Balls (vegan, raw, gluten free, soy free)
Makes about 10
1 1/4 cup beet pulp OR grated beet, squeezed well to remove moisture
3/4 cup almond pulp, as dry as possible
1/4 cup + 1 tbsp flax meal
2 tsp Italian seasoning or oregano
1 tbsp dried basil or 2 tbsp pesto
1/4 – 1/2 tsp salt (or to taste)
Black pepper to taste
1 large zucchini
1 recipe of my raw marinara sauce
1) Mix all ingredients by hand or in a food processor. Add as much water as necessary to get a sticky, firm dough.
2) Shape mixture into 10-12 "balls." Dehydrate at 115 degrees for about 6 hours, rolling around for even dehydration. You may also bake these at 350 degrees for about 30 minutes.
3) Spiralize 1 zucchini, or use a grater to grate the zucchini, and top it with half the beet balls. Add a heap of raw marinara sauce, and dig in!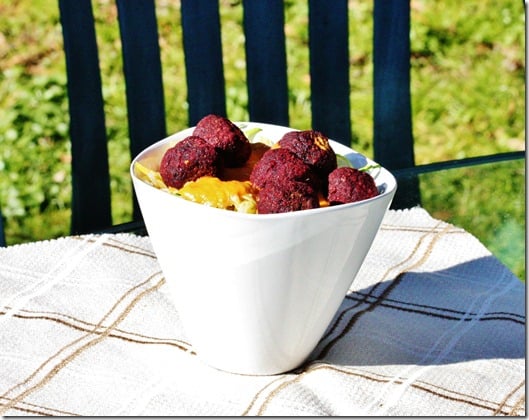 Hope you enjoy these delicious, vegan "balls." I suspect I'll get to work on a cooked version for you guys soon, too. And keep in mind that they make great, savory snacks!
Anyway, it's back to studying for me! Don't forget to tune into tonight's VegNews Twitter Chat with me and other plant-based health professionals! 9 pm EST. Be there.
xo