Hi all! Happy post-Thanksgiving, and thanks for the kind comments yesterday. I hope you all had the most wonderful of holidays, and that you are currently feasting upon all manner of delectable leftover. My dinner included some leftovers from last night's epic meal at Candle 79, which I am now so delighted to share with you guys.
As it turns out, Thanksgiving 2012 was a celebration for the Candle Café family of restaurants. It started at Candle Café in the afternoon, where I met the JL for a juice. JL and her husband, Dave, were on their way to Candle 79 for their Thanksgiving meal—a few hours before me and Mom. They're moving to Colorado soon, and I knew this would be my last chance to see them in New York for a while, so I hopped over to the East side so that I could give JL the biggest of hugs: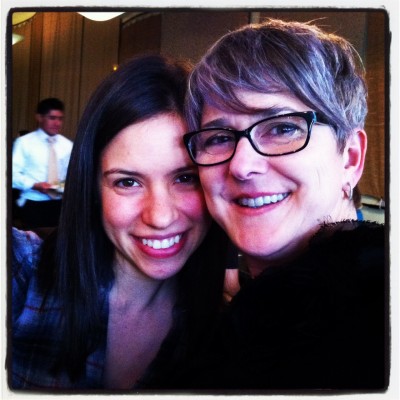 JL and I lurve each other. As we chatted furiously, I sipped on a delicious Candle juice of beet, carrot, ginger, greens, and cucumber.
Yum. It was fantastic to catch up, and though I know I'll miss having JL close, I also look forward to visiting her and Dave in CO!
I walked JL and Dave to Candle 79, then headed home for a bit of work and to change. A few hours later, Mom and I were on our way east (again) for our official meal. I broke into laughter when I saw that JL and Dave were still there, standing outside—it's hard to tear yourself away from 79, I guess!
All of the Candle restaurants hold a very special place in my heart. Candle Café was probably the first vegan restaurant I went to, and I'm sure that many others can make the same claim. The Candle story began in 1984, when Bart Potenza opened a health food outpost called the Healthy Candle. Joy Pierson had soon joined him as a nutrition consultant and business partner, and in 1994, the formidable team expanded their vision to create Candle Café. The restaurant has been serving New Yorkers food that is healthy, delicious, farm-to-table and compassionate ever since. It is now joined by the lovely, elegant fine-dining outpost, Candle 79, and the newer Candle Café west (which is now a regular destination for me and my Mom). All three restaurants create beautiful vegan food. I've always wanted to go to a Candle restaurant for Thanksgiving, and, since it has been a long year and neither mom or I felt like cooking, this seemed like the perfect time.
For the holiday, Candle 79 was boasting a four course dinner. Here's a shot of the incredible menu—what would you have ordered? So much to choose from!
The meal began with a very generous amuse bouche: pumpkin bread, cranberry bread, and cornbread with two delicious toppings. One was a sweet and savory cranberry compote, the other pumpkin butter (swoon!).
All of the breads were delicious—mom and I sampled them all and gave compliments to the pumpkin butter!
I started my meal with the grilled artichoke with haricots verts, beluga lentils, and cippollini puree:
It was incredible. The artichokes were bright and lemony, the purée creamy and delicate. It was contrasted perfectly with the earthy lentils. I was blown away!
My mom got a signature Candle 79 ravioli, stuffed with wild mushrooms. I've had Candle 79 raviolis before, and I'm always impressed. This dish was no exception, and mom raved about it:
For my next course, I got the roasted beet salad with haricots verts, kalamata olives, poached leeks, truffled almond cheese, rosemary-vanilla vinaigrette. It was delicious; the vinaigrette in particular made the dish sing.
And as for the truffled almond cheese, I have no words. No words.
Mom got the roasted squash soup, which she declared the best she has ever had. Big words!
And then came the entrees. Mom got the walnut-rosemary Crusted Seitan with sweet potato cake, sautéed brussels sprouts, trumpet royale mushrooms, chipotle cranberry sauce, and apple salad. Though seitan has never been my favorite (it actually reminds me too much of chicken!), it's a great dish for those who are new to vegan dishes, and I was glad that she could enjoy something that would re-create familiar textures and flavors.
She absolutely adored the dish, and I can see why: the seitan was exceptionally crispy and seasoned well, and the potato cake was perfection. Such a satisfying meal.
I went for the cranberry-Chipotle grilled tempeh with celeriac purée, sautéed haricots verts, and wild mushrooms. I adore tempeh, and I've had a lot of good tempeh in my day, but this may have been the best I've ever tasted. The cranberry chipotle glaze gave it a sweet and savory flavor, and as you guys know, I am a sucker for all things sweet and savory! The celeriac puree was wonderful, too. And who doesn't love a microgreen garnish?
We were both stuffed at this point, but dessert was still to come. And come it did. Mom got the pumpkin cheesecake, which was incredible—so rich and creamy.
And can you guess what I got? Well, I went chocolate, naturally. Lots and lots of chocolate:
Chocolate Brownie with caramelized bananas, candied almonds, ginger-caramel ice cream, chocolate sauce. It was almost too sweet for me, but absolutely delicious. Mom ended up liking my brownie more than her cheesecake, and vice versa, so we split them each. Occasionally we stopped to profess how full we were, but it certainly didn't stop us from polishing off these lovely, sweet treats. A great end to a great holiday meal.
As always, I am so grateful to the whole Candle Café family—Bart and Joy, chefs Angel and Jorge Pineda, COO Benay and head of business development (and friend) Mark. I'm grateful not only because I get to enjoy great food at the restaurants, but also because I know that all of the Candle outposts are helping to show people how delicious and fulfilling the vegan lifestyle can be. And that's good for us, for animals, and for our planet!
Happy holiday, again, and I'll be back soon.
xo