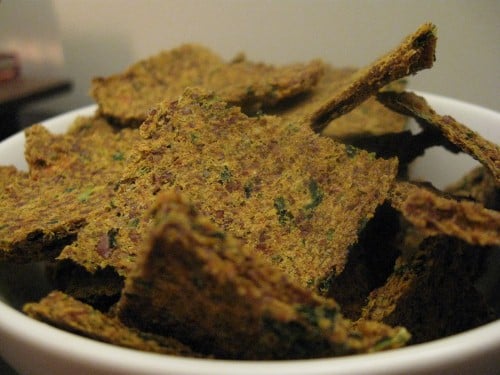 Hi guys,
Thanks for the sweet responses to my fear of falling post. I'm happy to report that the back is all better! Phew.
I think you guys know by now that I have a love hate relationship with my dehydrator – with all dehydrators, in fact. As grateful as I am to have one, and as cool as they are, I always remind clients that eating raw doesn't have to entail the use of a dehydrator, which are usually used to re-create the cooked or baked foods (breads, crackers, pizza crusts, cookies) that people miss on a raw diet. This is great, but I like to help my clients adjust to the magic of simplicity (a massaged kale salad, say, or a simple raw soup, or a tasty nut pate), rather than aid them in replicating old favorites. The trick in transitioning to a high raw diet, I think, is to look forward, to a new world of freedom and freshness, rather than backwards, with a sigh for what you've given up.
But I can't deny that dehydrators come in handy. And if you're lucky enough to have one (as I do) it's sort of a shame to go months at a time without touching it (as I also do). Dehydrators are especially good for texture: dearly though I love mushy food, I'm in the mood for some crunch once in a while, and I don't mean carrots.
A few days ago, I posted pictures of the delicious broccoli tahini pate I'd made. Alongside these were a batch of one of my few dehydrator staples: juice pulp crackers. I produce a lot of juice pulp in this little apartment, and I'm proud to say that I try to put it all to good use. It goes in soups and guacamole for a dose of texture and fiber; I eat it plain, drizzled with vinaigrette (yeah, I know, I'm weird), and I use it in raw breads and crackers.
My original juice pulp crackers were inspired by the lovely Diana, who in turn had been inspired by my raw muse and good friend, Kristen. Her recipe (found here) is one of the simplest and most tasty I've tried, and my own recipe is only a few small modifications away from it.
The basis of any juice pulp cracker is (typically) juice pulp and ground flaxseed in a 2:1 ratio, and spices/seasonings. Simple, eh? Of course, you can get creative: you can add sundried tomato and basil for Italian crackers, cumin for Mexican-inspired crackers, and so on; you can adjust the ratio to make the mix more "bread" like, or keep the flax minimal for a slightly softer cracker. It all depends on what you're craving and how involved you want to be.
My own mix is fairly neutral: mild seasonings (curry and coriander), a touch of acid (lemon), and a bit of nama shoyu. I alter it depending on the type of juice I have, but the standard mix (because it's what I juice most often) is carrot, celery, cucumber, and kale pulp. The result is predictably tasty, and the process is super easy. Best of all, I never feel wasteful about the produce that's gone into my juicer!
Gena's Juice Pulp Crackers (Inspired by Kristen of Kristen's Raw)
Ingredients:
2 ½ cups juice pulp
½ cup ground flaxseed
½ tsp coriander
½ tsp curry
1 tbsp nama shoyu
1 tbsp lemon juice
Procedure:
Mix all ingredients well, by hand. (You could use a food processor, but you don't need to.) Add water if needed; I usually find that I don't need any (especially with cucumber and celery pulp, which is moist), but if you want the crackers to be less dense, go ahead and add ¼-1/2 cup of water to the mix. It should be malleable but still hold together.
Spread the mixture on a dehydrator tray lined with a Paraflex sheet. Spread to about 1/6-1/4 inch thickness. Score the sheet of dought lightly into cracker-sized squares, and put it in the dehydrator at 115 degrees. Dehydrate for about two hours, then gently break the crackers apart and flip them. Dehydrate another two hours or so.
At this point, check the consistency. Sometimes (if I spread them thin), they're almost ready at this point. Sometimes they need a few hours more. Keep flipping and just let them be if you think they're not crunchy enough—I definitely like to err on the side of crunch!
When they're done, let them stand in the air for fifteen minutes or so, then put them in an airtight container. They should stay nice and crispy for at least a week or ten days.
If you don't have a dehydrator, you could probably bake these at 150 or 175.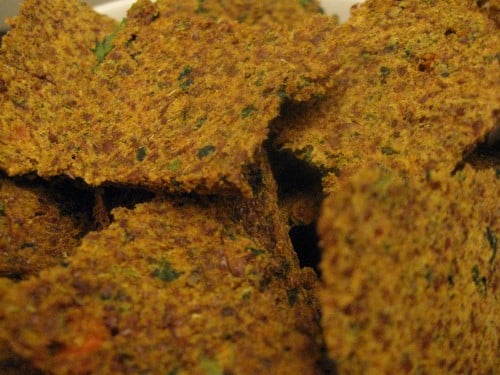 Everytime I make these, I think to myself, "See, self? Dehydrating is easy. Dehydrating is fun. You should dehydrate more often." And though I know that holiday madness will impose on my ability to have some foresight (which is really all it takes to dehydrate—the process itself demands no effort), I'm doing my best to dehydrate more often.
Before I crawl into bed, I wanted to share my RWR (Raw Wednesday Report). It was a scant week on photos, but my friend Aletheia sent me a lovely photo of her "Five Green Salad": Kale (of course), brussel sprouts, collards, escarole, and spinach. Topped with sliced red peppers, carrots, chopped cauliflower and pickles. The photo made my mouth water!
And my friend LC wrote with a tempting challenge:
Hi Gena!
I noticed you commented on Amber's post about the raw restaurant and wanted to put in my request for a raw jalapeno popper recipe! Bonus – you can serve it with your guac!!
Cheers,
LC
Hmmm. Come to think of it, I do need recipes to go with my guac. But I have to admit: I've never actually tried a jalapeno popper! So I have no idea what it tastes like. So, LC (and all of you) please describe a jalapeno popper to me. And I'll do my best to re-create. OK?
And, with a willingness that I may regret later, I'm pimping myself out to more such challenges! Henceforth on Raw Wednesdays, I invite you to email me (or comment with) recipes you'd like to see me raw-ify on the blog. I may not always succeed, but by God, I will try.
And here I was just lecturing you all about not focusing on food replication. Ah well. Life is full of contradictions. Bottom line? Whatever gets you excited about eating raw is music to my ears!
Gnite, all.
xo