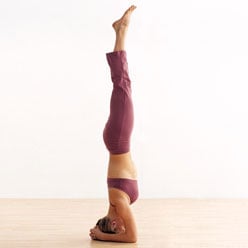 Hey all,
Happy (almost) Raw Wednesday!
I did have a raw recipe planned for you guys. But since today's yoga class was particularly notable, I figured I'd take a break from the usual food chatter to tell you about it.
A few months ago, I did a guest post for my friend Melissa explaining the progression of my yoga practice. For those of you who missed it, my transition from gym-rat to occasional yogi was not a smooth one. It took lots of practice and self-examination for me to receive the lessons that yoga has to offer. When I finally did, my life and health were forever enriched. And while I still struggle with the standard array of Type A difficulties—impatience, fear, tension—my experience with yoga is deepening by the day.
Of course, the Type A New Yorker doesn't entirely disappear when I hit the warm chambers of Laughing Lotus. She merely retreats, bowing to her wiser, more open-minded sister. This is the Gena who manages to banish stress and tension, if only for an hour; the Gena who has trained herself to experience yoga not as a competition or test, but as a journey towards self-knowledge. And if I'm lucky, that side of my character manages to emerge from the yoga studio and stick around for a while when my practice is done.
But Type A Gena still interrupts my practice once in a while, chiding me for not perfecting a pose or encouraging me to dwell on the work day when I ought to be listening to my breath. And no pose manages to draw Type A Gena out more immediately than salamba sirsasana: headstand pose. Though I've been practicing regularly for nearly two years now, I still hit panic mode whenever this pose (or any inversion, really) comes up. It isn't a matter of missing core strength, or physical discomfort, or a shoulder injury, or something amiss with my inner ear. It's good, old-fashioned fear of falling. Terror, really. Period.
For my first year, I wouldn't try it at all. Whether we were practicing against a wall or in the middle of the room, headstand time meant child's pose for me. And all the while, my Type A self would be exclaiming in frustration: "Seriously? A year of yoga, and this is how you respond to headstands? Look. Look at the woman next to you. She's probably an octogenarian. And she's doing headstand. What's your excuse?"
With a lot of practice and patience, I managed to get comfortable with headstand practice against the wall. But to this day, headstands in the center of the room terrify me. I've heard all the wisdom, believe me: tuck your knees in, stay in a ball for a while, if you need to fall, tuck in your chin and roll out of it. And my favorite: "have you ever just considered falling?"
Well, something came over me today. It was one of those perfect yoga classes: I was warm, my joints were open, I'd already moved through a number of poses that tend to be hard for me (side crow, for example) with no trouble. It's been a hard week for me personally, and the practice was helping me re-connect with the reserves of inner strength and calm that I've been trying (not always successfully) to channel. And for the first time, my reaction to headstand pose (in the center of the room) was neither avoidance nor Type A perfectionism, but genuine desire for mastery. Without a moment of hesitation, I prepared myself to move into headstand.
And then the miraculous happened. I got up. Not halfway, not in preparation. All the way. For about 1/18th of a second, it felt amazing.
And then I fell.
I fell, not gracefully or nimbly or properly, by rolling into a somersault, but hard, fast, and flat on my back. With a reverberating bang.
It hurt. A lot. And the pain was quickly joined by a heaping dose of embarrassment, as the lithe, Lululemon clad yogis around me—most of whom could probably do headstands in their sleep—asked me whether or not I was hurt.
After a brief consultation with Vanessa, my lovely yoga instructor, I surmised that I was OK. And I even had the nerve to try (and topple over) again. Vanessa and I decided that I'd start practicing falling on a padded surface, so that I'd have the guts to keep trying my center of the room headstand. And I marched out of class with a giant, triumphant grin on my face.
Two hours later, as pain and aching set in above my right buttock, I was frantically Googling herniated disks and sciatica. I had hit my lower back hard, and visions of irreparable lower back damage and a lifetime of recurrent injuries flashed before my eyes. (Note to everyone: WebMD really IS the devil.)
But as the hours passed, and I made it home to stretch out, I realized that the back pain had subsided almost completely (probably with the retreat of my own anxiety), and that I've just got a nasty bruise. The lesson? My worst fear happened: I did a headstand, and I fell as clumsily and precariously as one can. And I lived to tell the tale.
One of the challenges I often discuss with my clients is the fear of self-improvement. Countless clients confess that they know they can upgrade their diets—they can make healthier choices—but they're afraid. Afraid of what, you ask? Well, afraid of failure, for one thing: what if they hit a stride with healthier eating, only to take a proverbial tumble? And what if, having encountered one setback, they're afraid to brush themselves off and try again? Many clients also confess that they're afraid, paradoxically, of success. As frustrating as patterns of inertia and fear can be, they're also comforting. If self-improvement is always on the horizon, hoped for but systematically avoided, one never has to face the pressure that comes with being one's best self. And evading challenges, while exasperating and wearisome, means never having to hold oneself to a new and improved standard. This is true with dietary change, career advancement, the deepening of one's relationship, and so much more.
For me, today, it was about yoga. It was comfy to crouch in child's pose for two years and avoid headstand. But I know my body and mind well enough to know that I'm capable of facing it—I just haven't wanted to confront a whole new dimension of yoga challenges. And today, for the first time, I wanted to try.
And honestly? I'm pleased. Sure, it was scary. Sure, I was embarrassed. Sure, I'm kind of scared to try again (and believe me, when I do, I will be asking my instructor to spot me). Sure, I'm sitting on an icepack right now (sexy, right?). But I took on a challenge that's been on the horizon for a while now, and I'm glad I did.
So. That's my rambling attempt to assure you all that trying something you're afraid of (headstands), and confronting the worst case scenario that lurks within that fear (falling) has a payoff. Challenge yourselves to face the efforts and improvements that have eluded you till now. Chances are, you're all more than capable of overcoming your own hesitation—and that a happy sense of achievement lies beyond. With any luck, the achievement will arrive without an ice pack. (And yes, I promise, bloggies, that if this turns out to be anything more than a bruise or persists for more than a day or so, I'll give my doc a call, etc..)
And just a few weeks ago I was telling a friend that yoga/life metaphors are getting old.
Have a great raw day tomorrow, friends! Check back and tell me all about it.
xo