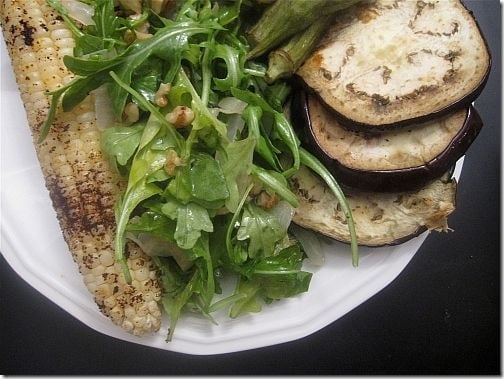 Hello, CR readers! Happy New Year's Eve. Guess what? I miss you.
I hope you enjoyed Melody's heartfelt call to action yesterday for Share a Plot. Today, I welcome still another one of my dear blogger friends to CR for the day. She is a fellow New Yorker, a fellow culture vulture, a fellow reader, and a fellow writer. Most of all, she's a fellow foodie. She is Leslie, author of the wonderfully literary and refreshingly digressive blog The Whole Plate.
Leslie and I have met up a few times in the city, and each time it's as if we're old friends. We chat about books, theater, about being solitary types. And of course, we talk about how much we love to eat. I don't know that any other blogger loves vegetables as much as I do, and so it's appropriate that Leslie is here today to share that love with you all. Enjoy it!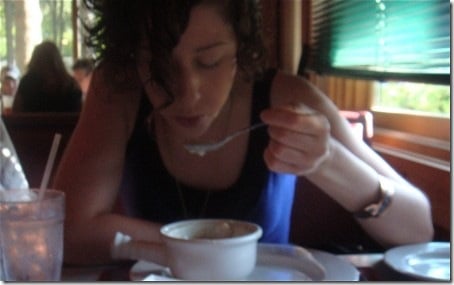 Hello, Choosing Raw readers! My name is Leslie, and I write over at the whole plate, a little blog where I share my love for food and drink as I navigate the ins and outs of twentysomething life in New York. I've had the sincere pleasure of meeting Gena in person a handful of times, and I am honored to be filling in for her today!
Unlike Gena, I am not a vegan, nor am I a vegetarian. I operate my foodie life in a confusing state I sometimes categorize as "a vegan-leaning vegetarian enthusiast who enjoys fish and will try anything, meat or not, once."
It's got a nice ring to it, no?
I've learned over the years that I should save the titles for my business cards. I haven't found a good reason to label the way I eat, and I am happy to allow the food on my plates to ebb and flow as my cravings do. All I insist on is variety, freshness, and a lot of vegetables.
Sometimes I joke that I have a convenient problem: vegetables are my favorite food group. I love dark chocolate, a good homemade pie, an ice cream cone with sprinkles, a slice or three of freshly baked bread. But my sweet tooth is often overshadowed by the savory, as vegetables are what truly have my heart.
Some women descend the subway stairs with heels and necklaces peeking out of their shopping bags; I'm the one who has kale leaves and celery stalks overflowing from mine. [Sometimes I have heels and necklaces too, but that's another topic for another time.] My friends know to count on me to provide vegetable sides for dinner parties, and my body knows it will be fed green juice and a sweet potato when I feel a cold coming on. Last Passover, restricted from grains of all kinds, I ate a bowl of roasted root vegetables with almond butter for breakfast without batting an eye.
Like I said: it's a conveniently healthy problem.
I was initially drawn to Choosing Raw because of the joy Gena clearly takes in eating and preparing vegetables. If there is one thing I'd like to convey to my blog readers – and to everyone – it is that vegetables should never have to be choked down. I wouldn't expect everyone to gnaw on raw kale as Gena and I happily do, but I'd be surprised if I couldn't convince at least a few naysayers to eat and enjoy greens if they were served floating in a rich
coconut milk broth.
In the spirit of vegetable love, I thought I'd share a few of my favorite recipes starring a humble veggie. When I catch the inspiration to create a new dish, it more likely than not will stem from a vegetable that has come into season. Over on my blog, I'd say nine out of every ten photos feature a vegetable, which should give you an idea of just how deep my love for them runs.
Collard Greens in Peanut Tomato Broth
I thought collards were the only vegetable I disliked – until I created this recipe. I'm still searching for a vegetable to join things like cantaloupe and grape jelly on my "loathe" list, but I haven't come across one yet.
• 1 T extra virgin coconut oil
• 1/2 large vidalia onion, chopped
• 1 clove garlic, minced
• 1 t cumin
• 1 t chili powder
• 1 can diced tomatoes with juice
• 2 c vegetable broth
• 1 pound collard greens, coarsely chopped
• 2 T peanut butter
• 1.5 c cooked chickpeas
• chopped peanuts for garnish
Heat oil in large pot. Sauté onion until soft; add garlic and sauté one minute. Add cumin and chili powder; sauté another minute. Add diced tomatoes, broth, and greens. Bring to a boil; lower heat and simmer, covered, 25 minutes.
Stir in peanut butter and chickpeas. Simmer 5 more minutes. Serve garnished with peanuts.
Roasted Beets with Cocoa Sesame Sauce
Chocolate for dinner? Chocolate and beets? It's an unexpected combination, but I promise this
recipe is a winner.
• 1 lb beets
• 1/4 c tahini
• 1.5 T good quality cocoa powder
• 1 T agave
• 1 T apple cider vinegar
• 1/4 t sea salt
• 2 T water
1) Preheat oven to 400. Trim greens off beets, rinse, and scrub. Wrap beets in foil and roast in oven 30-45 minutes, depending on size. They will be tender, but not mushy, when they are done.
2) Let beets cool. When cool enough to touch, remove skins. [Skins should peel right off. If they don't, they haven't cooked enough.]
3) Whisk or blend together tahini through water. Add more water if necessary to reach desired consistency.
4) Drizzle sauce over sliced beets and serve.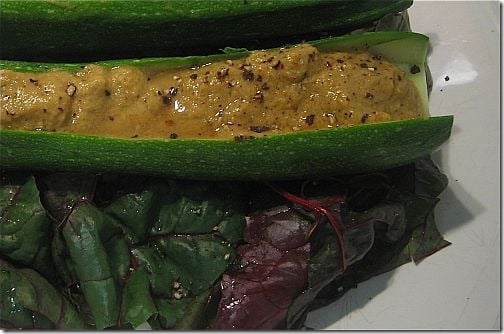 Raw Zucchini Boats with Tomato and Oregano
Perfect for a hot summer day (a nice thought as I stare at the blizzard outside), this dish is all about simple Italian flavor. It is equally delicious raw or roasted. (Photo disclaimer: this was in my first month of blogging.)
• 2 medium zucchini
• 1 roma tomato
• 2 T fresh oregano
• 1 T evoo
• pinch salt
Hollow out zucchini (leave about 1/4″ on each side). In blender or food processor, combine inside of zucchini with remaining ingredients. Blend well; pour into zucchini shells.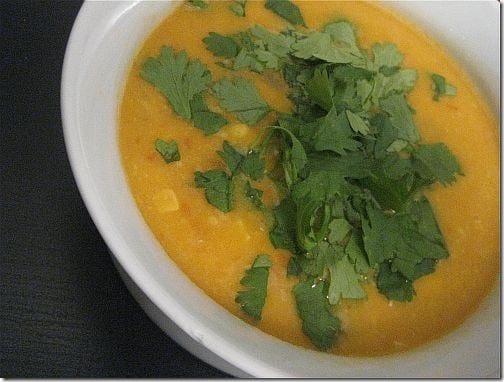 My favorite soup that I've ever made, this dish celebrates summer flavor at its height. I insist that it can only be made in August, when fresh corn is sweet and abundant here in the Northeast.
• 1 T extra virgin coconut oil
• 1 c sweet onion, chopped
• 1 red bell pepper, chopped
• 2 cloves garlic, minced
• 1 t coriander
• 2 c vegetable broth
• 1 c coconut milk
• 1 stalk lemongrass
• 2 ears of corn, kernels removed
• 1 t red curry paste
• juice of half a lime
• 1/2 t sea salt
• 1/2 c cilantro
1) Heat oil in medium pot. Sauté onion and bell pepper until soft. Add garlic; sauté one minute. Add coriander; sauté another minute, until fragrant.
2) Cut slits in lemongrass to release flavor. Add lemongrass, vegetable broth, coconut milk, and corn to pot. Bring to a boil; lower heat and simmer, covered, 15 minutes.
3) Stir in curry paste, lime juice and salt. Adjust seasoning to taste [more curry paste for a spicier soup, more salt if you'd like.]
4) Pureé half of soup in blender. Return to pot and stir well. Stir in cilantro just before serving.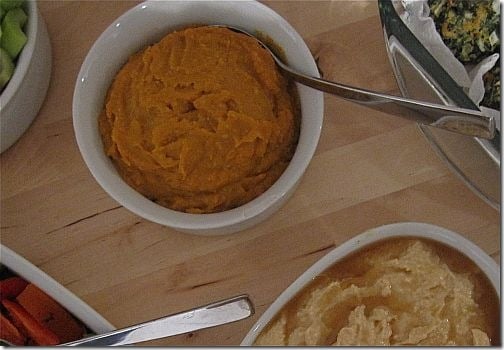 This dip is blogger tested and blogger approved. I served it at a small potluck of New York healthy living bloggers, and the bowl was empty well before we said our goodbyes.
• 2 medium sweet potatoes
• 1/2 c unsweetened shredded coconut
• 2 T coconut milk
• 2 T water
• 1 T maple syrup
• 1 t ground ginger
Preheat oven to 400. Bake sweet potatoes for one hour. In food processor, blend sweet potatoes with remaining ingredients. Add more coconut milk or water to reach desired consistency.
Of course, in the blog world, most of us already eat vegetable-heavy meals, but I hope these recipes can help prove just how versatile those meals can be. If you're looking for more vegspiration, or you're simply searching for a place to commiserate on all the confusion and excitement of young adult life, I'd love to see you over at the whole plate!
A big thank you again to Gena for letting me take the reigns for the day!