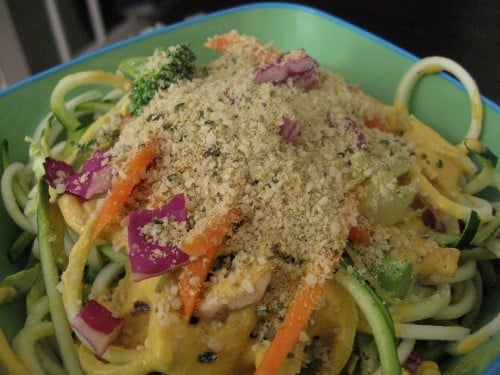 Hey guys,
GREAT feedback on yesterday's post! It was so interesting to hear how you all negotiate the zone between eating consciously, but without dogma and fear. Thanks for chiming in!
It's no great secret that parmigiano-reggiano — or Parmesan, as we like to call it here in the US of A — is one of the world's most beloved cheeses. No surprise there: it's salty and unmistakably flavorful, and a little goes a long way. So what do those of us who aren't into the fromage do to replicate some of that effect? Well, we have a few options. There's Parma, a product I love: vegan, raw, and out-of-control tasty, it's sure to add flavor to your dishes. There's Rawmesan, which I haven't tried, but looks pretty good, too. There's Galaxy's vegan Parmesan, which isn't raw, but if your body tolerates soy nicely, is a tasty alternative (and great for those who are used to a more traditional Parmesan texture). And for those of us who like to keep things really simple, there's always a healthy sprinkle of nooch.
Last night, as I threw together some raw pasta leftovers, I noticed that I had only a few tablespoons of nooch left in my pantry. I also noted that I was down to a few tablespoons of hemp nuts. I'd wanted to experiment with a light, yet protein and nutrient rich topping for a while — especially since many of my clients are in search of a parmesan substitute. So I decided to experiment with a hemp based "cheese." Into my food processor went 3 tbsp of hemp seeds and 3 tbsp of nooch. I pulsed for a few moments, and came up with this: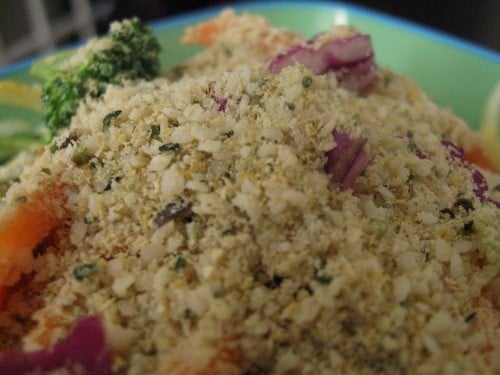 It was absolutely delicious! And a wonderful offering to my clients who are a little worried about protein intake with a mostly vegan diet: hemp seeds, as we know, are a rich source of complete protein, and nutritional yeast packs eight grams in a tablespoon and a half. I'll definitely be recommending this topping to clients, and enjoying it's nutty, salty, and earthy taste myself.
Last night was also a fun exercise in leftover usage. I have a small vat of carrotini dressing at home, and I've been wondering how I'll make a dent before it goes off. Since I also had some spare zucchini, I decided that carrotini noodles would be the order of the day. The recipe? No recipe. Just one spiralized zuke, 1 cup of chopped mixed veggies, and about a quarter cup of carrotini dressing mixed in, like so:
Then, of course, came a small mountain of the hemp-esan: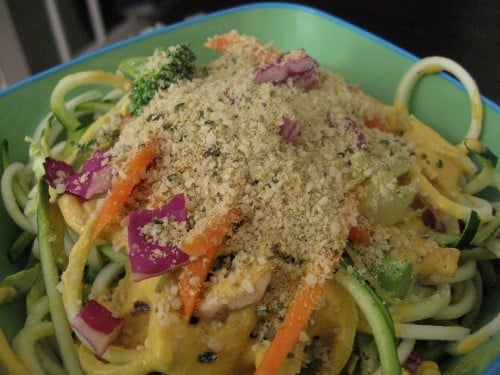 Along with some steamed broc and cauliflower, it was a tasty and hasty meal:
Two thumbs up! I admit, I'm not a leftover fan: I love variety, and leftovers don't give me much room for that. But when leftovers offer me new and unexpected ideas for using up a dish I've already made (like turning a salad dressing into a "pasta" sauce), well hey, that's pretty cool.
What about you guys: leftover fans? Not so much? Would love to know! More importantly, let me know what you think of hemp-esan. I'm a fan 🙂
Happy hump day, all.
xo