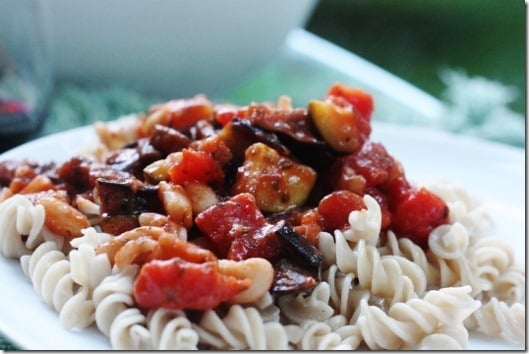 A few weeks ago, my DC family was kind enough to have me over for dinner, and even kinder to cook a bunch of vegan dishes for me. They all raved about how interesting it was to make vegan food: my aunt noted that it compelled her to try spices and flavor pairings she'd never thought of before, as well as some global accents that were new. They all had the same thing to say, though: "it's cool cooking vegan," my cousin remarked. "It just takes a ton of time."
I guess "time" is a relative thing. Making vegan food, even if you take every shortcut you can, will never be as easy as nuking a microwave dinner (though nuking an Amy's vegan burrito might compare). But can it be every bit as easy as making a standard omni dinner? It sure can. People are quick to confuse difficulty and novelty: it takes no more time to roast a squash than a chicken (less, actually), or to make lentil daal rather than meat sauce. The former dishes are just less familiar, so they feel time consuming and imposing.
I get tons of emails every day from readers who want to make more vegan food, but find themselves spending hours in the kitchen. Either this is because they've gotten overly ambitious with cookbooks and five course dinners, or because they simply need to be shown that vegan dinners can be ready in a jiffy. Today, I'd like to share what I hope will be the first of a few "vegan in a hurry" dinner ideas: meals that are healthy enough to appear here on CR, but also budget conscious, family friendly, and, most of all, fast. I'll start with a seasonal dish: pasta with white beans, eggplant, and summer vegetables. The recipe utilizes canned legumes and tomato sauce and readily available produce, which means it's easy to prepare. Just see for yourself.
White Bean and Summer Vegetable Pasta (vegan, gluten free if you use gluten free pasta, soy free)
Serves 4
1 small eggplant, cut into 1 inch cubes and lightly salted
1 clove garlic, minced
1 zucchini, sliced
1 can fire roasted or diced tomatoes (buy organic)
1 small can organic tomato sauce
1 tsp agave
1 tbsp dried basil
1 tsp dried oregano
1 tsp dried thyme
1 can white beans, drained
4 servings pasta, dry (my idea of a serving is usually more than a boxes' idea of a serving)
1) Heat a large skillet with olive or coconut oil spray (or just use a few tbsp water). Sautee the eggplant with the garlic till the eggplant is getting nice and brown (about 8 minutes).
2) Add the zucchini and cook it till tender (another 5 minutes).
3) Add the canned tomatoes, tomato sauce, agave, basil, oregano, thyme. Heat through. Test for seasoning, and add more of whatever herbs you like.
4) Add the white beans and heat the whole sauce through. This is so tasty and simple, you could eat it on its own as a "cheater's" ratatouille.
5) While your sauce cooks, put a pot of salted water to boil. Add pasta when it hits a rolling boil, and cook pasta till tender but still a little al dente.
6) Drain pasta, smother with sauce, and dinner is ready!
Delicious. Mine was served, not shockingly, with my miso sesame kale and tomato salad:
I would like to eat this photo.
This recipe boats a few key time saving techniques:
1) Stock your pantry. Canned legumes, tomatoes, and dried herbs make it easy to eat healthy in a time pinch.
2) Don't get too fussy. Yes, I could have slow roasted that eggplant and the sauce would be smokier, and yes I could make my own tomato sauce. But when forced to choose between a satisfying, healthy meal that's doable, and a fantasy that isn't, I'll take reality.
3) Use familiar recipes. This is a classic: spaghetti and tomato sauce. But I add oomph to the sauce with veggies and beans for a protein boost. It's the healthy vegan's spin on a classic. Use recipe templates you know and love, guys, and apply your green cuisine savvy to them!
Hope this helps to show you how I manage to make weeknight suppers for me and people I love—vegans, rawbies, and omnivores alike—without getting too stressed.
What's your favorite "hurry up vegan" supper? Tell me all about it!
See you back here tomorrow….
xo