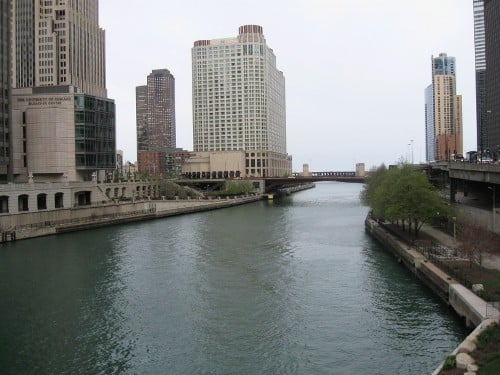 Hey guys,
So glad you're as impressed with Diana's raw Andes mints as I was! I couldn't get over them when she sent me her post. D, I knew it already, but I'm more sure than ever that you are destined to be Sarma's pastry chef.
In my last post, I described my first day of fun in Chicago. On Monday, I awoke to another sunny, clear day, punctuated by blustery winds (I guess the city earns its nickname). Early in the morning, I went downstairs to take advantage of the Sheraton's exercise facilities: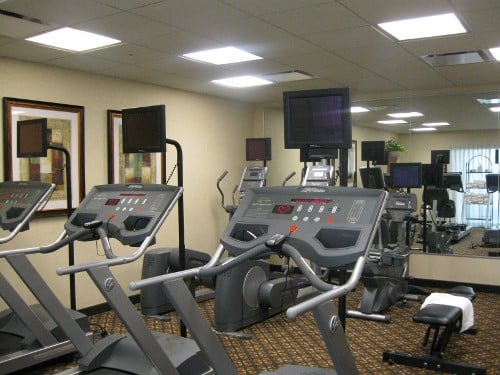 And scoped out the sweet pool: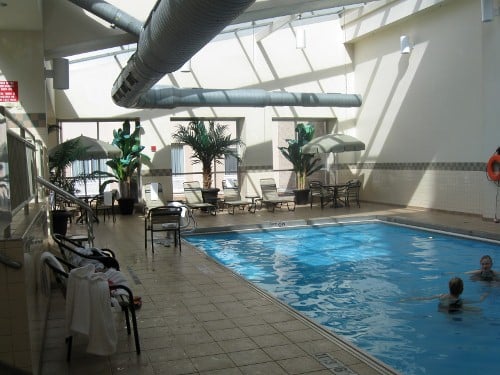 I briefly toyed with the idea of purchasing a cheapo bathing suit nearby — I should've read up on the hotel facilities before I came! — but opted to save my pennies. I'll be in the water soon enough 😉
Later in the morning, I was craving something warm, so I set out to find some vegan-friendly oatmeal. This is not as easy as it sounds: many delis, cafes, and chains make their oats with milk ("but it's skim," they assure me). Jamba Juice makes theirs with soymilk, and tops it with a "brown sugar" crumble that contains dairy; Starbucks' oatmeal is actually dairy-free, but it comes in the form of instant packets, which totally grosses me out.
Fortunately, there was a chain downstairs in my hotel called E. Leaven, which just so happened to serve water-based, organic rolled oats. The kind staff explained that their former manager was a die-hard vegan, and that, under her watch, the restaurant had actually featured an array of vegan baked goods! I wish that were still true, but I was quite happy to take my simple oats and a banana and run back up to my room for a quick meal: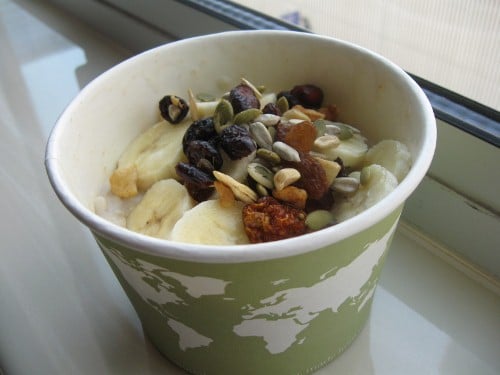 A few hours and some scenic strolling later, I met up with Jenn for lunch. Apparently, one meeting was not enough!  Our destination was my local Whole Foods, where we proceeded to attack the salad bar:
Raw kale salad?!?! I swoon!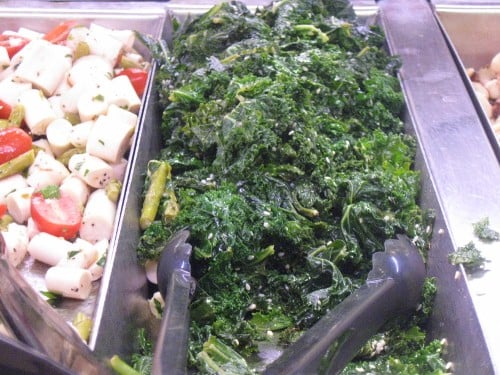 Jenn and I sat down to our loot.
My bowl was an assortment of greens, zuke, carrots, kale, peppers, and an "ancient grain" mix of quinoa, kamut, and split peas: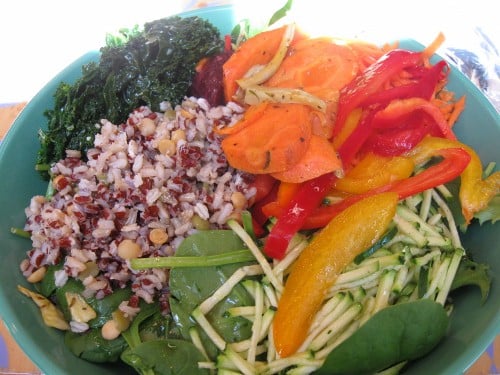 …all topped with olive oil, lemon, and a drizzle of agave (a salad addition I passed along to Jenn!).
I loved our lunch. Jenn is without a doubt one of the kindest, most warm, and most genuine women I've met through blogging. She had me laughing and sharing stories as though I'd known her forever. I was thrilled to hear about her new work as a small business owner. She mentioned that the goal of Pop! media, is not simply to manage a company's social media, but rather to teach the company how to do social media on its own. They educate. I like to think that this is exactly how Choosing Raw counseling works! My goal isn't simply to tell my clients what to do, but rather to help them get in touch with patterns of eating and thought that allow them to eat and live healthily without my help. I want them to graduate, in other words 🙂
Parting was sweet sorrow!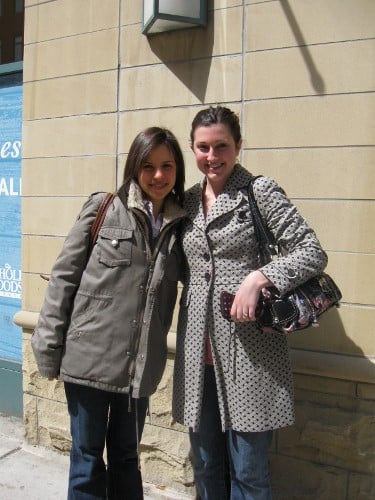 After our lovely lunch, I strolled down Michigan Avenue toward the School of the Art Institute of Chicago, where I was scheduled to deliver a lecture to MFA students on the writing life, the publishing industry, and blogging. Here's what I found along the way:
Before I left, I joked with Jenn that my lecture would consist of telling the aspiring literati that they should reconsider the foolhardy decision to become writers–unless they're all gluttons for punishment. Of course, this isn't what I said. What I said was that, now more than ever, it's a tough time to be a part of the publishing world, whether that's as an editor or as a writer. The money is scarce, the future is uncertain, and the material is limited. But for those of us who care about the published word, it's still a fight worth fighting. I was super impressed with all of the students' questions, and honored to be their guest!
After the class, and a lovely catch up drink with their professor (who happens to also be one of my authors, and a stupendous author at that), I enjoyed some more scenic wandering through Chi-Town. By the time I finished, it was time for a quick change before dinner at a restaurant I've been dying to try: Karyn's on Green.
For those of you who haven't heard of Karyn's empire already, Karyn Cabrese is a legendary vegan/raw foods teacher and restaurateur. She's got three outposts in the windy city: Karyn's Raw, Karyn's Cooked, and now, Karyn's on Green. I'd been to Karyn's Raw on my last trip to Chicago and liked it a lot, so I was eager to see what the new restaurant was like. And it did not disappoint! Much like Candle 79 here in the city, Karyn's on Green aims to be a gourmet dining experience that's delicious for both omnis and vegans. The menu features both raw and cooked items; all of them are sophisticated, familiar, and beautifully executed. The interior is sleek, attractive, and sexy:
My dinner date was Elese, who I'd met up with the day before for blogger lunch at the Chicago Diner. Elese, who's a Karyn's veteran, advised me that she preferred the cooked dishes on the menu.
They did look  wonderful, but I was craving some raw goodness, and so I decided to go with a trio of tastes: the raw broccoli soup, the raw spring rolls, and the chopped salad.
Karyn's features an enzyme shot to start the meal. I didn't really need it, but I couldn't resist, if only for the novelty:
Then came my soup. This was definitely the highlight of my meal! You all know how I adore raw soups, and this one was truly special. I've always feared making raw broccoli soup; few veggies are more pungent in an uncooked state than broc. Karyn, though, gets it just right: the soup does taste a whole lot like broccoli (and this isn't a bad thing), but it's not too strong; the green flavor is balanced with lemon and a hint of garlic (which was subtle enough to pass muster with this garlic-sensitive lady). I absolutely loved this, and can't wait to imitate it! I'm not sure how they do it, but I have a hunch it's a sunflower seed base. We'll see. Thank you to Karyn's kitchen for helping me to overcome my dread of raw broccoli soup:
Next up was my chopped salad + spring rolls. Both were great; I especially loved the blood orange vinaigrette on the chopped salad (which I'd requested specially instead of Italian dressing — garlic-phobia!). The spring rolls were stuffed with cabbage and an almond butter sauce, and they were very tasty:
For her part, Elese ordered the caesar salad, which was delightfully tangy and salty:
And the sweet potato gratin, which I helped her out with. It was amazing! And served with a chipotle dipping sauce we flipped out over:
Vegan marshmellows? Way to go, Karyn.
We were also impressed with the homemade wheat rolls and the shockingly authentic vegan herbed butter, which I'm guessing is an Earth Balance+dill mix. Not my kind of thing, but it was cool to taste:
For dessert, Elese ordered a scoop of peanut butter ice cream. I think it's great when restaurants let customers order a single scoop. She loved it, and I sampled: 'twas tasty.
To the wall on our right, Karyn's "mantra," as it were, was enscribed. I couldn't get a great photo, but here it is:
If you didn't catch that, it's:
There is no judgment here–
no good or bad, yes or no, right or wrong.
just a chance for an early friendly experience
for body, mind and spirit, for you and your planet.
If you don't take care of your body,
the most magnificent machine you'll ever be given,
where will you live?
I can think of better salutary words with which to welcome people of all lifestyles to a beautiful dining experience. This was a stellar evening: great company (in the form of the intelligent, lively, and wise Elese), great ambiance, and great food. Thank you to Brandon, Danielle, and all the folks at Karyn's for making us feel at home!
With that, my Chicago trip drew to a mournful close. I shared a lovely breakfast with Katie on Tuesday, and then got on a plane to come home. As always when I travel, seeing NYC from my plane was in many ways the highlight of my trip. What can I say? I adore my city. But Chicago was a great break, and I can't wait for Florida tomorrow!
On a personal level, this trip was also a nice reminder of how far my own health as come. Once upon a time, I couldn't travel without a treasure chest of digestive enzymes, probiotics, peppermint oil, ginger tea, and other tummy-soothers, since even a slight change of routine was likely to irritate my IBS. I remember few high school and college vacations that weren't shadowed by discomfort. Fortunately, travel no longer means constant attention on my finicky digestion. The last few years have given me the capacity to travel without anxiety, hassle, or enough acidophilus to start a yogurt factory (coconut based, of course). Stress reduction has a lot to do with this, but so does diet and lifestyle. I am so grateful!
Alright folks, that is all she wrote! Phew. Whenever I write travel recaps or restaurant reviews, I scratch my head and think to myself, "how in the heck to diary-style bloggers do it?" Play by play accounts of one's doings are intense. My hat is off to you daily and thrice daily scribes. Now this sleepy blogger has to get some rest before tomorrow's flight to Ft. Lauderdale. Expect another great guest post to appear bright and early on Friday morning, and for me to check in a few times before Sunday, too. In the meantime, have a great Thursday!
xo