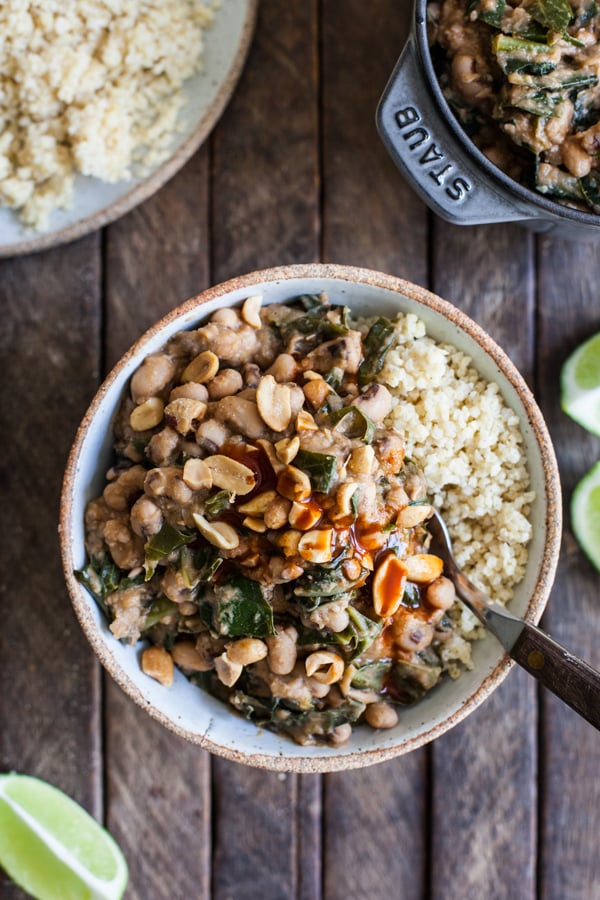 This was one of those dishes I really didn't intend to share. It was born of necessity in the form of a mason jar full of black-eyed peas that I'd been meaning for ages to use up. When I had the thought to add a big heaping scoop of peanut butter to the stew at the end, I suspected it would go one of two ways: either it would be delicious, or it would be ruinous.
Well, I think it's delicious. And I always feel a special fondness for recipes that came together unexpectedly or involved a culinary leap of faith. With that I'm mind, I couldn't help but share these simple, slightly offbeat, peanutty stewed black-eyed peas and collard greens.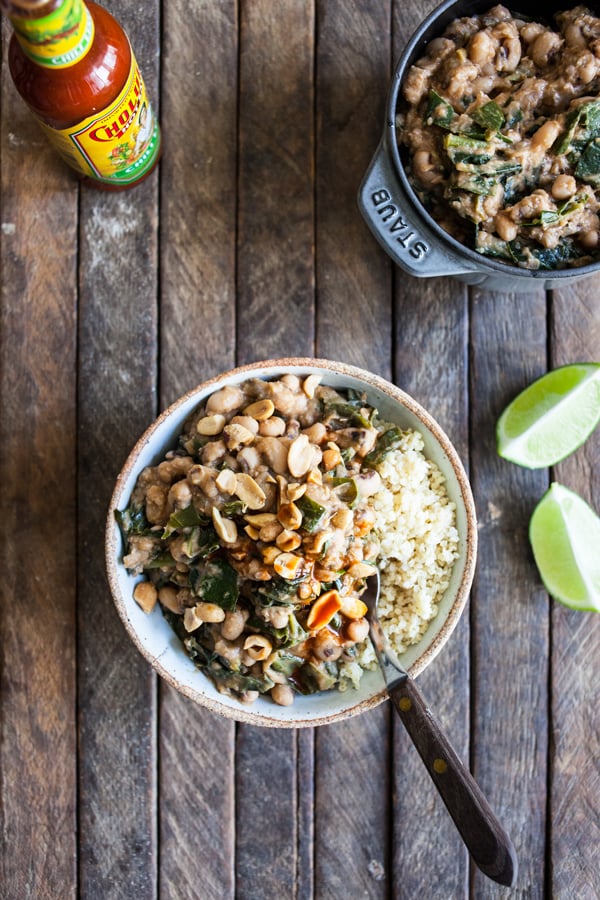 I guess I had a good precedent for this soup in the form of my yam and peanut stew with kale, which is a longtime favorite. And there are many west African recipes that feature peanuts in soups and stews. The real reason I added PB was the fact that I've always thought that black-eyed peas have a slightly peanutty flavor and scent—something I was reminded of as the beans were simmering. Not sure if this is in my head or not! Peanuts are legumes, after all, so perhaps these two are cousins.
The recipe is super simple: it's really just onion and garlic, smoked paprika and chili, beans, and peanut butter. You won't need to do much as the beans simmer, and at the end, you simply make a slurry with your PB, add it to the pot, and allow your collards to cook down. The flavor is smoky, savory, and (of course) unmistakably nutty. I think a squeeze of lime and generous dash of hot sauce make it all the better.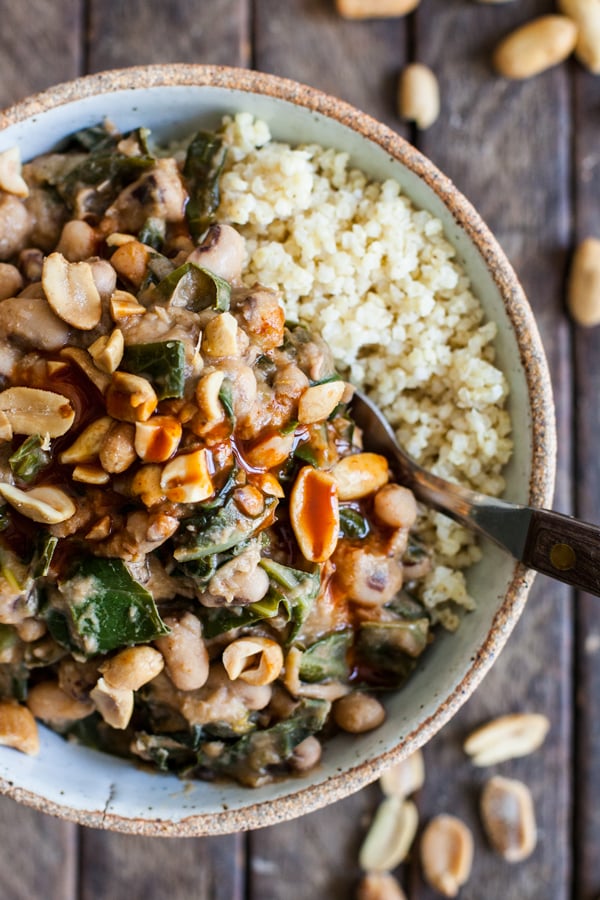 Peanutty Stewed Black-Eyed Peas & Collard Greens
Author -
Yields:
8
servings (recipe can be halved)
2

teaspoons

neutral cooking oil

such as grapeseed or avocado or water

1

large or 2 small onions

chopped

1

green bell pepper

chopped

4

cloves

garlic

minced

1

pound

about 2 1/4 cups dry black-eyed peas, soaked overnight, drained, and rinsed

1

tablespoon

ground chili powder

2

teaspoons

smoked paprika

1 1/4

teaspoons

salt

6

cups

water

2

bay leaves

1/4

cup

creamy peanut butter

for a peanut-free option, you can substitute sunflower seed butter

12

ounces

collard greens

thick bottom stems trimmed, chopped or cut into thin ribbons (about 2 small bunches, or 1 extra large bunch)

Juice of 1 large lime

Cayenne pepper

to taste

For serving: Cooked millet

rice, or another grain of choice, extra lime wedges, chopped roasted peanuts, hot sauce
Heat the oil or water in a large soup pot over medium heat. Add the onion and pepper. Cook for 5-7 minutes, stirring frequently, or until the onion is clear and soft (if you're using water to saute, add more by the tablespoon if the onion starts to stick). Add the garlic and cook for another 1-2 minutes, or until the garlic is fragrant.

Add the black-eyed peas, chili, paprika, salt, and water. Bring the mixture to a boil, reduce heat to low, and cover. Cook for 60-75 minutes, or until the black-eyed peas are completely tender.

Transfer 1/2 cup of the liquid from the pot to a small bowl. Add the peanut butter and whisk it all together to make a slurry. Add the slurry back to the pot. If you wish, use an immersion blender to blend up some of the beans; alternately, you can transfer 2-3 cups beans to a standing blender, blend till smooth, and transfer them back to the pot. (This is totally up to you; I like for some of the beans to be pureed, but it's nice to leave them all whole, too!)

Add the collard greens to the pot. Stir them in well (it'll take a while for them to wilt into the soup), then cover and cook for another 10-12 minutes, or until the greens are tender. Stir in the lime juice, then add cayenne pepper and extra salt as needed.

To serve the stewed beans, scoop them over your favorite cooked grain (or toast), with a squeeze of lemon, a dash of hot sauce, and chopped peanuts, if you like.
Recipe can be halved to yield 4 portions.
Leftover beans will last for 5 days in an airtight container in the fridge. Leftovers can be frozen for up to 8 weeks.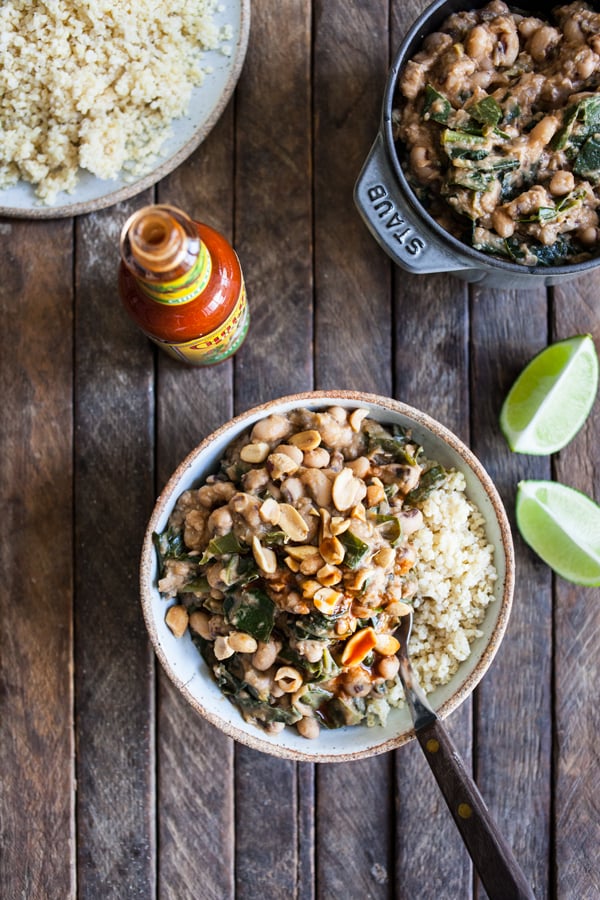 The beans are great over toast, brown rice, or quinoa, but my favorite way to serve them this week has been with millet. The slight sweetness of the millet seems to play nicely with the nuttiness and heat of the stew (especially if you have a heavy hand with the cayenne). You could also pair the beans with some brown rice and stuff them into a vegan burrito!
As I was cooking, I thought about how great black-eyed peas are–and how underutilized in my kitchen. They're full of nutrition: packed with protein, fiber, Vitamin B6, magnesium, and iron. Thanks to the combination of beans and collards here, the stew serves up about a quarter of your RDA of iron per serving. It's a great dish to whip up if you're working to optimize your iron consumption as a vegan (and if you are, this post might be useful, too).
I'd hoped that the end of my spring term would suddenly open up a lot of cooking time, but I've quickly realized that the first half of my summer will be pretty full. So, here's to big batches of food and plenty of packed lunches. If you're not trying to have leftovers, you can definitely cut this recipe in half. Enjoy the stew, friends, and I'll be checking in at the end of the week with an easy, last-minute Memorial Day dish for sharing!
xo