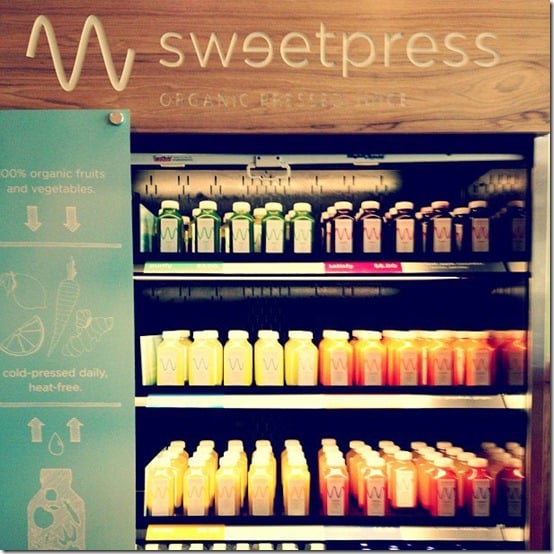 Back in December, I received an email from my (now) friend Dasha, who works for my favorite casual DC eatery, sweetgreen. I've written about sweetgreen many times, most notably in this dedicated blog post. To sum it up, sweetgreen specializes in fresh, creative, seasonal salads, frozen yogurt, delicious vegan soups, and now, cold pressed juices. When Dasha emailed me, the juices were just being conceptualized. Much to my delight, Dasha asked if I would be interested in helping to play a creative role in the process, helping to formulate the juices themselves, and—as a clinical nutritionist—staying mindful of the juices' nutritional integrity.
Though I knew I had my hardest post-bacc semester ahead of me, I said yes without hesitation. It was a fantastic opportunity to help bring a product I believe in to my home city, and it was also a chance to partner with a company whose values are greatly aligned with mine. sweetgreen is not a vegan institution, but the menu is remarkably vegan friendly, and I think that the restaurant does an enormous amount of work to encourage diners towards progressive, healthy, plant-based food. And so my adventure in cold-pressed juice development began!
For six months, I helped build the foundation for this very special line of pressed juices. Activities thereto included learning to use a Norwalk juicer (I had no idea—no idea whatsoever—that they were so labor intensive! But the taste and texture is very worth it), testing countless combinations of green juice, and talking about how we could create juices that will help to support busy lifestyles. It was really interesting, and it was a lot of fun. In the end, we had six outstanding flavors ready to go (and many more ideas still circulating).
The flavors are:
Purify: Apple, kale, spinach, cucumber, lemon, ginger
Satisfy: Carrot, beet, apple, cucumber, lemon, parsley
Detox: Pineapple, apple, ginger, mint
Energize: Carrot, orange, grapefruit, ginger, cayenne
Hydrate: Cucumber, pineapple, coconut water, pear, and lime
Seasonal: Watermelon, coconut water, lime, mint
On Friday, I received my official "juice box" from sweetpress, which is sweetgreen's official juice brand.
I was so excited to try the finished flavors, and they did not disappoint! I have a personal attachment to "hydrate"—it was one of the first combinations that Dasha and I thought of, and it was instantly delicious upon our experiments. My other personal favorite is the "satisfy." I like to think of this juice as a "salad in a bottle"—between the beets, cucumber, carrot, apple, and parsley, it's so unbelievably rich in micronutrients. Of all of the flavors, it's the closest to pure liquid nutrition.
As you can see, it's helpful for fueling long hours spent in front of computers with physics.
Speaking of liquid nutrition, there's something about the sweetpress brand that distinguishes it from most of the other pressed juice lines with which I'm familiar. This is the fact that these juices are not designed for radical cleansing/fasting/detox regimes. They're packaed in the 12 oz. size, which means they're more conducive to early morning, mid morning, or afternoon snacking, or to pair with meals, than 16 oz. bottles, which are often marketed as meal replacements. I love fresh fruit and  vegetable juice, and I believe that it has remarkable power to deliver huge stores of micronutrients efficiently.
That said, I treat juice more like a supplement than a means of replacing my food; for all of the vitamin, mineral, and enzyme content, I don't personally feel that juices can provide the protein, fat, and complex carbohydrate power we need to stay fueled and keep our metabolisms active. So for me, juices are ideal snacks and ideal ways to get a little extra nutrition when I'm very busy, but they're not sufficient sustenance on their own. I love that the sweetpress line is designed to be a component of healthy living, but not to replace food. They're also not marketed with some of the alluring—but often misleading—claims about "cleansing" that mark many other juice lines. These juices provide simple, supplementary nutrition in a delicious form.
Much more information is available on the sweetpress website. Note that the 12 oz. form helps to keep the price point of these juices far more modest—$6 on average—than the usual $12 you might spend on a juice that you may or may not finish! While you can, of course, enjoy a juice along with your sweetgreen salad, you can also take a bunch to the office or to your home and sip and enjoy over the course of a few days; the nice thing about cold pressed juice (rather than centrifugal) is that it will stay fresh, especially if sealed, for two days, rather than two hours. When I know I'm going to be incredibly busy, I often purchase quite a few juices and freeze them; they defrost beautifully, and are ready for me when I'm ready for them.
Until now, there have been very few pressed juice resources here in Washington. I'm happy making my own, but the truth is that it's not easy for me to juice a few times weekly with my academic schedule right now. sweetpress juice will now become a steady part of my life: a resource for extra nutrition and healthy lifestyle support when I'm out, about, and on the go. As the company slogan goes, these juices can help to "balance your daily rhythm." And when you're a pre-med crazed student, food blogger, and writer—or an athlete, a busy working person, a full time Mom, a businessperson who travels frequently, or anyone who finds him or herself short on time and hungry for nourishment—balance is key.
If you're in the DC area, I hope you'll take some time to seek out sweetpress juice. Right now, they're exclusively at the Logan Circle location, though they'll be appearing at others soon. Let me know what you think.
And thanks for joining in the convo about nettles and nettle infusions yesterday. I hope to become a better and better resource for you in the arena of medicinal plants!
xo