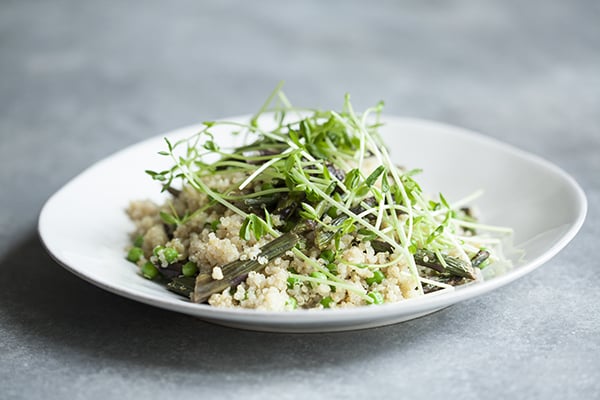 It might be an overstatement to call this quinoa and asparagus salad "the perfect spring meal." But in my world, this dish is as close as it gets to seasonal perfection, and I can tell you that this is the sort of recipe that I will make again and again as summer progresses, varying the vegetables based on what's freshest and most appealing. I never seam to get tired of quinoa salads; they make for such a quick and easy lunch, and they can be easily paired with soups or stews for a satisfying dinner.
This week's quinoa salad was inspired by a bunch of purple asparagus, kindly sent to me by the folks at Frieda's. Frieda's has been in the produce business since 1962, and the company's founder, Frieda Caplan, was/is apparently the first woman to own a produce business. Frieda's is known for stocking grocery stores with unusual fruits and vegetables, including purple potatoes, sunchokes, Elephant garlic, and Habanero Chiles. I've been lucky enough to sample some of Frieda's seasonal produce, and it's always a treat–especially since the company often features and shares fruits and vegetables that I might not think to find and use on my own.
Purple asparagus is a great example. I love regular asparagus, as does my boyfriend, so we buy it frequently all spring and summer long. But I'm rarely intrepid enough to pick up different colored asparagus at the farmer's market, and it was nice to have an excuse to use the purple variety for a change. Purple asparagus is very similar in texture and taste to green asparagus, but it is slightly sweeter (it has about 20% more naturally occurring sugars). I love the tender, sweet bite it lent to this salad.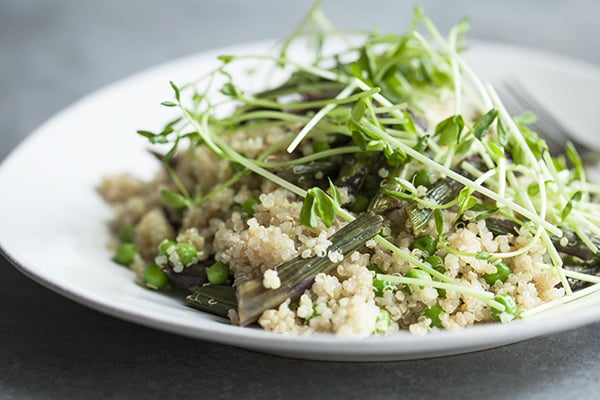 As you can see, some of the purple color fades as the asparagus cooks. But the nice thing about trying a new shade of a favorite vegetable is that one can reap the benefits of a different set of phytonutrients. Anthocyanins–the pigments that lend purple color to this variety of asparagus, as well as to plums, blueberries, strawberries, purple cabbage, eggplants, and cherries–are a type of flavonoids. Flavonoids are known for their antioxidant and anti-inflammatory properties, and anthocyanins boast a particularly impressive array of potential benefits (1). They seem to have a protective effect against cardiovascular disease (2, 3, 4), likely because they can help to relieve systolic blood pressure and arterial stiffness. They may also help to fight neuroinflammation, which may lead to increased cognitive function and memory (5, 6), and a few studies, both in vitro and in human test subjects, have shown that they may help to prevent proliferation of tumors associated with colon cancer (7, 8). Like other forms of asparagus, the purple stuff is also rich in Vitamins A and C.
But enough of the health benefits. Asparagus is delicious, and it is a perfect celebration of spring produce. Here, it meets tender, sweet green peas and a peppery lemon dressing. I love the addition of pea shoots on top of the salad: it adds texture, crunch, and a beautiful, bright dose of green color.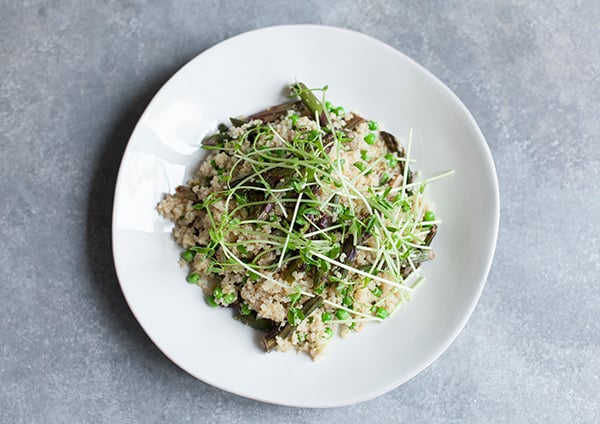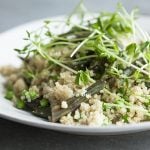 Purple Asparagus and Quinoa Salad with Peas and Pea Shoots (Gluten Free)
Author -
*For the quinoa salad*:
1

pound

purple asparagus

washed, woody ends trimmed off, and cut into 2 inch pieces

2

teaspoons

olive oil

Salt and pepper

1 1/4

cups

quinoa

rinsed under cold water in a fine sieve until the water runs clear

2 1/2

cups

water

1 1/2

cups

frozen green peas

thawed or steamed till bright green and tender (alternately, you can blanch fresh green peas for 3 minutes, or until tender)

1

heaping cup pea shoots

chopped in half
*For the dressing*:
2

tablespoons

olive oil

1

tablespoon

lemon juice

1

teaspoon

lemon zest

optional

1

teaspoon

white wine or champagne vinegar

1

small clove garlic

minced finely or crushed (optional)

Salt and pepper to taste

I like lots of pepper in this recipe
Preheat the oven to 400F. Toss the asparagus pieces in the olive oil. Place them onto a parchment or foil lined baking sheet and sprinkle them with a generous amount of salt and pepper. Roast for 15-20 minutes, or until they're tender and a little crispy on the outside, stirring them halfway through. Set the roasted asparagus aside.

While the asparagus roasts, bring the quinoa and water to boil in a medium sized pot. Reduce the heat to a simmer, and cover the quinoa. Cook for 15 minutes, or until all of the water is absorbed. Fluff the quinoa gently with a fork and return the lid to the pot. Allow the quinoa to rest for 10-15 minutes.

Whisk together the dressing ingredients. Transfer the quinoa and asparagus to a large mixing bowl and add the peas. Add the dressing and toss the salad gently, so that all of the dressing is incorporated. Check the salad for seasoning and add more salt, pepper, and lemon as desired.

Divide the salad onto four plates. Top each with a quarter cup of chopped pea shoots, and serve.
My favorite kind of dish: nutritious, bright, and oh-so-pretty to look at. It's hard not to love pea shoots on just about anything. If you don't happen to have pea shoots, though, feel free to substitute other sprouts, or a handful of crispy arugula or dandelion greens instead. As for the asparagus, it certainly doesn't have to be purple — regular asparagus will work perfectly, even without the anthocyanins.
I hope you enjoy this seasonal recipe, everyone. As always, let me know if you like it. If you're on the hunt for more spring recipe inspiration, I also wanted to share last week's New Veganism recipe with you. It's a vegan fried rice with baby bok choy and peas (because I just can't get enough of them!). It's quick, easy, and super flavorful–perfect for a mid-week meal.
Speaking of that, I hope that your week is off to a good start. I'll be back on Thursday with a new, springtime soup recipe!
xo
1. Webb, D. Anthocyanins. Today's Dietitian. 2014; 16 (3).
2. Wallace TC. Anthocyanins in cardiovascular disease. Adv Nutr. 2011;2:1-7.
3. Mink PJ, Scrafford CG, Barraj LM, et al. Flavonoid intake and cardiovascular disease mortality: a prospective study in postmenopausal women. Am J Clin Nutr. 2007;85(3):895-909.
4. Jennings A, Welch AA, Fairweather-Tait SJ, et al. Higher anthocyanin intake is associated with lower arterial stiffness and central blood pressure in women. Am J Clin Nutr. 2012;96(4):781-788.
5. Spencer JP. The impact of fruit flavonoids on memory and cognition. Br J Nutr. 2010;104 Suppl 3:S40-S47.
6. Youdim KA, Shukitt-Hale B, Joseph JA. Flavonoids and the brain: interactions at the blood-brain barrier and their physiological effects on the central nervous system. Free Radic Biol Med. 2004;37(11):1683-1693.
7. Wang LS, Sardo C, Rocha CM, et al. Effect of freeze-dried black raspberries on human colorectal cancer lesions. Presented at: AACR Special Conference in Cancer Research: Advances in Colon Cancer Research; November 14-17, 2007; Cambridge, MA.
8. Thomasset S, Berry DP, Cai H, et al. Pilot study of oral anthocyanins for colorectal cancer chemoprevention. Cancer Prev Res (Phila). 2009;2(7):625–633.