Last night, my favorite movie was playing outdoors, in Central Park:
Needless to say, I had to be there.
My friend Nelly and I planned a hot date—including a picnic dinner—to see the movie together. When we arrived at Sheep's Meadow, I was delighted to run into Hadley, who was there with a group of friends.
Nelly and I found a little patch of spare grass, and, as we waited for the movie to begin, we got down to the real business of the hour: dinner!!! We attacked our picnic bags with gusto. Nelly, who's a passionate athlete and runner, had been playing in an Ultimate Frisbee tournament all day. And me? I was just really hungry 🙂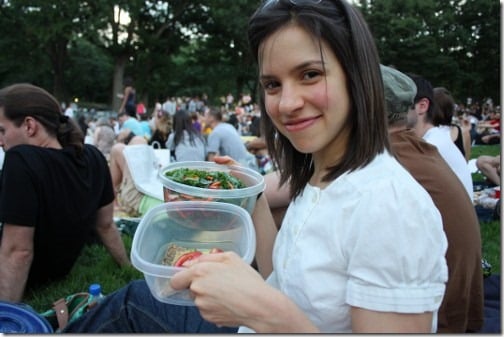 Nel and I shared a little chuckle over the fact that we'd had at least some of the same picnic ideas: hummus and raw veggies were in both of our picnic bags. Nelly's a vegetarian, so I can usually count upon our enjoying some of the same things, but we also share a lot of the same tastes. Nelly had with her a container of whole wheat pita, some Sabra hummus, veggies, and a delicious homemade cocktail made with ginger beer, cucumber, and fresh peaches. On my menu was (obviously) a giant kale salad, marinated earlier in the day:
I'd also discovered this brand at my local health food store earlier in the week:
It's Chocolatree, which is the prepared food made by the staff at Chocolatree Cafe in Arizona. I picked up the pizza crackers (made with buckwheat and sunflower seeds) and the onion flatbread (made with sunflower seeds and chia seeds). Interesting fact: I have learned, thanks to Lori and Michelle, that while I do not like raw onions (or cooked onions, for that matter), I really like raw onion flatbread. Go figure.
My verdict? Two thumbs up! I really liked both breads. The pizza flatbread is heartier, and more "bread" like; it reminds me of Lydia's breads and crackers, which I truly adore. The onion bread is nice and thin, and I imagine it would make a great raw "wrap." While I'm still a loyal devotee of the Twins' flatbreads and crackers, the Chocolatree brand is a nice second choice. I love that my local store takes care to stock these lesser known raw food brands!
I made two little open faced raw sandwiches. One was onion flatbread, roast red pepper hummus, tomato, avocado, and cucumber: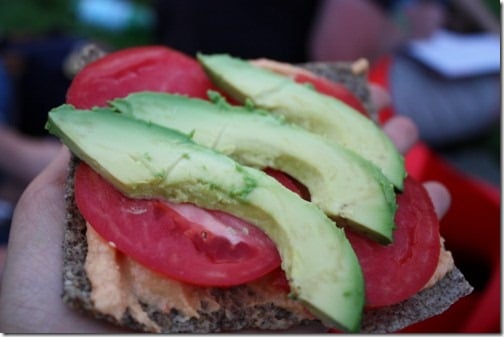 And the other was pizza flatbread with a simple topping of tomato and avocado:
Both were delicious! Between these, kale salad, and raw veggies+hummus, I was a very, very happy camper. And a very full one.
Of course, what made me really happy was the joy of seeing my favorite movie on a big screen. And what could be more appropriate than watching this one in the middle of Central Park, surrounded by skyline?
I got a little misty when we got to this scene:
Forget Love is a Many Splendored Thing. Forget Casablanca. Forget Breakfast at Tiffany's, Gone With the Wind, and even An Affair to Remember. Those movies are all great, but in my world, there is no single movie still that's more romantic than this one. I could list the reasons why I think so, but instead I'll just let the image speak for itself.
Dinner last night was so extraordinarily good that, today, still basking in the haze of cinematic joy, I repeated it. Using only the pizza crackers this time (I'm saving the onion flatbread for later this week), I made one flatbread with avocado and tomato:
And another with cucumber and my dilly sunflower seed cheese.
How'd I made the "cheese?" This is just a simple sunflower seed pate, made all the more delicious with the addition of dill. Observe:
Dilly Sunflower Cheese (yields 1 1/2 cups, or 6-8 servings)
1 cup sunflower seeds, soaked at least one hour
2 tbsp lemon juice
3/4-1 tsp sea salt
1/2 cup water
8-10 small sprigs fresh dill, coarsely chopped
1) Place soaked seeds, salt, and lemon into the bowl of a food processor and let it run till they're broken down. Scrape the sides of the bowl.
2) With the motor running, drizzle 1/2 cup water into the food processor, so that the sunflower seed cheese becomes light and creamy. If it starts to get at all watery, stop adding water! I usually use anywhere from 1/4-2/3 cup water; it totally depends on how much water the seeds have absorbed, so use your judgment.
3) Add the dill to the processor and pulse a few times to distribute it into the cheese. What you'll have left looks like this:
…and it tastes tart, salty, and fresh!
Along with some salad and raw veg action, it was a perfect midday meal:
Sometimes I find that raw flatbreads and crackers leave me totally empty only a few moments after mealtime; I'm really impressed with how nicely the Chocolatree products fill me up. A good reason to make these a semi-regular "splurge."
And now, I'm procrastinating with Mad Men diligently working in preparation for the week ahead. I hope you all had great weekends. Were any of you with me in the park last night?
xo