Yesterday, when I posted my monkey smoothie, I mentioned that it's always best to use your own homemade nut milk. This isn't because store bought nut milk is terrible for you, but rather because the homemade stuff is even healthier, and it's tastier, too!
But not everyone agrees with me on that last bit. Amy wrote:
I've had commercial almond milk and made my own on several occasions, and they taste nothing alike. Commercial milks are thick and sweet and appealing while the milk I make is thin and well, tastes like almonds. I've tried blending the nuts with dates and also with vanilla and agave. It also separates. I've tried almonds with skin and without, balancing, soaking in the fridge, on the counter, and no soak. It ends up tasting slightly…off: a little bitter, a little almond-like, but not very good overall. Please, please help if you can!
No problem, Amy. The problem might be two things: (1) the equipment you're using, or (2) the procedure you're using.
Let's rule out (1) first. Are you using a good quality blender? As you know, I like to insist that eating a plant based and high raw diet need not mean investing in too many appliances. But the recipe for nut milk is one that benefits immeasurably from a high-speed blender. That said, I made nut milk for two years in my regular old Black and Decker blender — what made it work was the fact that that machine, though a far cry from Vita-Mix horsepower, was relatively high-quality (I think it cost me about $60.00). If you're using a really cheap blender, you may find that the nutmilk ends up "grainy" no matter what you do, which means it will be pretty thin after straining.
Now, for problem (2). Let me ask you a few questions:
Are you soaking your almonds for 8-12 hours before blending? This isn't totally necessary if you have a Vita-Mix, but it becomes crucial if you're using a regular blender
Are you letting the mix blend for a good long time? Be patient — don't stop blending till the mixture looks homogeneous.
If the answer to either question above was "no," then see if those tips don't make s difference. And if neither do, then you can try adding a tablespoon of soy or sunflower lecithin or coconut oil to the mix. Both act as emulsifiers, which means that they help keep the nut milk well dispersed. I'm guessing that xantham gum might also work — perhaps a 1/4 teaspoon?
And don't forget that, if you like a sweet nut milk, dates, agave, or stevia are crucial add-ins! Use them to taste.
Hope this helps, Amy! Fear not: you'll be on your way to perfect homemade nut milk soon.
And for those of you who face major time constraints, remember that organic, store-bought nut milks–like the Pacific brand, for example–are fine to use in a pinch. It's just always nice when we can prepare our own food from raw materials.
Before I go, I want to point out that Ani Phyo's ginger almond pate is stellar in a collard wrap:
And even better when served with a zucchini hummus dipping plate.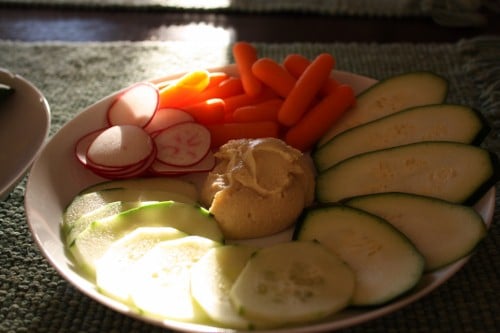 All hail simple summer suppers. (And alliteration.)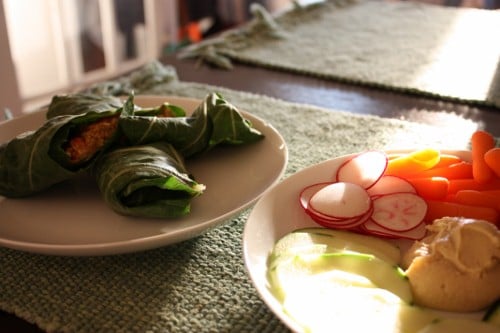 Happy Friday!!!!
xo