All this talk of Chloe and her wedding have me reminiscing fondly about the days when we shared our very first apartment together after college. Our apartment was mostly wonderful–it was the kind of place you only dream about living when you're 22, and somehow we'd been lucky enough to snag it. But it had one very notable downside, which was a postage-stamped sized kitchen.
This might not have been a big deal for two other roommates, but Chloe and I are both foodies. At the time, she was a lot more adept in the kitchen than I was, but still, I had at least a couple of vegetarian dishes that I liked to make. And mealtimes weren't always easy to navigate, given that we couldn't both fit in the kitchen at the same time.
But we made it work. We took turns cooking, mostly. And once in a while, one of us would make food enough for two.
Today's smoothie is a based on a blend or banana, blueberries, and peanut butter that I fell in love with while Chloe and I lived together. I forget what my inspiration was, but I whipped it up one morning and christened it the "monkey smoothie," and it was love at first sip. When I passed a purple glass over to Chloe, she responded with equal glee, and we continued to make this smoothie, separately or together, for the next few years.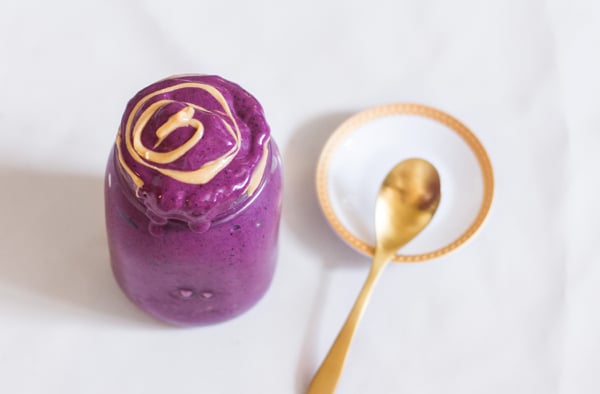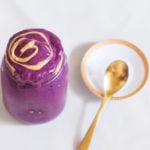 Monkey Smoothie
Author -
2

large frozen bananas

1

cup

frozen blueberries

1 1/2

cups

non-dairy milk

2

tablespoons

peanut butter

1

pitted date (optional)

handful ice cubes
Blend all ingredients in a high speed blender till smooth. Divide into 2 glasses and serve.
A few mornings ago, I sipped this smoothie is my new dwelling: a small, sweet, single person's apartment. I feel lucky to have my own space, but I sure do miss Chloe, especially on weekend mornings when we used to share breakfast and stories from the night before. I raised my glass of yum to Chloe, who's on her way to Norway with her husband right now, and to days of bygone cohabitation.
Make and share this blissful drink with your roommate, your best friend, your boyfriend, your girlfriend, or to anyone who's special to you. It'll bring joy to both of your mornings!