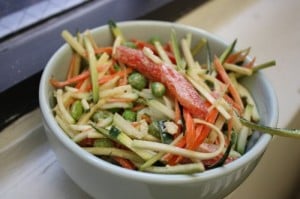 Thanks for so many sweet words about the wedding photos. I'm glad you got to see how beautiful the ceremony was, and how exquisite Chloe looked. I'll try to smile with my mouth open more often–in fact, I'm rather ashamed that my insecurities have manifested themselves in quasi-habitual lockjaw.
I definitely second Kathleen's request for a guest post from Chloe!
Now that the Choosing Raw epithalamium is compelete, it's time to get back to our main interest: food. With only a few exceptions, I haven't prepared much of anything in the last two days that isn't a salad or doesn't come in a plastic bag labeled "Food for Life" (i.e., Ezekiel sprouted grain products). Boring. After a long weekend with not enough sleep, I did replenish myself with my nutrient dense salad of the week:
That would be my own spin on Ani Phyo's almond ginger pate (a similar recipe can be found in the demo here) along with Lydia's crackers, loads of lemon juice, a touch of flax oil, radishes, and raw kale. Hit the spot!
Do you enjoy Chinese food? I can't say I've ever been lucky enough to try any of the many authentic Chinese regional cuisines, but I, like most people, have tried standardized Chinese American takeout. It's not my favorite on the whole, but there are one or two dishes I love the taste of–namely, sesame noodles. Now, according to my own fleeting efforts at research, cold sesame noodles don't use much sesame at all. Instead, they're made from peanut butter and sesame oil. There's nothing wrong with this (aside from false advertising), unless you happen to be one of the estimated 3 million Americans with a peanut allergy. Then, the choice to cook with peanuts–or even to have peanut reside on your hands–becomes hazardous. Even if you're like me, and you have no food allergies whatsoever, you may choose to be leery of peanuts. While I certainly don't think they're terrible for you, I do think that they're a common GMO crop, and that they may be mucous forming. In all, I'm not terrified of peanuts when I happen upon them, but when it's easy for me to make a choice, I'll almost always opt for a different kind of nut or nut butter.
This choice becomes really easy in the case of cold sesame noodles, because I happen to be a tahini fanatic! With temperatures climbing up into the 90s, now is a perfect time not only for raw foods, but also for cooked foods served cool. I suggest you start here, with a sesame noodle dish that's actually full of sesame. It begins with a sauce:
Sesame Noodle Sauce (serves 4)
4 tbsp tahini (I like the raw Artisana variety, but you can use roasted if it's what you have)
2 tbsp tamari or nama shoyu
3/4 tsp ginger
1 tbsp toasted sesame oil
3 tbsp water
Mix all ingredients by hand or in a blender.
This sauce is quite versatile–it would be just as lovely over a salad or stirfry or brown rice dish as it is over noodles. But over noodles I wanted it, and over noodles it went.
I'm often asked why I don't eat more pasta, and whether or not I "miss" it. It's a query founded upon the vexing assumption that I've "given up" pasta in an attempt to be a better saint–which I have not–or that I avoid it because of carbohydrate content. Let me quickly bat down that latter idea: I haven't met too many starches (whole grain ones, that is) I didn't like. I also don't shun pasta because I think it's unhealthy, or because it's cooked. It's just not something I think about very often, and I really do prefer zucchini pasta most of the time.
That said, most of the time is not always. Sometimes, I do have a hankering for a whole grain pasta. When I do, I like two brands: Tinkyada brown rice pasta (which is, in my opinion, the best whole grain pasta out there) and my personal favorite: soba noodles. These buckwheat based noodles are my absolute favorite, and I always have some of them in my pantry for nights when I'm not in the mood for quinoa, barley, rice, or millet. They're terrific with steamed veggies, mirin, and nama shoyu, with my Asian dressing, or tossed in a vinaigrette. And apparently, they're great with my sesame noodle sauce. Behold:
This was a single serving of soba noodles mixed with 1/4 sliced bell pepper, 1 small grated carrot, 1/3 cup peas, and 1/4 julienned zucchini, dressed in about 2-3 tbsp sesame noodle sauce. Paired with a salad, it was a hearty but light summer dinner.
The next day, I whipped up a raw version of the dish, subbing zucchini pasta, which I lazily made on my mandolin, rather than using (and having to clean) my spiralizer: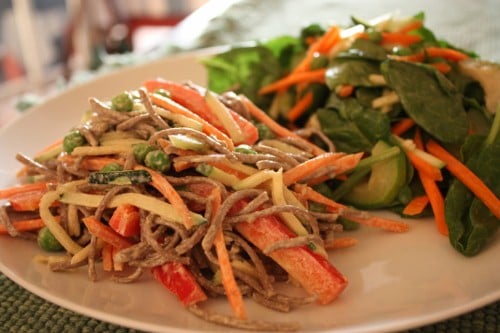 Same proportions: 2-3 tbsp dressing for the "pasta." Again, I served it up with greens. And once again, it was absolutely delicious.
A simple tasty, and seasonally appropriate dish that can make equally tasty raw or cooked vegan dinners–what's not to like?
I'm slowly easing back into life as usual post wedding, and hope that this week goes quickly. So far, it's flying by. Have a great evening!
xo